---
Young Filipino math whizzes, including an 8-year-old boy from Laguna, showcased their incredible math talents at the 2019 Singa (Singapore Math Global Team Competition), which took place from November 22 to 26 in Ho Chi Minh City, Vietnam.
Calm, cool, and calculated
8-year-old Zac Harvey Gordula, a third grader from Lopez Elementary School in Los Baños, Laguna, brought home a gold medal from the Singateers (individual) category, as well as a trophy for being the overall runner-up among the Grade 3 participants. He also teamed up with two other young math whizzes from Indonesia and Vietnam in the team round middle division to win the top spot (and another gold award). This is his second international math victory this year, after winning one gold and two bronze awards at the 5th Singapore International Math Olympiad Challenge (SIMOC) held last July in Singapore.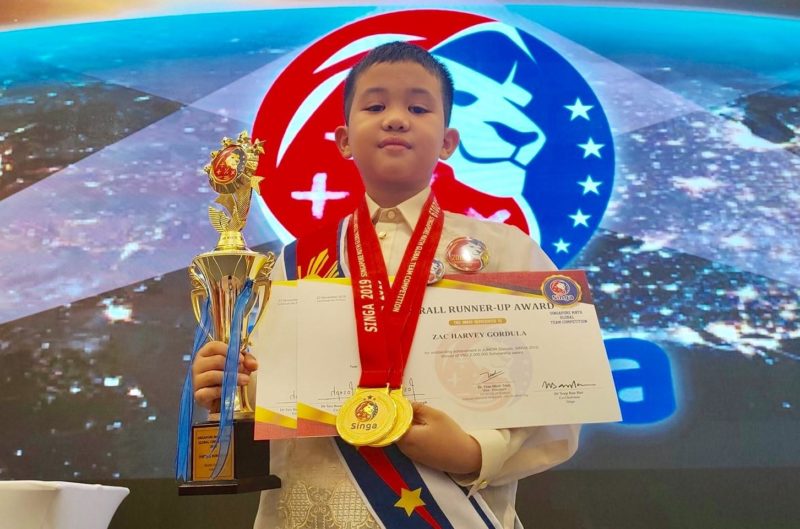 Image: Cherille Zaira Gordula/Philippine Information Agency
Gordula certainly wasn't the only Pinoy who emerged triumphant in the global math tilt, though.
In a public Facebook post, Mr. Rowell Vicente Bayaoa, a teacher at Amparo Elementary School, congratulated "mathlete" mentees John Lee M. Mainar, Mary Jay M. Pancho, and Jason Red F. Butlig for their performance at the recently concluded competition.
Here is the full list of 2019 Singa medalists from the Philippines, per category:
SINGATEERS CATEGORY
Grade 3
Gold: Zac Harvey Gordula (Lopez Elementary School)
Bronze: Jeremy Paul Jaucian (St. Joseph School)
Grade 4
Silver: Erik Nathan Estiva (Xavier School Nuvali)
Bronze: Carla Marie Orozco (Minds That Matter Tutorial and Learning Center, Inc.); Ellen Charice Arevalo (Capiz Commercial School); Jezlynne Danielle Gonda (The Lipa Grace Academy); Zhaniel Edward Flores (St. Paul School of San Jose Batangas, Inc.)
Grade 5
Silver: Magnus Rex Navarro (Ateneo de Manila University)
Bronze: Gillienne Nicole Urrea (De La Salle Lipa Integrated School)
Grade 6
Gold: Aiden Jomeil Bercilla (De La Salle Lipa Integrated School)
Silver: Victor Miguel Dugan (Ateneo de Manila University); Raiver Ulysses Perez (Early Start Learning Center); Alonzo Alvarez (De La Salle Lipa Integrated School)
Bronze: John Charles Aquino (Gen. Gregorio S. Aloña Sr. Memorial Elementary School); John Lee Mainar (Amparo Elementary School)
Grade 7
Gold: Althea Denise Palces (Cavite National Science High School)
Silver: Yuan Manolo Ramirez (Xavier School San Juan)
Bronze: Ann Nicola Simone Villanueva (St. Paul School of San Jose Batangas, Inc.); Lady Shane de Leon (Rizal High School); Noreen Abocejo (Cavite National Science High School)
Grade 8
Bronze: Jerome Samuel Tan (Makati Hope Christian School); John Benedict Sanico (Sta. Rosa Science and Technology High School); Renzterton Sibal (Lourdes School of Mandaluyong)
Grade 9
Bronze: Ethan Abario (University of the Philippines High School Iloilo); Icho Mari Santos (Lipa City Science Integrated National High School); Maja Marem Jillzam Pagadora (Sta. Rosa Science and Technology High School); Aldrich Vargas (St. Paul School of San Jose Batangas, Inc.)
Grade 10
Gold: Reivienne Jei Laxamana (Sta. Rosa Science and Technology High School)
Silver: Beatriz Lucia Rodriguez (Southville International School and Colleges); Francis Raphael Macaraig (Canossa Academy Lipa); Jan Neal Isaac Villamin (Sta. Rosa Science and Technology High School); Louie Matheson Wong (MGC New Life Christian Academy)
Bronze: Franzeska Sofia Balcueva (Rizal High School); Ma. Arabella Iringan (City of Mandaluyong Science High School)
Grade 11
Gold: Elean Almazan (Holy Rosary College); Louis Miguel Fermiza (City of Mandaluyong Science High School)
Bronze: King James Palma (Sta. Rosa Science and Technology High School)
TEAM CATEGORY
Middle (Grade 3 & 4)
Gold Awardee: Zac Harvey Gordula (Lopez School)
Silver Awardees: Chris Alexander Espinas, Ellen Charice Arevalo, Zhaniel Edward Flores
Bronze Awardees: Clarissa Louise Dongsal, Carla Marie Orozco, Jezlynne Danielle Gonda, Amado Alejandro Villanueva III, Jeremy Paul Jaucian, Erik Nathan Estiva, Gabriel Vibar
Intermediate (Grade 5 & 6)
Gold Awardees: Magnus Rex Navarro, Aiden Jomeil Bercilla
Bronze Awardees: Mary Jay Pancho, Victor Miguel Dugan, Alonzo Alvarez, Frances Deborrah Arcalas
Advanced (Grade 7 & 8)
Gold Awardee: Athena Denise Palces
Silver Awardee: Yuan Manolo Ramirez
Bronze Awardees: John Benedict Sanico, Ann Nicola Simone Villanueva, Reina Mae Jonas
Expert (Grade 9, 10, & 11)
Gold Awardees: Elean Almazan, Renz Justine de Guzman
Silver Awardees: Ethan Abario, Melrose Sitchon, Louis Miguel Fermiza, Aldrich Vargas, Franzeska Sofia Balcueva
Bronze Awardees: Jan Neal Isaac Villamin, Vince Lenard Rabino, Denmark Guce, Karylle Mikaela Ilao, Reivenne Jei Laxamana, Louie Matheson Wong, Rainier Matthew Rodenas
---
Cover photo: Cherille Zaira Gordula/Philippine Information Agency; Rowell Vicente Bayaoa
References
https://pia.gov.ph/news/articles/1030720
https://www.facebook.com/GovRamil/posts/2924067630942492/
https://www.facebook.com/RowellVicenteBayaoa/posts/2549780035119090
https://singamath.com/singa-2019-results/