•Created by a Pinoy-led team, In the Time of Pandemia (ITOP) is a free-to-play PC simulation game that places gamers in the role of a community crisis manager.
•To deal with the threat of COVID-19 in their town, players must identify infected townsfolk and impose appropriate mitigation strategies, while managing the town's finances.
•The game blends retro-inspired graphics, expert epidemiological modeling, and real-world conditions and challenges to deliver a unique, science-based health crisis management experience.
---
It has only been forty-two days into the COVID-19 pandemic, but your barangay has already started spiraling into chaos. As the highest official in your community, you never imagined that managing a population of just a hundred people would become such a colossal headache. (Though to be fair, neither did you imagine that you'd ever live to see a deadly virus turn the whole world upside-down.) Your repeated reminders to wear masks, maintain social distancing, and practice proper handwashing seem to be falling on deaf ears, despite the fact that your community has already lost one member to COVID-19. With only one ICU bed at your disposal—and a life-saving vaccine still months away from deployment—what will you do? What should you do?
This is the kind of nerve-wracking experience that lead developer Khail Santia and his team deliver in their free-to-play online PC simulation game, In the Time of Pandemia (ITOP).
Santia, who co-founded the virtual indie game development studio Moocho Brain, worked with three visual artists (Ramon del Prado, Linya Fernandez, and Troy Logramonte Valdehueza), three composers (Algernon Van Peel, Filip Žarković, and Jom Ouano), and a mathematical epidemiologist (Dr. May Anne Estrera Mata) to fully develop ITOP, making the most out of their time spent indoors due to the pandemic.
Blast from the past
Since its debut six months ago on online entertainment portal Newgrounds.com, ITOP has been accessed over 16,000 times, with an average user rating of 3.82 out of 5 stars—quite uncommon for an educational game, especially one in a sea of games made purely for entertainment purposes.
The first thing that stands out about ITOP is its aesthetic. Looking somewhat like a cross between The Legend of Zelda: Link's Awakening and Minesweeper, ITOP's retro-inspired interface and graphics are reminiscent of the simpler games of yesteryear. There's more to this conscious design decision, though, than merely appealing to nostalgia.
"First of all, we wanted to make the game approachable despite the grim subject matter," explained Santia in an interview with FlipScience.
Santia mentioned artist availability as another factor. "The artists were only available for about 24 hours," shared Santia. "The first iteration was built during a game jam and, after, [the artists] had to return to their respective jobs."
Getting in the zone(s)
For a game that took two weeks to conceptualize and three months to fully develop, ITOP's mechanics and gameplay are quite intricate and engrossing.
The player assumes the role of their community's crisis manager. To deal with the coronavirus creeping into the town, the player can use public funds to purchase test kits for the populace to use. Aside from identifying community members who are healthy, asymptomatic, symptomatic, severe, critical, or recovered, the player can send the infected to the town hospital, isolate certain townsfolk, or even impose a lockdown on the community. And just like in the real world, each action has a corresponding cost or impact on the community's finances (as the growth of the town's funds depends on how many townsfolk can continue to work).
Thus, the player has three main objectives: to avoid as many deaths as possible, to keep the number of cases to a minimum, and to spend public funds efficiently.
Players can select from nine different "zones," including a training level and a "sandbox" level that lets you customize game conditions such as population size, compliance rate, and rates of other diseases/comorbidities like diabetes and hypertension.
As Santia explains in the game notes: "Zones 1 to 5 essentially compose a difficulty ramp leading to Zones 6 and 7. The latter two hew closest to real-world data. Zone 8 leans more towards a subjective description of what the threat of COVID-19 is like in areas with hyper-concentrated density."
Simulated stubbornness
One of the game's more interesting and unique mechanics takes a cue from the real world: simulated stubbornness. Community members, whether infected or not, will sometimes resist your isolation directives with a firm "NO!" (depending on the zone's compliance rate).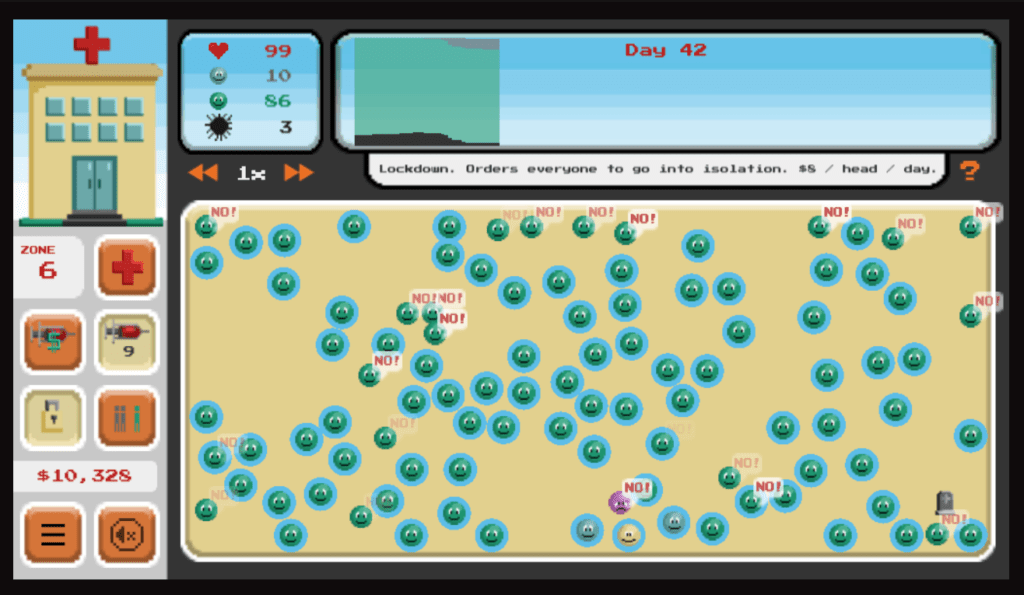 According to Santia, the team used American game designer Raph Koster's publicly available high-level game design sketch as their starting point. Non-compliance was already written into the sketch; Koster, whose portfolio includes high-profile games like Ultima Online and Star Wars: Galaxies, revealed in a personal message to the team that he based his variables on both scientific data and his observations on how his fellow Americans behaved.
"What I did was to implement this idea and adapt it in the process using research papers as close to home as possible," said Santia. He also ran this feature across different playtesters (many of whom were medical professionals) to determine the best way to visually represent the idea in the game, in a manner that makes sense.
It worked: Based on the team's content analysis of the players' comments, the "NO!" feature was one of the most mentioned. "We feel validated to see that that made players realize how non-compliant people make containing the pandemic much more difficult."
As for Koster himself, he was impressed with the way ITOP turned out, and even shared it with his followers on Facebook.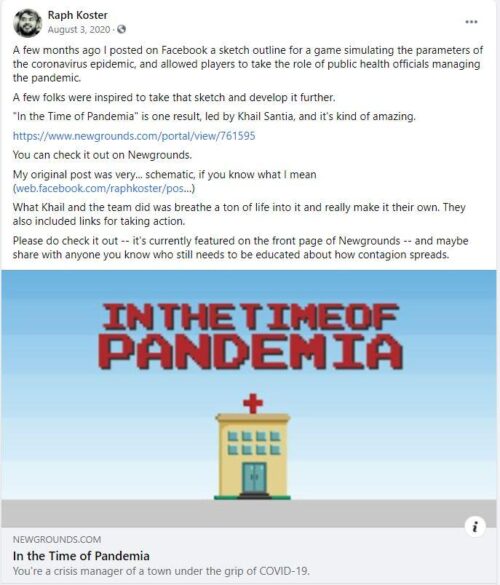 Who should play ITOP?
The majority of Newgrounds.com's audience mix is made up of people in their teens, 20s, and 30s. This was part of the reason why the team designed the game with the youth demographic in mind. "We [also] mentioned the youth because they had been identified as silent spreaders who generally do not show obvious symptoms, but can infect vulnerable members of their communities."
That doesn't mean, though, that only younger gamers will enjoy playing (or should play) ITOP. In fact, folks of all ages who want to get a better understanding of how COVID-19 spreads in a community should give this game a shot.
"Anyone who is not clear on how exponential curves work and the effects of various interventions and their absence [will benefit from playing ITOP]," Santia stated. "Given that exponential curves are not an everyday concept for most people, the answer [to the question of who should play ITOP] is 'the general population.'"
The game does have certain limitations, which Santia himself enumerated in the game notes, such as the absence of law enforcers who can make obstinate citizens follow the player's directives. Perhaps the most fascinating (and amusing) is this: "Human beings are not gas molecules that bounce around randomly. Humans, too, can exchange information such as to avoid certain areas with known incidence of infection."
Life imitates art… imitates life?
ITOP gives players a taste of what it's like to be in charge of dealing with the pandemic on a community-wide scale. However, it doesn't represent the entirety of the situation in the Philippines.
"Like ITOP, the COVID-19 situation in the Philippines cannot be generalized by the disease dynamics of one city or municipality," Mata, an alumna of the University of British Columbia and University of Washington and a professor at the University of the Philippines (UP) Mindanao, explained to FlipScience. "We can only say that in some parts of the country, COVID is worse, while in some parts, we are doing just fine."
Still, players can find which zone best reflects their real-world community's general behavior. This can make ITOP quite useful for barangay officials who are looking to tweak their COVID-19 mitigation strategies.
As Mata put it: "This is a matter of knowing which ITOP zone a barangay unit belongs to, and once the ITOP zone is identified, let the gameplay bring you to a unique experience of being a disease control manager."
Education and entertainment: An epidemiological achievement
In addition to being an effective COVID-19 education tool, ITOP comes with an SOS button. This feature allows players to extend assistance (real-world resources) to frontliners, COVID-19 patients, and communities in dire need of help.
ITOP also served as a much-needed emotional outlet for Santia and the team. "On a personal level, developing the game allowed me to transcend the inner chaos brought about by isolation and the daily possibility of infection by focusing my attention on a creative and scientific problem," Santia affirmed.
"On a disciplinary level, it was an opportunity to show that games and game-makers can have a role in a society in deep crisis beyond providing entertainment."
The team is planning to update the game with some player-suggested improvements. Santia mentioned three, in particular: (1) false positives, backlogs, and other information issues; (2) reinfection; and (3) areas such as grocery stores and churches, where there are different infection rates to represent.
Other future plans include a possible collaboration with a research group in UP Mindanao, on both a cross-platform sequel with a more sophisticated epidemiological model and a dengue-focused version of the game.
We're (still) in the time of pandemia
The game's creators have a simple reminder for the public: Though it's been nearly a year since the start of the pandemic, we're certainly not out of the woods yet.
"Just like the zones in ITOP, the rise and fall of COVID cases depends on people's compliance with government interventions, as well as the strategies the disease managers are [following] to mitigate the disease," said Mata.
Based on statistics from Our World in Data, daily confirmed cases in the Philippines peaked at 4,000+ in August; after going down to almost 1,000 at the beginning of 2021, cases are hovering dangerously close to 2,000 per day.
Source: Our World in Data
Santia stressed how complacency endangers COVID-19 mitigation strategies. "We must not forget that the virus has not weakened, on the contrary, a more infectious strain has appeared. Precaution is still as important as ever."
So stay at home, folks. And if you're bored and want to go out, try playing ITOP instead.
---
Click here to play "In the Time of Pandemia" on Newgrounds.
Bitten by the science writing bug, Mikael has years of writing and editorial experience under his belt. As the editor-in-chief of FlipScience, Mikael has sworn to help make science more fun and interesting for geeky readers and casual audiences alike.