•Born on March 3, 1928, Dr. Gelia T. Castillo was a pioneer in agriculture and sociology.
•Dr. Castillo conducted valuable research to enhance rural development and improve the lives of farmers.
•She also closely examined the dynamics of the Filipino family, while championing the rights of women in Philippine society.
---
"Ethics is ethics in the mind and in the heart. You know it from the top of your brain to the tip of your toes."
Sociologist. Psychologist. Educator. Feminist.
One can ascribe many titles to Dr. Gelia T. Castillo, but it would not be a stretch to say that she was a humanitarian, first and foremost.
Learning from and working with low-income families in rural, agricultural communities, Dr. Castillo unearthed stories that speak of the Filipino narrative. Through her research, she paved the way for this narrative to be rewritten.
As a rural sociologist, she made significant contributions to our understanding of the human side of agricultural practices and the Filipino family. Her work has been a voice for the underprivileged and underrepresented rungs of society, helping people who would have otherwise stayed trapped in the cycles of poverty that plague much of Philippine society.
Soil and society
Dr. Castillo was born on March 3, 1928 in Pagsanjan, Laguna.
Before diving into sociology, Dr. Castillo was fascinated by the human mind. She obtained her degree in Psychology as magna cum laude from the University of the Philippines in 1953. She then specialized in Rural Sociology through her master's and doctorate degrees, which she obtained from Pennsylvania State University (1958) and Cornell University (1960), respectively. These served as the academic foundation for her prolific work in rural and agricultural sociology.
Dr. Castillo found that, contrary to what many would have expected, Filipino farmers eagerly adopted new agricultural technologies. Her findings emphasized the importance of developing appropriate technologies–those suited to farmers' needs, competencies, and preferences–for maximizing their output and income. In doing this, the needs of the farmer are addressed more effectively, improving both his yield and his quality of life.
Often, development is focused on the needs of those in higher social strata. By studying the agricultural production of crops such as roots and tubers, Dr. Castillo sought to eliminate this inequity.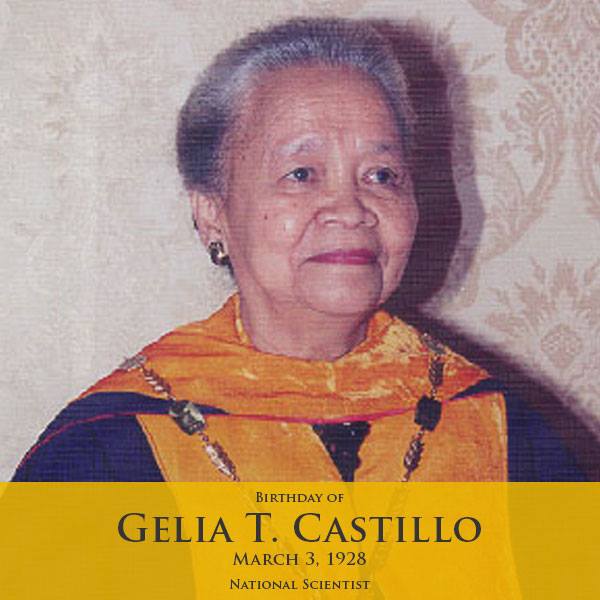 Dr. Gelia T. Castillo. (Image: National Academy of Science and Technology Philippines)
A champion of feminism and the Filipino family
Aside from the needs and rights of the poor, Dr. Castillo also championed the rights of women. She was a rare feminist in a world that had yet to witness today's wave of modern feminism.
Dr. Castillo focused on the role of women in the household and the structure of the Filipino family. She found that the most common familial structure is the nuclear family, but that close ties are often maintained with the extended family through modes of financial support. Based on her findings, she emphasized the value of empowering women in achieving economic growth. She also explored how both women and children significantly contribute to social dynamics, and underscored the definition of "household."
With these projects behind her, she undertook the monumental task of the analysis, review and synthesis of published literature, reports and theses to produce a number of scholarly books.
All in a Grain of Rice is recognized as the first Filipino-written book about how Filipino farmers respond to new technology.
Meanwhile, How Participatory is Participatory Development? gives readers a thorough look at the results of studies on rural development in the Philippines, through the lens of Dr. Castillo's insightful and compelling writing voice.
Her most famous work, however, is perhaps Beyond Manila. It is described as the first comprehensive research work on labor and employment, education, and other areas of development in the rural Philippines.
Given their seminal role in rural Philippine society, All in a Grain of Rice, How Participatory is Participatory Development? and Beyond Manila have become standard resources for students, sociologists, and researchers alike.
The scientist with a heart
Dr. Castillo became an academician of the National Academy of Science and Technology (NAST) in 1983. In 1999, Dr. Castillo received the title of National Scientist from then-president Joseph Estrada for her pioneering research on societal development and the reduction of social and economic inequalities.
As part of a regrettably small pool of women in science, Dr. Castillo was able to share her work and passion both locally and abroad. Throughout her illustrious career, she held various roles in many prestigious institutions, such as the National Commission on the Role of Filipino Women and the United Nations.
Sadly, Dr. Castillo passed away on August 5, 2017.
In a tribute to the late scientist, fellow academician Dr. Emil Q. Javier wrote:
Gelia's development concerns spanned a wide range of interests (agriculture, farmers credit, women empowerment, poverty, health, rural governance etc.). She pioneered and blazed the trail for Filipino social scientists in these areas. The continuing thread throughout her professional life has been the tireless commitment to development efforts which benefit the poor. Gelia's name in development and academic circles has been associated with that rare combination of intellect, style and above all, commitment to the poor.
Dr. Castillo accomplished much as a researcher, an educator, and an influential woman in a field where the likes of her were few and far between. Dr. Castillo became a voice for change and empowerment for Filipinos who could not speak out for themselves.
In today's divided and divisive socio-political climate, she remains a model for the conduit of change that we must all strive to be. –MF
---
References
Tecson-Mendoza, E. (2017) Biosketches: Filipino Trailblazers in Science and Technology. Taguig, Philippines. National Academy of Science and Technology Philippines.
https://business.mb.com.ph/2017/08/19/national-scientist-gelia-t-castillo-the-scientist-with-a-big-heart/
http://news.irri.org/2017/08/gelia-t-castillo-1928-2017-helping.html
http://www.nast.ph/index.php/13-news-press-releases/319-gelia-t-castillo-distinguished-rural-sociologist-89
http://www.rtb.cgiar.org/blog/2017/08/09/passing-dr-gelia-t-castillo-social-scientist-first-woman-join-cip-board-trustees/
https://www.gmanetwork.com/news/scitech/content/620916/philippine-national-scientist-gelia-castillo-passes-away-at-89/story/
https://www.ncbi.nlm.nih.gov/pubmed/12288549