• Born on January 15, 1894, National Scientist Dr. Hilario D. G. Lara was a trailblazer in the public health movement in the Philippines.
• Dr. Lara devoted years of research to preventing the spread of cholera, typhoid fever, dysentery, measles, and diphtheria in the country.
• He also helped establish some of the Philippines' most important public health institutions, and became a leading public health educator.
---
When Beck Fajardo-Nacino thinks of her Tata Hilario, she remembers a kind and gentle uncle who loved her as if she were his own daughter. "Karga on his back was a loving request I would make to him when I was still small," muses Beck, "and which he would always do until I got too big–and he, much older."
It's a touching, if not surprising, glimpse at the private life of a man who was at the forefront of public health in the Philippines. After all, even just a cursory glance at his achievements would reveal that Dr. Hilario D. G. Lara was never a stranger to bearing weight on his shoulders.
A healthy education
The epidemiologist who would eventually be known as "The Father of Modern Public Health in the Philippines" was born on January 15, 1894 in Imus, Cavite.
From the very beginning, Dr. Lara worked hard to climb up the ladder, both in life and in academics. "He was always very proud of the fact that he worked his way through school by working in the homes of others so he could get an education," shares Beck.
After graduating from Silliman University High School at the top of his class, he finished a year-long preparatory course at the College of Liberal Arts in the University of the Philippines (UP) Manila. He spent the next five years at what is now known as UP Manila's College of Medicine, moonlighting as an electrician, janitor, and other odd jobs to support himself while he was studying. Dr. Lara finished his undergraduate degree in 1919, after which he became a resident physician at the Philippine General Hospital's laboratory department.
Dr. Lara's diligence and aptitude for learning further propelled his academic journey. While serving as La Union Province's District Health Officer for the Philippine Health Service in 1920, he was selected to be one of the first Filipino fellows of the Rockefeller Foundation. Dr. Lara obtained his master's degree in Public Health at Johns Hopkins University in Maryland in 1923, and earned his Ph.D. one year later. In 1948, he enrolled at the College of Medicine once again, this time for a postgraduate course.
A pillar of public health
Throughout his career, Dr. Lara played a significant role in advancing the Philippine public health movement, holding various key positions while establishing some of the most critical public health institutions and initiatives in the country.
After completing his doctorate and returning to the Philippines, he became the Head of the Department of Hygiene at the College of Medicine. With support from the Philippine Legislature and assistance from College Dean Dr. Fernando Calderon, Dr. Lara founded UP Manila's School of Sanitation and Public Health. It formally opened in June 1927, initially offering the Certificate in Public Health program. Its faculty was initially composed of qualified personnel from the College of Medicine, the Philippine Health Service, and the Bureau of Science, with lecturers from the U.S. Army Medical Corps and the Quarantine Service.
Four years later, a building was built for it, with support from the Rockefeller Foundation. In 1986, it officially became the College of Public Health.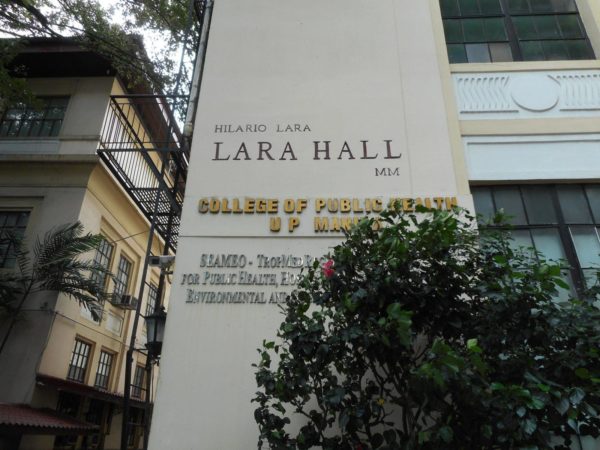 Lara Hall (a.k.a. the College of Public Health) in UP Manila. (Image: Ronald Lara)
Infectious passion
During his stay at Johns Hopkins, Dr. Lara began the first of many studies on the diagnosis, treatment, and prevention of not one, but five infectious diseases. His research on cholera, typhoid fever, dysentery, measles, and diphtheria proved to be invaluable in determining what caused them and how to control their spread.
According to his grandson Ronald, Dr. Lara focused on those diseases because he was "intrigued" by them. "My grandfather decided to focus on the diseases (cholera, etc.) because he felt that there was a rapid need to know and spotlight these infectious diseases," Ronald explained.
From 1922 to 1924, Dr. Lara conducted studies on carriers of diphtheria, a lethal disease that blocks the infected person's airways and can do serious damage to their internal organs. His research highlighted the need to look into diphtheria carriers in order to prevent its spread.
After closely examining a cholera epidemic in Romblon in 1926, Dr. Lara established that the disease could indeed spread via contaminated seafood. Interestingly, his observations matched earlier findings by Japanese researchers, further confirming his analysis.
Dr. Lara also looked into dysentery and typhoid fever cases in Manila, linking the problem to untreated water from the Marikina river. This prompted the subsequent filtration and chlorination of the city's water system.
In 1932, Dr. Lara investigated the relationship between measles cases in Manila and meteorological conditions, after observing an apparent weather-influenced pattern. However, he found no significant association between the two.
Dr. Hilario D. G. Lara. (Image: National Academy of Science and Technology Philippines)
A much-needed shot in the arm
Dr. Lara wrote and published around 40 articles on epidemiology in prestigious journals such as Acta Medica Philippina, Philippine Journal of Science, and American Journal of Hygiene. He also established the Philippines' first urban and rural health demonstration units in Binangonan, Rizal and Paco, Manila, respectively.
Additionally, he served as undersecretary of the Department of Health and Public Welfare in 1941. According to Beck, he provided assistance to American prisoners-of-war at the University of Santo Tomas (UST) during his tenure.
In 1946, Dr. Lara represented the Philippines at the First International Health Conference in New York, sponsored by the United Nations. There, he signed two historic international agreements: the constitution of the World Health Organization (WHO), and the protocol on international quarantine. In addition, Dr. Lara was the first Filipino to join WHO's advisory panel on public health administration, serving from 1951 to 1961.
Dr. Lara retired from active service in UP in 1959, but not before establishing the UP Health Service in Diliman.
During his lifetime, Dr. Lara received numerous awards, citations, and recognition, both in the Philippines and abroad. His contributions to public health in the Philippines would eventually lead to him being named a National Scientist in 1985.
Founding father, father figure
After his retirement, Dr. Lara took up golf, and even wrote a paper about the origin and status of the sport in the Philippines in 1961. However, even in his more recreational pursuits, he found it hard to leave his passion for epidemiology behind. As Beck recalls, Dr. Lara designed the UP golf course "for health reasons: as a sport and to clean up [sic] the campus of malaria."
Indeed, Dr. Lara took his profession quite seriously. Beck describes her Tata's attitude to work as one guided by honesty and integrity. "We were never allowed to use his government-issued jeep," Beck divulges, "nor could this once-little girl use pencils in his office."
"My grandfather liked to tell stories about his family, but he rarely mentioned or told me about his medical practice," shares Ronald. "He was very private about his profession as a physician, but he liked to share about his life as a family man."
Ronald Lara, standing next to a bust of his grandfather at the UP College of Public Health in Manila. (Image: Ronald Lara)
Nevertheless, despite the demands of his profession, Dr. Lara struck a healthy balance between his work and his personal relationships.
Dr. Lara passed away on December 18, 1987. Nearly thirty-two years later, Beck still recalls how her Tata would always come home from his work trips with gifts for her. And to this day, Ronald cherishes his memories of lunches at Escolta with his "down-to-earth and simple" grandfather.
---
References
"College of Public Health (CPH)." Retrieved from https://www.upm.edu.ph/node/1251.
Boniol, L. (Unknown). National Scientists of the Philippines. Taguig, Philippines. National Academy of Science and Technology Philippines.
Lara, Hilario. (2015). In V. Almario (Ed.), Sagisag Kultura (Vol 1). Manila: National Commission for Culture and the Arts. Retrieved from https://philippineculturaleducation.com.ph/lara-hilario/
Tecson-Mendoza, E. (2017). Biosketches: Filipino Trailblazers in Science and Technology. Taguig, Philippines. National Academy of Science and Technology Philippines.

Bitten by the science writing bug, Mikael has years of writing and editorial experience under his belt. As the editor-in-chief of FlipScience, Mikael has sworn to help make science more fun and interesting for geeky readers and casual audiences alike.