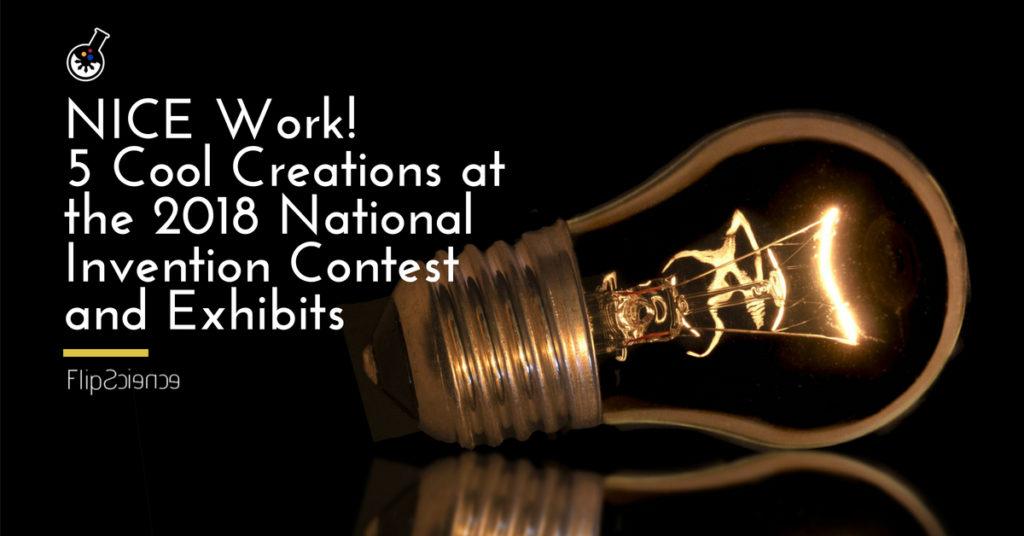 The 2018 National Invention Contest and Exhibits (NICE) took place at the Le Pavillon Metropolitan Park in Pasay City last August 14 to 16. Put together by the Department of Science and Technology's Technology Application and Promotion Institute (DOST-TAPI), it showcased some of the best creations from Pinoy innovators across the country.
From portable hand sign translators to anti-mosquito bracelets, NICE's Pinoy-made wonders were both highly useful and undeniably creative. And while many of them aren't exactly new in as far as the rest of the world is concerned, all of them were designed with local problems and needs in mind, with a distinctly Filipino touch that made them impressive and interesting to behold.
Here are five of the many inventions on display at the event that can make you go "Now, that's NICE!"
1. Veterinary Medical Table
Conceptualized by Aurora Amante El-estwani from CARAGA, the Veterinary Medical Table proves that the most noteworthy and interesting innovations don't necessarily have to be completely from scratch. The Veterinary Medical Table is a table equipped with the necessary facilities for pet grooming, hygiene, examination, treatment, and surgery. It also has a waste catcher underneath, as well as a solar-powered UV disinfectant to prevent the spread of viruses. It cuts the time a veterinarian needs to spend on procedures such as castration, and is designed to hold your little furbuddy securely in place (as helpfully demonstrated by the adorable and very much inanimate volunteer in the photo above). Incidentally, it won second place under the TUKLAS (Outstanding Invention) category. That little stuffed doggo's patience certainly paid off.
2. TENDO: A Mathematical Game Device
This game from Bobby F. Cabe of Pangasinan combines the typical setup of the word games we love to play with a bit of quick math and equation-solving to create what the inventor hopes to be a unique playing experience. With two full sets of numbers, a set of fundamental operators, and a neutral unity scattered across a 5 x 5 grid, players are tasked to locate equations, guided by a "Result Number" established at the beginning of each game. Whether you want to improve your math speed or just show off your elite skills, you'll find that Tendo was designed to provide hours of educational entertainment.
3. Bantay Krimen Real-Time Crime Prevention Information System
The brainchild of Nathaniel Vincent A. Lubrica from the University of the Cordilleras, Bantay Krimen is billed as a mobile application that can "facilitate crime mapping and increase public participation" in reporting and preventing crimes. It allows you to see the types of crimes committed over a certain period of time in a specific region or area, based on existing data from police records and citizen reports. It also shows the locations of nearby police outposts and fire stations. Check out the official website for more information.
4. Automatic Rainwater Collector with Filtration and Potability Analysis
Designed by Engrs. Ana Celina Estanislao, Patrick Villangca, and Raymart Alarcon of Bulacan State University, this device is meant to convert rainwater to potable water during typhoons. The creators intended for this collector/converter to be used during the rainy season. (Usefulness notwithstanding, one of the reasons why this is on the list is because it's somehow reminiscent of those moisture vaporators from the Star Wars films.)
5. Voice and Smartphone-Controlled Home Automation System
Numerous researchers from different countries have already taken a crack at designing an automated system (many of whom were inspired by Marvel's J.A.R.V.I.S., as first seen – or rather, heard – in the Iron Man films) based on the Arduino open-source prototyping platform. Still, it's cool to see what our very own tech enthusiasts can come up with, following the same source of inspiration. Designed by Andres Bonifacio College's Chieng Maghanoy and Maria Loreen Regañon, this home automation system is said to be capable of recognizing voice commands, using shell commands to open computer files, responding to greetings, and detecting facial patterns for home security purposes, all through a microcontroller and artificial intelligence.
2018 NICE Winners
In case you were curious, here's the full list of winners at the 2018 NICE:
SIBOL Award – High School
– Third Place: Anti-Diabetic and Antioxidant Tea from Garcinia Binucao (Leann Patrice A. Ganzon and Anne Nicole Occeña, Iloilo National High School Special Science Class)
– Second Place: pinDOT Braille Printer (Xyz Phoelane Beth-Amiel C. Dagum, Ysadell V. Bernardo, Bea May Clarisse A. Tacdoro, and Ericka Michelle L. Factor, Philippine Science High School SOCCSCKSARGEN Region Campus)
– First Place: Pectin-Carboxymethyl Cellulose Biocapsule for Potential Colon-Targeted Oral Drug Delivery (Felix Arthur C. Dioso, Jeremae Aira M. Moderno, and Coleen A. Quirim, Philippine Science High School Southern Mindanao Campus)
SIBOL Award – College
– Third Place: Electric Mosquito Repellent Bracelet (Kenny Walter Ceriales Diolola, Notre Dame of Kidapawan College)
– Second Place: Facade-Integrated Fog Collector: A Supplementary Residential Water Supply (Jireh Grace E. Pihoc, Jay-arr N. Urbano, John Carlo G. Marquez, Julienne Cristy D. Saliwan, Reina Joy H. Alip, Sydneyton Barri P. As-il, and Micah Joy A. Baldonado, St. Louis University Baguio)
– First Place: Flame Emission Photometric Determination of Iron via Digital Imaging Based Detection (Sandra Mei M. Branzuela, Pamantasan ng Lungsod ng Maynila)
LIKHA Award (Outstanding Creative Research) – High School
– Third Place: Nanoscaled Polyaniline Films for Smart Packaging Application (Dr. Joel G. Fernando, Western Mindanao State University)
– Second Place: Development and Utilization of Actinomycetes (ACTICon) as Biocontrol Agents Against Panama Wilt Causing-Fusarium oxysporum TR4 in Cavendish Banana (Irene Papa and Teofila Zulaybar, University of the Philippines Los Baños Biotech)
– First Place: Impeller Compact Ricemill (Michael A. Gragasin, Romualdo C. Martinez, and Jayvee P. illustrisimo, Nueva Ecija)
Outstanding Industrial Design Award
– Third Place: Multi-Purpose Chair-Table with Lamp Designer (Vito Angelo Selma, Region VII)
– Second Place: Baby Chair (Romulo C. Sanchez, Region II)
– First Place: Interlocking Block/Ecoblock (Justino Arboleda, Quezon City)
Outstanding Utility Model
– Third Place: A System for Treatment of Municipal Solid Waste (Genovevo Sebastian, Region III)
– Second Place: Renewable Resource-based Biodegradable Thermoplastics (Marissa A. Paglicawan, Blessie A. Basila, Ma. Teresa V. Navarro, Carlo S. Emolaga, Delmar D. Marasigan, and Rosito P. Cerbito, NCR)
– First Place: Portable Unihoused Water Purification and Sterilization Apparatus (Engr. Rodrigo P. Duque, CAR)
TULKAS (Outstanding Invention)
– Second Place: Veterinary Medical Table (Aurora Amante El-estwani, Filipino Inventor Society of the Philippines)
– First Place: Lamp Primers for White Spot Syndrome Virus (Dr. Mary Beth Maningas, University of Santo Tomas)
---

Bitten by the science writing bug, Mikael has years of writing and editorial experience under his belt. As the editor-in-chief of FlipScience, Mikael has sworn to help make science more fun and interesting for geeky readers and casual audiences alike.