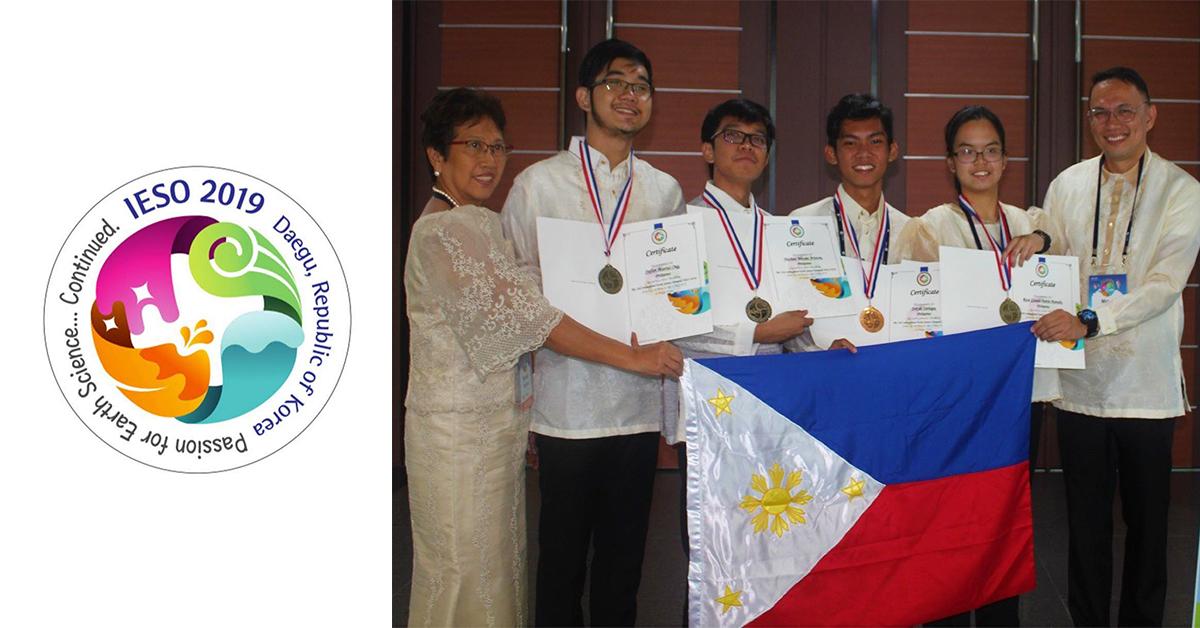 •Filipino students bagged three silver medals, a bronze medal, and two awards at the 13th International Earth Science Olympiad (IESO) held in Daegu, South Korea.
•This year, the Philippine team's selection process included a week-long camp that honed their skills before the competition.
•The 13th IESO coincided with the Daegu Science Festival, in which the Philippine team also participated.
---
A team of Filipino students brought home six awards from the recently concluded 13th International Earth Science Olympiad (IESO).
Stefan Ong (St. Jude Catholic School), Rose Guada Marie Manalo (Xavier School Nuvali) and Nathan Wayne Ariston (Philippine Science High School-Central Mindanao) won silver medals for their performance in the written and practical tests.  Meanwhile, Jonyle Suriaga (PSHS-Soccsksargen) bagged a bronze medal for her efforts. Additionally, Manalo and Ong each won an award in International Team Field Investigation (ITFI)–gold and bronze, respectively.
A total of 43 countries participated in this year's IESO, which took place in Daegu, South Korea from August 26 to September 3.
Aside from the tests and ITFI, each student also engaged in an Earth Science Project (ESP) alongside participants from other countries.
The Philippine team underwent a selection process facilitated by Bicol University's Regional Center for Science and Mathematics Education Development (RCSMED). They received mentorship under two esteemed members of the Geological Society of the Philippines: Dr. Marietta De Leon, former faculty of the University of the Philippines' National Institute of Geological Sciences (UP NIGS), and Mr. Miguel Cano, a lecturer in Earth Science Education for Bicol University's Graduate School program.
From left: Dr. Marietta De Leon, Stefan Ong, Nathan Wayne Ariston, Jonyle Suriaga, Rose Guada Marie Manalo, and Mr. Miguel Cano. (Image: IESO Philippine team)
Grounded training
Last year, the Philippine contingent bagged three bronze medals and four awards. Cano, who chaired the 2nd International Earth Science Olympiad in the Philippines back in 2008, noted the team's improved performance this year.
He attributed this to the Philippine Earth Science Olympiad (PESO) Camp, a week-long training for the students that took place from April 24 to 28. In an interview with FlipScience, he shared that in previous selection procedures, the team was selected by the panel based on academic performance, participation in other competitions, and scores on the simultaneous written exams held in different locations. This year, however, they tried something a little different.
"Instead of just four students selected after the written test, ten were chosen," Cano explained. The ten students attended lectures in Bicol and UP NIGS, conducted field work in Bicol, and went through a series of exams, quizzes, and oral presentations. "The panel then chose the four based on their performance in the assessment." Cano added that the panel also factored in the students' attitude and critical thinking skills.
"During the Camp, the students already had a fair amount of training," said Cano. "This was further enhanced by online training and the week-long training at UP NIGS, which was the week before the team's departure for the Olympiad."
Jorge Arnold Chan (PSHS-Central Visayas) was initially part of the final four. However, he could not participate due to health concerns. As a result, Suriaga took his spot on the team.
Why this year's IESO rocks
This year's IESO also coincided with Daegu's annual Science Festival. This gave the teams an opportunity to participate in cultural and scientific excursions outside of the competition. Among the highlights was their visit to Cheonsong UNESCO Global Geopark, where they explored dinosaur tracks in an outcrop.
Cano was also invited to give a talk about Philippine tektites (small, glassy objects believed to have been formed as molten debris in meteorite impacts), alongside other speakers from Germany and Japan.
"It became interesting to the Koreans, since there are no tektites in South Korea," Cano recounted. "After my session, I asked several questions related to my talk to the audience. Each student who was able to answer received a sample of tektite which I brought for the event."
Unilab Foundation and Filminera Resources Corporation were the main sponsors of the Philippine team at this year's competition. The next IESO will take place in Tyumen, Russia in 2020.
---

Bitten by the science writing bug, Mikael has years of writing and editorial experience under his belt. As the editor-in-chief of FlipScience, Mikael has sworn to help make science more fun and interesting for geeky readers and casual audiences alike.