ObesityHelp
---
This article is the last in a three-part series on trans fats. Read Part 1 here and Part 2 here.
Our generally limited knowledge of trans fats comes with a similarly limited awareness of the many ways they enter our bodies.
For instance, while we're pretty much aware at this point that fast food chicken, potato chips, and fish balls are full of the stuff, not a lot of us realize that many variants of the ever-popular milk tea come loaded with trans fats, too.
"The trans fat in milk tea comes from the use of non-dairy creamer, a notorious source of industrially-produced trans fat," explained ImagineLaw's representatives. "Generally in the Philippines, the in-demand or ubiquitous food products containing trans fat are margarine, 3-in-1 coffee, coffee cream, donuts and baked goods such as crackers, cream-filled cookies, and biscuits, and pre-mixed products such as pancake and hot chocolate mix."
Sadly, the foods that we consider beneficial may also be hiding trans fats.
"Even when we think of healthy foods, we think of fried fish, which use partially hydrogenated oils which are one of your sources of trans fats," said Alcanzare. He added that based on his experience, Filipinos tend to lump trans fats into the negatively perceived terms "taba" and "cholesterol," highlighting our general lack of awareness on the topic.
The (literal) cost of a trans fatty diet
The Filipino consumer's tendency to gravitate towards "mura" or "sulit" also contributes to the continued popularity of trans fatty food. However, what many fail to consider is the astronomical bills that always come with life-threatening diseases.
"[T]he hospital bills alone which can be in the hundreds of thousands or even million of pesos (majority of which will not be covered by HMO/Insurance/PhilHealth)," explained Alcanzare, adding that successful treatment doesn't always mean a full return to form. Stroke patients, for instance, may no longer regain full use of half of their body, talk coherently, or even understand speech, depending on which part of their brain was affected.
Millan and Descallar stressed that the level of discourse on trans fat is "relatively low." Part of this is because much of the science surrounding trans fats can be quite hard to grasp. "Compared to its more high-profile counterparts like sugar, salt, or saturated fat, people think that trans fat is 'not that bad' and 'not that urgent' compared to other more pressing concerns on nutrition and food safety. This is understandable as there has never been any regulation or policy addressing it and discussion about trans fat is scarce in the Philippines."
Hope is not lost, though. In terms of legislation, Congressmen Alfred delos Santos and Ronnie Ong filed House Bills 7200 and 7202, both named "An Act to Protect Filipinos from the Harmful Effects of Trans-Fatty Acids, and for Other Purposes" or the "Trans Fat Free Philippines Act," last July 29. Having passed the first reading, the bills have reached the Committee on Health, with a counterpart Senate bill lined up for filing.
If enacted into law, the bills will regulate the production, distribution, and sale of deep-fried food, commercially baked goods, and other products high in trans fats.
Meanwhile, the Department of Health (DOH) is preparing a national policy for eliminating industrially produced trans fats from locally available pre-packaged and processed products.
This raises an important question, though: In the meantime, what can consumers and food sellers do to reduce our trans fats intake?
How do we eliminate trans fats from our recipes?
First things first: The idea that trans fatty ingredients are irreplaceable in recipes is, apparently, a misconception.
"Trans fat is completely replaceable with no difference in taste or cost of food," emphasized Millan and Descallar. "There is also a general perception that healthy is synonymous to expensive, and that prevents people from choosing to go healthy."
According to Millan and Descallar, trans fatty ingredients can be replaced by oils rich in polyunsaturated fatty acids (PUFA), such as safflower oil, corn oil, sunflower oil, soybean oil, fatty fish, walnuts, and seeds. Oils rich in monounsaturated fatty acids (MUFA) such as canola oil, olive oil, peanut oil, and oils from nuts and avocados are also viable replacements.
Interestingly, the food sellers I talked to had some pretty good suggestions to share regarding trans fatty ingredient substitutes. For instance, one can use yogurt, sour cream, apple sauce, buttermilk, or pureed fruits in place of a portion of oil (which is usually just for moisture) to maintain the taste and color of the final product. Meanwhile, butter eliminates the need for margarine in cookie recipes, and will even give them a richer taste.
(Image: Mikael Angelo Francisco and Tomas Pedrosa)
Eliminating trans fats: What to do, and what to watch out for
Be on the lookout for margarine, shortening, or the words "hydrogenated oils" or "partially hydrogenated oils" when checking ingredient labels. Also, don't let "trans fat free" claims fool you; these items can actually contain up to 0.5 grams of partially hydrogenated oils.
Another tip from Millan and Descallar: Ask for a list of ingredients in any food you're planning to order from online sellers. You should also incorporate more whole foods (such as fruits, vegetables, whole grains, beans, lean meats, fish, nuts, and lean poultry) into your diet.
It also helps to learn how to prepare your own food—and when you do, avoid reusing oil. "At high temperatures, some of the fats in oil change into trans fat; when oils are reused, the amount of trans fats gets even higher."
Meanwhile, Alcanzare emphasized the importance of consistency and commitment in living a healthier lifestyle. "Having a single go at the gym or eating a bowl of oatmeal is not going to reverse decades of eating fried foods and fast foods on an almost daily basis. A lifestyle change means a radical shift in behavior, which will take months or even years to make a dent in the direction that the body has taken in these lifestyle-related diseases."
Macalintal suggested a plant-based diet, which has been linked to reduced risk of certain forms of diabetes and cardiovascular diseases. For online sellers, he advised speaking to a registered dietitian and food technologist to ensure that they're using healthy, trans fat-free ingredients. "This way, we can educate the public [and help each consumer make] a healthier choice."
Tracking down trans fats
Out of curiosity (and for my own peace of mind), I visited the nearest grocery store and took a quick glance at some food labels. I couldn't stop thinking about how trans fats could be hiding even in the types of food we consider "healthy," so I just had to check for myself. And at the risk of sounding like a clickbait headline, what I saw shocked me.
I went ahead and examined the coffee creamers first. Unsurprisingly, pretty much every brand of creamer I checked had the dreaded word "hydrogenated" in the ingredients list.
I was expecting this; after all, the creamer component of my favorite 3-in-1 coffee brand was what gave trans fats a place to hide.
As it turns out, even the more popular, commercially successful brands are still using trans fatty oils.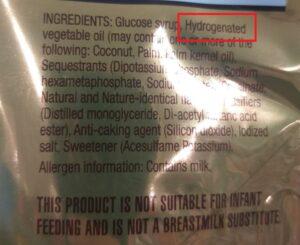 Next, I checked the different instant coffee options. I wasn't able to take photos of all of them, but believe me: each and every one I checked indicated that they had zero grams of trans fats.
Which, of course, is in accordance with existing guidelines.
The very same guidelines that allow these brands to hide trans fats under an unfamiliar name.
Speaking as a consumer, I have to agree: laws that outright ban the use of trans fatty ingredients in these items would take the burden of meticulous checking off my shoulders.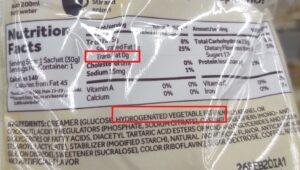 Because trans fats can indeed hide in so-called "healthy" options, such as sugar-free coffee.
Or the chocolate malt drinks I loved as a kid (and still occasionally drink as an adult).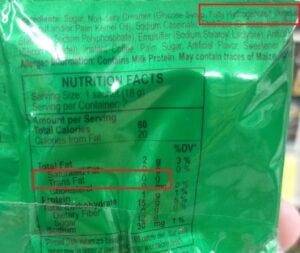 Or even in breakfast cereal and oat drinks.
Which, as we all know, are supposed to be good for the heart.
Perhaps what shocked me the most was that some of these brands proudly market their goods as healthy for the heart, despite their hydrogenated oil and fat content.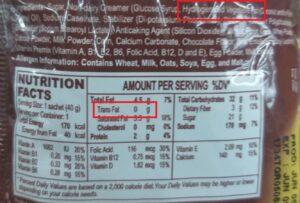 After learning all of this—and seeing with my own eyes how such a dangerous enemy can hide in plain sight—I've decided to be more mindful of what I buy from online food sellers.
Oh, and I'll also stick to black coffee and drop my "3-in-1 for a job well done" habit. I think I'd rather reward myself with a healthier heart and a longer life.
---
The general public is invited to make their voices heard via Trans Fat Free Philippines, a nationwide initiative for raising awareness about trans fats and rallying support for the pending bills. As the communications campaign of the movement towards trans fat elimination, Trans Fat Free Philippines also aims to debunk misconceptions about trans fats with facts about the Philippine market.
Note: This story was produced under the "(Un)Covering Trans Fats Media Training and Fellowship Program" by Probe Media Foundation Inc. (PMFI) and ImagineLaw (IL). The views and opinions expressed in this piece are not necessarily those of PMFI and IL.
References
https://2012books.lardbucket.org/books/introduction-to-chemistry-general-organic-and-biological/s20-01-fatty-acids.html
https://pia.gov.ph/news/articles/1049163
https://verafiles.org/articles/healthy-diet-campaign-gets-boost-house-bill
https://www.bworldonline.com/these-fats-keep-processed-foods-fresh-longer-but-they-shorten-peoples-lives/
https://www.empoweryourhealth.org/magazine/vol3_issue1/How-to-Read-a-Food-Label-Focus-on-trans-fat
https://www.ewg.org/research/hidden-plain-sight
https://www.flipscience.ph/health/life-cycle-donut/
https://www.flipscience.ph/health/stay-healthy-how-to-keep-trans-fats-out-of-your-diet/
https://www.health.harvard.edu/family-health-guide/trans-fat-labeling
https://www.manilatimes.net/2014/07/20/health-news/the-ugly-truth-about-trans-fatty-acids/112833/
https://www.webmd.com/food-recipes/features/healthy-ingredients
Bitten by the science writing bug, Mikael has years of writing and editorial experience under his belt. As the editor-in-chief of FlipScience, Mikael has sworn to help make science more fun and interesting for geeky readers and casual audiences alike.