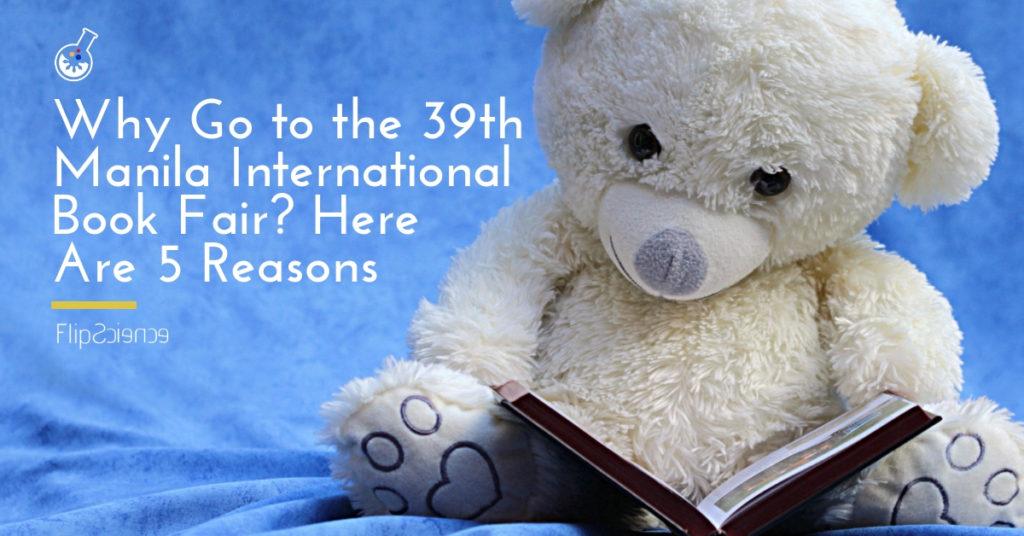 The 39th Manila International Book Fair (MIBF) is set to open its doors this Wednesday, September 12. This annual book fair for writers, readers, and fans of all ages will take place at the SMX Convention Center, SM Mall of Asia, Pasay until Sunday, September 16.
Still not sure about whether or not to attend? Here are 5 solid reasons why you should be at this year's MIBF.
MIBF has a wide selection of books at great prices.
If this isn't your first MIBF — and if you're reading this, there's a good chance that it isn't — you can definitely attest to this.
After all, the MIBF is the country's largest book fair, offering books of various types and genres that eager, voracious bibliophiles will certainly enjoy. At the MIBF, you'll find local and international fiction novels, reference guides, art books, science books, graphic novels, and so much more.
Pro tip: Be sure to bring a tote bag for all the books you'll inevitably end up bringing home!
Your favorite authors and publishers will likely be at the MIBF.
Shopping for books isn't the only thing you can do at the MIBF.
You may also get the chance to meet your favorite authors and visit the booths of your favorite publishers. There's an awesome string of book signings, panel discussions, and meet-and-greet sessions lined up for the 5-day event. Of course, there will be new releases and books at special prices, too!
Want to know if your favorite author or publisher will be at the MIBF? Check their social media accounts for any announcements.
An event for pop culture fans will take place alongside the MIBF.
Last year's Fandom Fest was such a smashing success that this year, the organizers decided to go bigger.
If you swing by the MIBF on September 15 and 16, you can also attend POP HUB: Comic Splash X Fandom Fest Vol. 1. at SMX Convention Center's Function Room 3. POP HUB will showcase comics, collectibles, artwork, and other artifacts from the ever-expanding world of pop culture. Take part in workshops, competitions, and photo opportunities, and celebrate your geekiest fandoms with pride!
The MIBF is a fun event for book enthusiasts of all ages.
The great thing about the MIBF is that it's a celebration of knowledge and fun for everyone.
Younger readers will definitely appreciate the educational books, children's fiction and non-fiction, and young adult offerings, among others. Meanwhile, there are books on history, science, music, self-help, cooking, and all sorts of hobbies and interests for older and more mature bibliophiles.
Bring your family, friends, or significant other with you, and turn your weekend into a memorable bonding experience over books.
MIBF tickets are dirt cheap (and can even be free)!
If you're used to paying Php 100 or more for convention tickets, you'll find the MIBF ticket prices to be pleasantly surprising.
MIBF passes cost only Php 35 for regulars and Php 20 for students, senior citizens and PWDs. Oh, and teachers get in for free! Just make sure to bring the appropriate IDs to avail these special rates.
Alternatively, you could just print any of these tickets and get in for free! (Any paper size will do – make sure to print these in color, though!)
Here's a free ticket from UST Publishing House:
Another one from PCBS:
Anvil Publishing' has a free ticket for you, too:
You can print this free ticket from Summit Books as well:
You may also visit tinyurl.com/nbs2018mibfpass for free tickets via National Book Store, or any Fully Booked branch's customer service desk for two-day passes.
The Manila International Book Fair will be open from 10 a.m. to 8 p.m. on Wednesday (Sept. 12), Thursday (Sept. 13), and Sunday (Sept. 16); and from 10 a.m. to 9 p.m. on Friday (Sept. 14) and Saturday (Sept. 15). Follow Manila International Book Fair on Facebook for details and updates.
---

Bitten by the science writing bug, Mikael has years of writing and editorial experience under his belt. As the editor-in-chief of FlipScience, Mikael has sworn to help make science more fun and interesting for geeky readers and casual audiences alike.