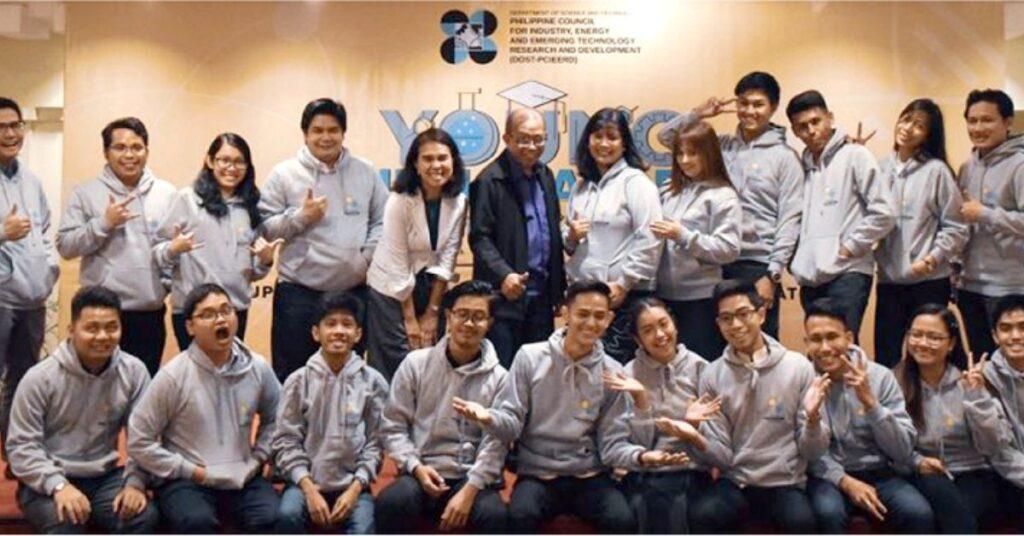 DOST-PCIEERD
---
The Department of Science and Technology – Philippine Council for Industry, Energy and Emerging Technology Research and Development (DOST-PCIEERD) recently announced the 16 shortlisted applicants for its fourth edition of the Young Innovators Program (YIP).  Seven of the shortlisted applicants came from the National Capital Region (NCR), while Regions III, IV-A, XI and XI each have two applicants. Meanwhile, one applicant came from Region V.
DOST-PCIEERD's YIP provides grants to enable promising young innovators to produce pioneering S&T-related research, publications, products, or inventions. This year, the program received a total of 92 proposals.
"The Council, as leader and preferred partner in Science, Technology, and Innovation, will continue supporting our younger generation who aspire to transform and rebuild the Philippine society," affirmed DOST-PCIEERD Executive Director Dr. Enrico C. Paringit. "The young people's incredible commitment in coming up with these researches makes me optimistic about the future of the scientific community. We value their drive, grit, and deep sense of purpose when it comes to solving problems."
YIP Shortlisted Applicants
Selected YIP grantees will receive up to PHP 800,000 for their research, inclusive of honorarium for the teachers and the students, laboratory expenses, and testing consumables.
Environment and Pollution Control
1. Shock Electrodialysis Apparatus (S.E.A.) – PSHS-Main Campus
This project seeks to provide a more accessible source of clean freshwater by creating a compact desalination device which uses shock electrodialysis technology to desalinate saltwater.
Team Members: Paris Miguel U. Bereber, John David F. Magnaye, and Davis Nicholo A. Magpantay
Mentor: Engr. Boon Kristoffer P. Lauw
2. Fungal chitosan- based Microbeads: A Heavy Metal Soil-based biobsorbent – Polytechnic University of the Philippines-Sta Mesa
The study aims to innovate fungal chitosan microbeads to help treat heavy metal-polluted soil.
Team Members: Irah Faye B. Garzon, Raven Elyze E. Laurella, and Ghimel P. Espinosa
Mentor: Dr. Lourdes V. Alvarez
3. Landfill Bioremediation through Biodegradative activities of Pleurotus ostreatus (Oyster Mushroom) to High Density Polyethylene (HDPE) – Angeles University Foundation Integrated School
The study is aimed at determining a more ecological approach to addressing plastic garbage concerns.
Team Members: Nikka C. Banez, Princess Angelica S. Besonia, Kyla Carmina F. Consul, Jules Hyacinth B. Macasaet, and Ma. Angelica D. Gomez
Mentors: Dr. Analiza J. Molina and Mr. Emmanuel Carbungco
ICT, Electronics and Semiconductor
1. Abot (Anti-Biohazard Robot): Arduino Based Internet of Things Robot Controlled by Mobile Phone via Blynk for Waste Collection and Disinfection by Using Mist Fogging System Designed for Biohazarad Wastes – Navotas National Science High School
The project seeks to build a robot that will collect the waste products of COVID-19 patients and suspected cases.
Team Members: John Emmanuel G. Javines
Mentor: Mr. Don King O. Evangelista
2. Arduino-based Physical Distancing Face shield for the Visually Impaired – South Hill School, Incorporated
The project aims to produce special face shields for visually impaired individuals to protect them from airborne infections.
Team Members: Renzo Batacan, Francis Sean Trillana, Rafael Carlos Landicho, Jerome Christian Borines, and Jonathan Peria
Mentor: Engr. Amando Perfecto Dela Cruz Molin
3. SNAP: A Facial Recognition System for Contact Tracing – MSU-General Santos City
This project will develop a system that provides a more efficient and convenient way of contact tracing by using image processing.
Team Members: Mark John Lerry Casero, John Rannilo Ortiz, and Lloyd Jayson Ca-ong
Mentor: Dr. Cristina P. Dadula
4. An Application of Artificial Intelligence and Robotics in Preventing Covid-19 Cross Infection in Philippine Hospitals – Mapua University
The research is focused on determining the key factors contributing to cross contamination and the underlying root causes that warrant the use of artificial intelligence technology and robotics.
Team Members: Alliah Jae G. Vasquez, Jasper D. Tibong, and Jay Van N. Villaflor
Mentor: Mr. Marvin I. Norona
5. SPHERE: An Ultra-wideband Technology-based Innovation for Search and Rescue Operations in the Philippines – Mapua University
The study is aimed at developing a device to hasten the search phase of search-and-rescue activities in locating victims and survivors underneath debris and heavy mudslides—minimal effort at the least possible amount of time.
Team Members: Ma. Cathyrine Ravina, Denisse Joy Dayao, and Janela Zambrano
Mentor: Mr. Marvin I. Norona
6. The study of a systematic and efficient device called SALER PADAR (System of Accurate and Logistically Effective Relief in times of Pandemic and Disaster and Risk Reduction) in terms of the distribution of relief goods during a crisis – Filemon T. Lizan Senior High School
The project aims to create a system to aid the government in the distribution of relief goods using the integration of GSM and bar code systems.
Team Members: Fererico D. Chavez III and Deowin A. Bagkus
Mentor: Engr. Anthony V. Abesado
7. SAKAY NA: An App-Based System Approach in the Reduction of Commuter Build-up and Sidewalk Congestion – Mapua University
The study will explore the different factors that will rationalize a consortium lead initiative in giving real-time information exchange to have a seamless commute of people and products.
Team Members: Lorentz Benedick Angelou V. Miranda, Allysa L. Yu, and Darryl P. Pescador
Mentor: Mr. Marvin I. Norona
8. FIBER: Fabric Installed Body Energyharvester via Raspberry Pi – University of Nueva Caceres
The project aims to create a wearable energy-harvesting device that can generate electric power from the foot step movement.
Team Members: Jonna Mae E. Bagasbas, Jerome S. Del Castillo, and Modesto D. Remo Jr.
Mentor: Engr. Edgardo N. Martinez
Material Science
1. PROJECT LINGAP LANGHAP: A Low-cost 3D Printed Air Purifier System using Activated Carbon Biomass Filter and Philippine Bamboo Exterior – PSHS-Central Luzon Campus
The study seeks to develop a low-cost indoor air purifier using activated carbon biomass filter.
Team Members: Carlos Jerard Dela Cruz, Jan Paolo Pineda, and Maria Michaela Tumonong
Mentor: Mr. Joel Bautista
Metals and Engineering
1. Design and Development of Kulintang Manufacturing Machine – PSHS-SOCCSKSARGEN
The research aims to design, fabricate and evaluate a kulintang manufacturing machine.
Team Members: Kriestienne Marie Jyka D. Garcia, Maita T. Pedrajas, and Jule Cyrus F. Arabit
Mentor: Engr. Jefrey M. Bagasbas
Nanotechnology
1. Hg and Pb Detection Kit Utilizing DLimonene from Sweet Orange (Citrus sinensis) Peelings – University of Mindanao-Main
This project aims to make an easy and efficient mercury and lead detection kit for water sources contaminated by mining wastewater.
Team Member: Steph Kier S. Ponteras
Mentor: Dr. Chosel P. Lawagon (BSP Awardee)
2. Synthesis of nanocellulose from durian rinds and nanosilica from rice hulls for the preparation of a self-healing smart concrete with augmented mechanical properties – University of Mindanao-Main
The study aims to lessen the occurrence of cracks in cement-based products through upgrading self- healing ability of the cementitious matrix using nanocellulose from durian rinds and nanosilica from rice hulls
Team Member: Ivanbert Y. Damasco
Mentor: Dr. Chosel P. Lawagon (BSP Awardee)
Renewable Energy and Energy Storage Solutions
1. Proton-Exchange Membrane (PEM) Fuel Cell Using Electrode Processed from Kaong Waste Product – Cavite State University
This project will utilize sugar palm (kaong) waste product to produce potable water from wastewater and serve as a voltage source.
Team Members: Alexis Anne Cruto Bonus, Renz John Kurt Sorrera Reyes, and Vien Isabella Roraldo Rom
Mentor: Ms. Sheryl D. Fenol
The winners of the grant will be announced on September 22, 2020.
---
Bitten by the science writing bug, Mikael has years of writing and editorial experience under his belt. As the editor-in-chief of FlipScience, Mikael has sworn to help make science more fun and interesting for geeky readers and casual audiences alike.