•Born on June 10, 1928, National Scientist Dr. Mercedes B. Concepcion is widely regarded as the "Mother of Asian Demography."
•She has conducted pioneering research on Asian population composition and trends, as well as their impact on socio-economic development.
•Her findings have resulted in the formulation and implementation of significant population policies in the Philippines and abroad.
---
Dr. Mercedes B. Concepcion was awarded the rank of National Scientist in 2010 for two important reasons: people and numbers. (Lots and lots of numbers.)
Born on June 10, 1928, Dr. Concepcion has made and continues to make significant contributions to population studies and policy, both locally and abroad. However, she was not always poised to explore the world of population statistics.
Having taken up her Bachelor's degree in Chemistry from the University of the Philippines, it was not until Dr. Concepcion received the Colombo Plan fellowship to study in the University of Sydney from 1953 to 1954 that she pursued Biostatistics. She later went on to obtain her Doctorate degree from the University of Chicago in 1963 on Sociology and Demography, on a fellowship with the United Nations (UN) Population Council.
The Mother of Asian Demography
Dr. Concepcion has often been called the Mother of Asian Demography, and with good reason.
Her work has explored a wide range of population parameters and trends, the implications of which have informed both Philippine and international policy-making. Her studies on the Filipino family have included an understanding of mourning rituals, the condition of the elderly, and family planning.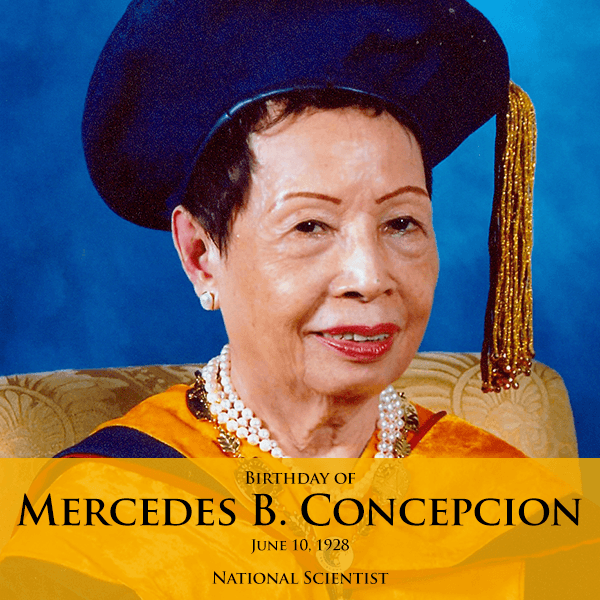 Dr. Mercedes B. Concepcion. (Image: National Academy of Science and Technology Philippines)
She has also outlined some of the maternal considerations in determining the ideal family size, and was one of the first to make comparisons on the fertility of women in urban and rural areas in the Philippines, based on age and economic status.
Her exploration of population trends had (and continue to have) implications in Philippine socioeconomic development, urbanization, employment, and population control. For instance, as the first director and co-founder of the University of the Philippines (UP) Population Institute in 1965, she played a key role in advancing population studies in the country and in creating the Population Act of 1971. This act established a national family planning program in conjunction with a nationwide policy of population control.
The first Filipina in her field
It would not be a stretch to say that, apart from being a heavily contributing member of her field, Dr. Concepcion is also a pioneering one.
Dr. Concepcion is widely recognized as the first Filipina demographer, and was part of the staff of the UN Statistical Training Center in UP. In addition, she was the first and only Filipino representative to (and later, the first female chairperson of) the UN Population Commission.
Her work wasn't just limited to the Philippines, though. In seventeen Asian countries, Dr. Concepcion surveyed and studied the indicators of aging. As a member of a special committee at the Vatican, she conducted studies on problems of population and birth control. As chair of the World Health Organization's Steering Committee on the Social and Psychological Determinants of Fertility Regulation, she participated in reviewing research papers and projects for funding. She was also the first Asian woman to become president of the International Union for the Scientific Study of Population.
To this day, Dr. Concepcion continues to serve as the Vice President of the Executive Council of the National Academy of Science and Technology (NAST), and as a Trustee of the Philippine Center for Population and Development, among other roles.
Explaining why Dr. Mercedes B. Concepcion became a National Scientist involves citing her relentless passion, commitment, and contribution to her field. Dr. Concepcion has shaped and molded Asian demography throughout the course of her career, in pursuit of the development not only of science, but of the Philippines as a nation. –MF
---
References
Tecson-Mendoza, E. (2017) Biosketches: Filipino Trailblazers in Science and Technology. Taguig, Philippines. National Academy of Science and Technology Philippines.
https://www.pcpd.ph/news/dr.-mercedes-b.-concepcion-named-as-national-scientist-
https://www.facebook.com/nastphl/photos/a.203631989673681/1039410549429150?type=3&sfns=mo
http://worldcat.org/identities/lccn-n81100601/

Mercedes B. Concepcion
Author:
Lia Angela Bote
Bea is an aspiring Food Technology student from UP Diliman. When not in the laboratory doing food analysis and processing, you can find her in some coffee shop writing research papers and science articles, maybe in her room watching her favorite series, in her tutees' house teaching science and math, or in the movie house enjoying the present. She loves travelling but she hopes to find herself in the future practicing Food Laws.