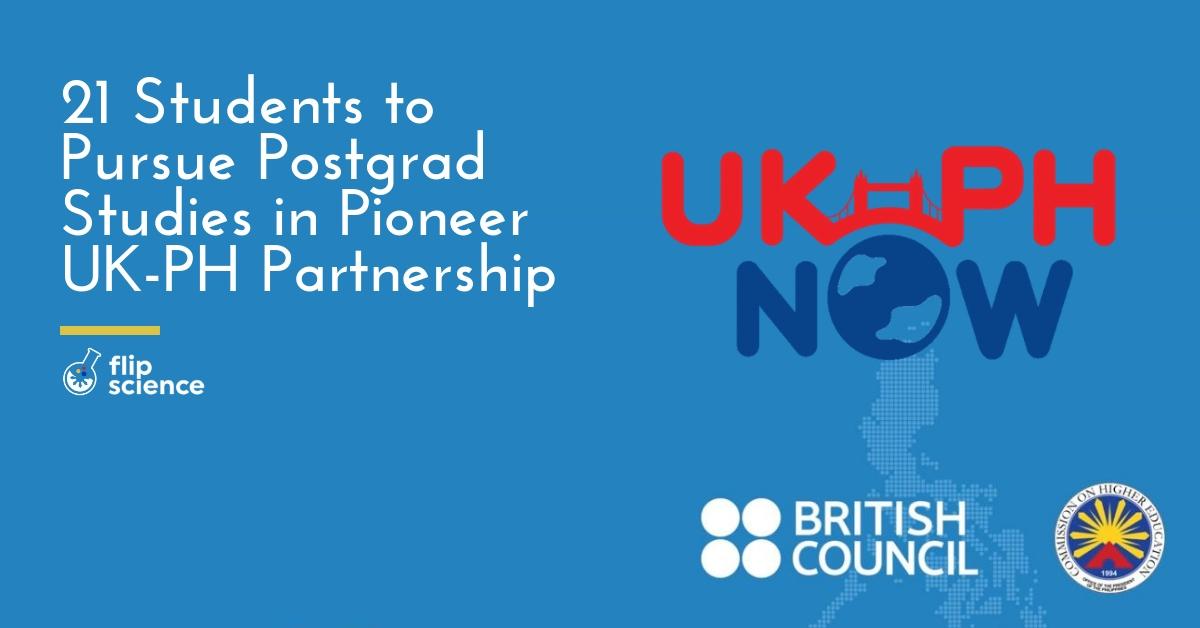 Through the Joint Development of Niche Programme through Philippines-UK Linkages (JDNP) program, the British Council and the Commission on Higher Education (CHED) granted 21 Philippine-based students the opportunity to pursue postgraduate studies in top UK universities.
A postgraduate partnership
Funded by the two institutions, the JDNP opens doors for Philippine-based students to enrol in postgraduate courses that are currently not offered by local universities. Ten Philippine universities and nine UK higher education institutions collaborated to develop 18 joint and dual degrees in critical niche fields. These degrees are in line with the Philippines' current national priorities, and are key areas for academic development in the country.
Bea Therese Bajarias, Jemmalyn Borces, and Stephanie Danielle Tudtud from the University of San Carlos will take up Masters in Arts and Design at Cardiff Metropolitan University.
Meanwhile, University of Santo Tomas' Arch. David Yu, Arch. Brian Chiu, Arch. Joey de Vera, Arch. Armel Andre Bonifacio, Arch. John John Ong will be at the University of Reading under the PhD in Architecture/Built Environment program.
Another batch of Tomasians, comprised of Iris Hyacinth Evelyn B. Alonso, Clarenz Sarit C. Concepcion, Dr Joseree-Ann Catindig, Dr Irene Salve J. Vergara, Marlon Mallillin, and Diana Leah M. Mendoza, will pursue their masteral studies in Public Health International at the University of Leeds.
Ritche Nuevo, Bernard Alan Racoma, and Rafaela Jane Delfino from the University of the Philippines (UP) Diliman Institute of Environmental Science and Meteorology (IESM) will pursue their PhDs by Research in Meteorology at the University of Reading.
Lastly, UP Los Banos' Emmanuel Genesis T. Andal, Richard B. Daite, Aldo Gavril T. Lim, and Guinevere T. Madlangbayan will also study at the University of Reading, under the PhD By Research degree program.
Delighted to meet the 21 TNE links scholars who will soon start postgraduate degrees in the UK! @phBritish @PhCHED #UKPHNow pic.twitter.com/I9pqlrRUQN

— Pilar Aramayo P. (@PilarAramayo) September 13, 2018
A learning journey
Some of the scholars have already started their postgraduate studies at their designated UK partner universities. Meanwhile, Racoma and his fellow scholars will fly to the UK come January.
"I'm realizing that there still is so much to learn in terms of meteorology in the Philippines," shared Racoma in an interview with FlipScience. For instance, the Philippine Atmospheric, Geophysical, and Astronomical Services Administration (PAGASA) currently uses the Unified Model for weather and climate prediction — an approach that still requires further research in terms of how well it actually suits the Philippines.
"We may be one of the most typhoon-exposed countries in the world, but we still find new things to learn about typhoons."
Racoma is thrilled at the prospect of supplementing what he has learned from IESM — one of the World Meteorological Organization's official Regional Training Centers — with scholarship education at the University of Reading, which ranks #2 in terms of meteorology and atmospheric sciences research across the world.
"We're enrolled in a very research intensive program that will expose us to different technologies, cultures, and world views, along with closer cooperation with our British partners."
A test among the best
Meanwhile, CHED encourages students in the Philippines to aggressively pursue learning opportunities abroad.
"It is clear that for every Filipino who leaves for abroad, his or her worldview automatically changes, as they learn new cultures, as they work with students of different nationalities, but more importantly, as they test themselves among the best in the world," according to CHED Officer-in-Charge Dr J. Prospero E. de Vera III.
"And when they come back, they are never the same again."
---
References
https://news.mb.com.ph/2018/10/15/ched-top-official-urges-pinoy-students-to-seize-the-chance-study-abroad/
https://www.britishcouncil.ph/tne/events/articles/students-bound-for-pioneering-tne-study?fbclid=IwAR1wJMRtuEPrRtqzk31vAEA2JgIdK1bD07yEyVtDRm_1wCmqogziaozZzy0
https://www.britishcouncil.ph/tne/programmes/msc-meteorology-phd-agriculture
https://www.reading.ac.uk/news-and-events/releases/PR716916.aspx
https://www.sunstar.com.ph/article/425806

Bitten by the science writing bug, Mikael has years of writing and editorial experience under his belt. As the editor-in-chief of FlipScience, Mikael has sworn to help make science more fun and interesting for geeky readers and casual audiences alike.