•Working with DOST-PCIEERD and UPSCALE Innovation Hub, three Philippine tech startups have started offering new services to aid in the fight against COVID-19.
•AccessiWheels, DWARM Technologies, and Drive have repurposed their existing solutions to address transportation, monitoring, and grocery delivery challenges, respectively.
•The startups will offer these services and roll out improvements for the duration of the pandemic.
---
Philippine startups have reworked and adapted their existing tech services in order to combat the COVID-19 pandemic.
Supported by the Department of Science and Technology Philippine Council for Industry, Energy and Emerging Technology Research and Development (DOST-PCIEERD) and UP Diliman's UPSCALE Innovation Hub, these startups are providing essential tech-based solutions to address the challenges presented by this health crisis.
AccessiWheels: Free rides for medical patients and healthcare workers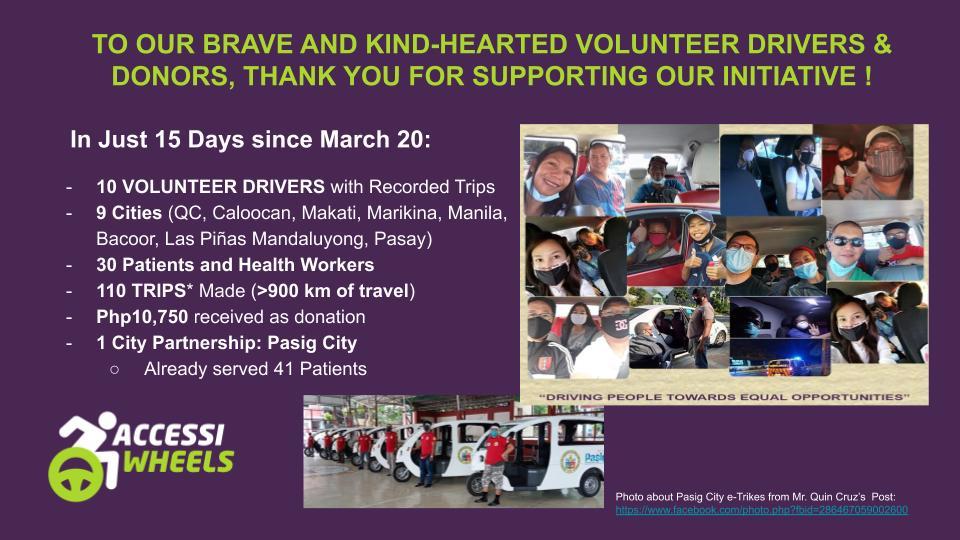 AccessiWheels is a startup that provides transportation services to PWDs and individuals with mobility problems. As mass transportation is currently suspended under the Luzon-wide enhanced community quarantine, the startup has recently been offering its services for free to healthcare workers and patients undergoing dialysis and other urgent medical procedures.
Patients in need of assistance may send a message to the AccessiWheels Facebook page with the following information:
-Patient name
-Contact number
-Pick-up location
-Drop-off location
-Day and time
-Medical certificate
-Barangay certificate
Upon confirmation, the startup will assign volunteer drivers with cars to bring the patient to their specified drop-off.
The Pasig City government was the first to partner with AccessiWheels in offering free e-tricycle rides (lent by local schools) to patients in need of transportation to nearby hospitals.
According to an official statement from DOST-PCIEERD, AccessiWheels has already helped over a hundred patients and medical workers.
DWARM's AI-powered thermal scanner drone swarm
Founded by alumni of Far Eastern University (FEU), DWARM Technologies started out as a project to create autonomous search and rescue drones for use in times of calamity.
To support thermal scanning efforts at express checkpoints and minimize exposure of uniformed and medical personnel to the virus, DWARM has rolled out its artificial intelligence (AI) drones as non-contact thermal scanners across the Philippines.
The system, which uses a video camera and thermal camera, works in two ways: as a temperature reader at checkpoints, or as a drone attachment for scanning larger areas. Either way, it automatically alerts medical personnel upon detection of an individual with a body temperature of 37.5 degrees Celsius and above.
From Drive to Drive Groceries
Meanwhile, peer-to-peer car rental platform Drive has transformed into Drive Groceries, applying the same operating principle for online grocery deliveries.
Drive Groceries is not an e-commerce store; rather, it provides transport and logistics services for shoppers who need to purchase groceries and/or medicine.
The app matches customers with the closest local grocer from their area, and charges a delivery fee that varies according to the total bill. It does not require a minimum order amount.
Currently operating in Metro Manila, Drive Groceries seeks to offer its services to nearby provinces within the next 90 days. At the moment, it only accepts cash payments or bank transfers. However, it will be able to handle credit card transactions come July.
About UPSCALE
Launched in January 2018 by the University of the Philippines, UPSCALE (Sustaining Collaboration in an Advanced Learning Environment) is a hub for startups and industry collaborations. Its purpose is  to accelerate the launch of innovative technologies via partnerships with private industries, startups, and startup incubators. Its three primary programs are UP Enterprise (for pre-revenue technology startups), IGNITE (a market-driven product development program for industry collaborations), and EntreLead (for technology startups with initial investment and traction).
Since its inception, UPSCALE has supported startups dealing with environmental, waste management, transportation, and mental health issues, provided capacity building for higher education institutions on technopreneurship and innovation, and formed numerous industry partnerships.
---
References:
https://businessmirror.com.ph/2020/04/13/drive-manilas-grocery-delivery-app-goes-live/
https://www.feutech.edu.ph/features/feu-tech-students-innovations-and-the-fight-for-a-covid-19-free-future-part-1-of-2/
https://www.rappler.com/move-ph/255026-groups-transportation-delivery-services-luzon-lockdown
https://www.rappler.com/nation/256389-pasig-launches-etrikes-sick-food-vouchers-students-coronavirus-lockdown
Bitten by the science writing bug, Mikael has years of writing and editorial experience under his belt. As the editor-in-chief of FlipScience, Mikael has sworn to help make science more fun and interesting for geeky readers and casual audiences alike.