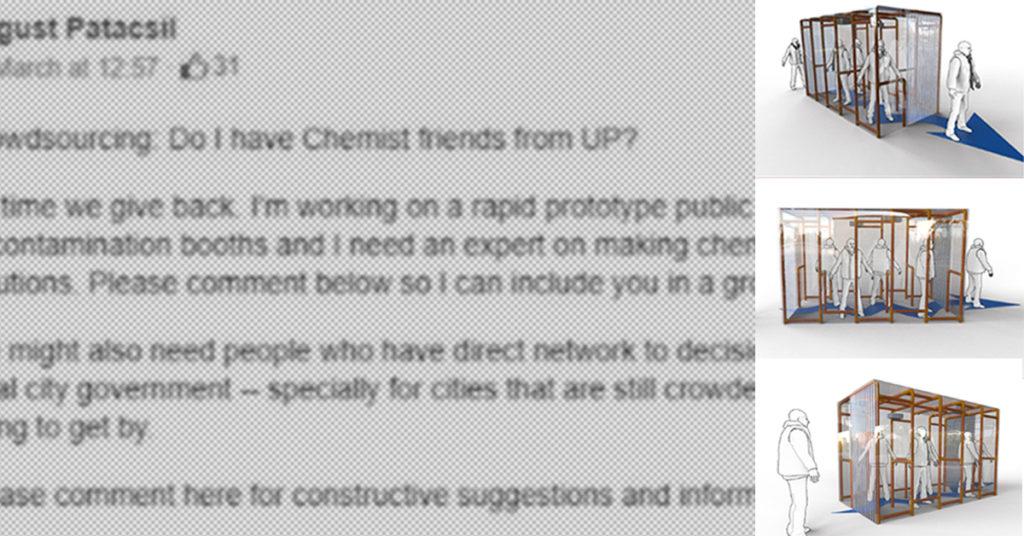 •Conceptualized by UP Diliman students and alumni, SaniTents PH is an affordable, easy-to-build sanitation tent for mitigating the spread of COVID-19.
•The open-source design will use easily accessible materials from local hardware stores, and can be used in various public settings.
•The team will send the finalized design to LGUs and institutions, who can freely use it to build and deploy their own tents.
---
(Updated on March 20, 2020) When Industrial Designer August Patacsil saw the chaotic first working day of the Metro Manila community quarantine due to COVID-19, he was mortified. "After the lockdown – the people did the opposite."
Then he had an idea: a sanitation tent for deployment in public places, to help fight the disease.
After doing his research, he realized that he needed "the right people" to make his plan work. And where else could he go but UP?
"Without hesitation, I called for chemistry scientists in the Overheard FB group and announced: 'It's time to give back.'"
And thus, SaniTents PH was born.
Rallying support
"In less than 24 hours from the post, we were completed with a Manager, Designers, Chemists, and Engineers – all with expert knowledge in their field working towards a single goal: Serve the people," wrote Patacsil in a note for the media, identifying himself only by his student number.
"As much as possible, we hope to be identified as a collective," a SaniTents representative explained to FlipScience.
The purely-virtual team of mainly University of the Philippines Diliman students and alumni is now 89-member strong, with support coming from UP Los Baños and other UP campuses, as well as volunteers from University of San Carlos and Ateneo de Manila.
SaniTents PH's team "has actually grown exponentially overnight, and continues to grow as we speak," said their representative, a journalism major from UP Diliman. They currently have subteams working on structural booth design, atomizer machine alternatives, and disinfectant solution research.
An affordable, accessible solution
The minds behind SaniTent PH describe it as an "affordable and easy-to-build sanitation tent design."
One can easily buy the materials for the tents from ordinary hardware stores. It's also made for easy deployment in various public areas, including hospital entrances, MRT/LRT stations, bus stops, groceries stores, and public markets.
"Right now, our main concern is the team's mobility in conducting the experiments to validate the proposals, and the main prototype," said SaniTents PH. They are also looking for experts to test their plan's feasibility.
Fortunately, more support seems to be on the way. UP Diliman Chancellor Fidel Nemenzo is already in touch with the team, said the team. "We're really thankful that various forms of assistance are coming in to make the project work."
Working from home
The entire SaniTents PH team works together, remotely. "We haven't really met up in person yet so our correspondence have been limited to messaging apps and our FB group," said their representative.
Despite this distance, it is their mission of building something timely amid COVID-19 that continues to draw more people and assistance to their cause. Virologists, microbiologists, visual artists, and mathematicians have since joined their team. Volunteers have autonomously organized themselves into groups as they work towards making SaniTents a reality.
"We are doing our best to serve the people, free of charge," wrote Patacsil. "This is to help our health workers who are dealing with the pandemic and were doing our best to contribute something—and it's moving as planned while taking part with the public mandate of staying at home."
The SaniTents team is inviting interested parties to sign up as their contacts and grow their network of possible collaborators. "Once the design is final, we will send it to all contacts in our database. All LGUs and institutions can use it, free of charge," said the team on its Facebook page.—MF
---
Cover photo: SaniTents PH Facebook page
Ronin is a Christmas-loving wandering scribe who wanted to be a doctor, until he learned it meant cutting dead bodies open. He is currently finishing his MA in Asian Studies (major in Japanese Studies), while teaching journalism classes at UP Diliman's College of Mass Communication.