Children are naturally inquisitive about the world. They ask seemingly simple science questions that may stump even adults. For instance, questions like "How does a ship float on water?" or "Why is the sky blue?" or even "Can we live on Mars?"
Don't fret, though! Parents, teachers, titos, and titas would be glad to know that, apart from Google, there are other educational (and fun) tools that could help nourish children's budding interest in science — good old-fashioned BOOKS!
Science books with a twist
Award-winning Filipino publisher Adarna House offers an interesting selection of science books for young readers that are innovative and far from "textbook-y."
Veering away from the standard science books using examples in a Western setting, the Adarna Science collection offers science-oriented books written and illustrated by Filipino creative minds for Filipino children.
Adding science titles to the publishing company's already formidable roster of storybooks was actually the idea of Gidget Jimenez, the author of the first three Adarna Science books, who wanted to work on informational text for children.
Ani Almario, Vice President for Product Development of Adarna House, told FlipScience:
"We were eager to work with her as there's a dearth of non-fiction for children. We wanted books on science that featured local examples. We pride ourselves in promoting Filipino values and culture as well as propagating the national language."
Apart from overseeing the development of all Adarna books for the last 18 years, Almario is also the director and co-founder of progressive educational institution, The Raya School.
As Almario emphasized:
"The study and practice of science involves the development of critical thinking skills, which is very important in a child's education. Science promotes a whole slew of values like tenacity, determination, curiosity, and objectivity that we also want to see in Filipino kids."
Adarna House takes pride in developing these non-fiction books, knowing that children need to learn how to read and appreciate not just narrative text, but also expository text.
"Filipinos are not necessarily known for scientific discovery, but our country actually has a lot of outstanding scientists," shares Almario. "If we can do our part in promoting these local scientists, or encouraging more young Filipinos to enter the field of science, that would be great."
Looking to stock up on these fun science-oriented books? Here's a list of FlipScience's recommended titles.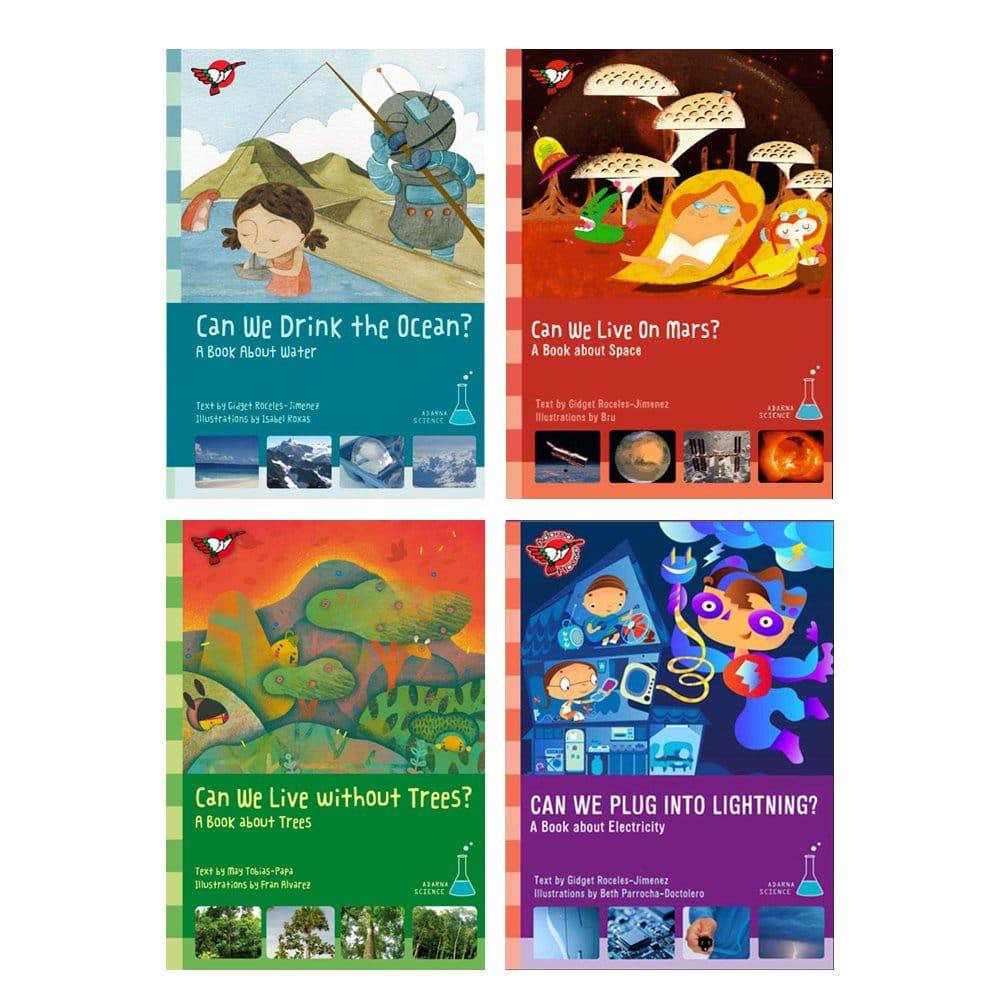 Can We Live on Mars? A Book about Space
(2010 Best Reads for Kids, 1st National Children's Book Awards)
This award-winning book helps young readers take the first step to discovering astronomy, the different kinds of heavenly bodies, and developments in space exploration.
The citation from the 2010 National Children's Book Awards reads: "By locating the Philippines in the constellation of achievements in the history of astronomy, Can We Live on Mars? boosts our sense of identity and creativity. It is an empowering and inspiring book, giving students sound ideas on what they can do as budding scientists and responsible global citizens now and into the future."
Text by Gidget Jimenez
Illustrations by Bru
Language: English
Age Recommendation: 10+
Can We Plug Into Lightning? A Book about Electricity
If lightning is made of electricity, can we plug a light bulb into it? Find out how a light bulb works and the answer to other electrifying (pun intended) questions. Young readers will also learn fun facts about energy sources, how energy becomes electricity, and how electricity travels from the power plants to our homes.
Text by Gidget Jimenez
Illustrations by Beth Parrocha-Doctolero
Language: English
Age Recommendation: 10+
Can We Drink the Ocean? A Book about Water
Learn about the properties of water, including its cycle, treatment, distribution, and ways we can help conserve it. And yes, the book will answer the question on whether or not we can drink the ocean.
Text by Gidget Jimenez
Illustrations by Isabel Roxas
Language: English
Age Recommendation: 10+
Can We Live Without Trees? A Book about Trees
The book talks about the importance of trees to the existence of humans and all living things. Can We Live Without Trees? also touches upon how people can save forests and preserve the biodiversity of the Philippines.
Text by May Tobias-Papa
Illustrations by Fran Alvarez
Language: English
Age Recommendation: 9+

Ano ang Nasa Loob ng Tren / Eroplano / Sasakyang Pangkalawakan?
Machines fascinate even the littlest kids. Naturally inquisitive and curious, they want to know how things work "on the inside." Ano Ang Nasa Loob ng… is a series of three separate books illustrating and explaining the parts and mechanisms that make trains, airplanes, and space shuttles work.
Directed and designed by David West
Language: Filipino
Age Recommendation: 9+
******
As a bonus, we are also recommending these fiction books. While they are not part of the Adarna Science collection, they are just as informative as the publisher's science books.  (Note: One of the titles we wanted to include here, 100 Questions Filipino Kids Ask, is currently sold out. Adarna House is working on a revised version, tentatively set for release in 2018.)
Little Raindrop
Little Raindrop is a large, easy-to-read, easy-to-understand storybook about the adventures of a little raindrop who left his home in the clouds. Young readers can learn about the water cycle and the importance of rain on the lives of people, animals, and plants.
Story by Gloria Villaraza-Guzman
Illustrations by Fidelito Manto
Language: English
Age Recommendation: 7+
Kain, Kumain, Kinain
Here's another storybook that simplifies scientific facts, this time about the food chain. Follow Islaw's fishing adventure to understand the series of events showing how living organisms find their source of food.
Story by Mike Bigornia
Illustrations by Jess Abrera, Jr.
Language: Filipino
Age Recommendation: 6+
Mga Hayop sa Filipinas
This board book for toddlers shows bright and colorful drawings of animals that are indigenous or native to the Philippines. It also teaches the names given to these animals in Filipino.
Illustrations by Lori Espiritu
Language: Filipino
Age Recommendation: 0+
These Adarna House science books are available at https://adarna.com.ph/ and major bookstores nationwide. — MF
Author:
Faye de Jesus
Faye de Jesus is a freelance writer and communications specialist with over 15 years of experience in corporate messaging and branding, PR, media and stakeholder relations. She volunteers for education- and learning-centered projects and likes sharing her love for books, reading, and learning with children.