ICYMI: Science and technology updates from February 24 to March 2, 2019.
---
DOST opens world-class Halal center in South Cotabato
The Department of Science and Technology – Soccsksargen Region (DOST 12) formally opened a high-quality Philippine Halal facility last February 25. The Philippine National Halal Laboratory and Science Center, located in South Cotabato, aims to promote the country's Halal industry in the international market. Read the full story.
Diwata-1 replica to be displayed at the National Museum
In a Facebook post, STAMINA4Space announced that a replica of the Diwata-1 microsatellite has been turned over to the Natuonal Museum of Natural History.
30-million-page "Lunar Library" launched into space
Last week, a 30-million-page archive of human history and civilization launched aboard a spacecraft headed for the moon. According to the Arch Mission Foundation, the device, called the "Lunar Library," is intended to be a "backup plan" to preserve all the knowledge we've gained across the centuries. It consists of 25 nickel disks that are 40 microns thick, and is built to withstand space conditions. Read the full story.
Scientists turn CO2 'back into coal'
In an experiment led by researchers from RMIT University in Melbourne, Australia, scientists were able to turn CO2 (a gas) back into solid "coal" form. They used a technique involving liquid metal electrolysis, converting the gas molecules into solid carbon particles. This may very well be a significant step in the fight against climate change. Read the full story.
Aussie fishers snag rare (and horrifying) fish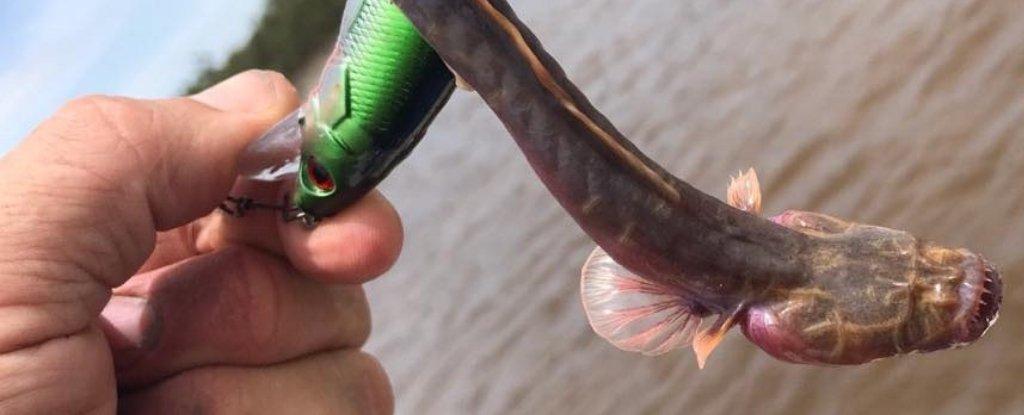 Anglers at the Kakadu National Park in the Northern Territory, Australia snagged a rare, 15 cm (5.9 in) worm-like fish with "no eyes and a pointy smile." When photos were brought to Michael Hammer, a curator of fishes at the Museum and Art Gallery of the Northern Territory, he identified it as a worm goby, possibly from Taenioides genus. Read the full story.
Plastic fragments found in deepest ocean animals' guts
According to a newly published study, animals living in the depths of the ocean have been found with plastic waste in their guts. The British researchers mentioned that in the Mariana Trench east of the Philippines, all of the animals had plastic in their digestive tracts. This is evidence that manmade pollution has a much deeper (pun intended) impact on the environment than most of us may realize. Read the full story.
Check out this 2,000-year-old tattoo gun
A 2,000-year-old tattoo gun. (Robert Hubner, Washington State University)
Recent findings reveal that a tool discovered in Utah decades ago points to indigenous Ancestral Pueblo people inking their bodies as far back as 2,000 years ago. This challenges existing knowledge about the history of tattooing in southwest America, placing it on the timeline about a thousand years earlier than previously thought. Read the full story.
---
Cover photo: Arch Mission Foundation

Bitten by the science writing bug, Mikael has years of writing and editorial experience under his belt. As the editor-in-chief of FlipScience, Mikael has sworn to help make science more fun and interesting for geeky readers and casual audiences alike.