ICYMI: Science and technology updates from June 2 to 8, 2019.
---
DOST partners with Japan for sustainable development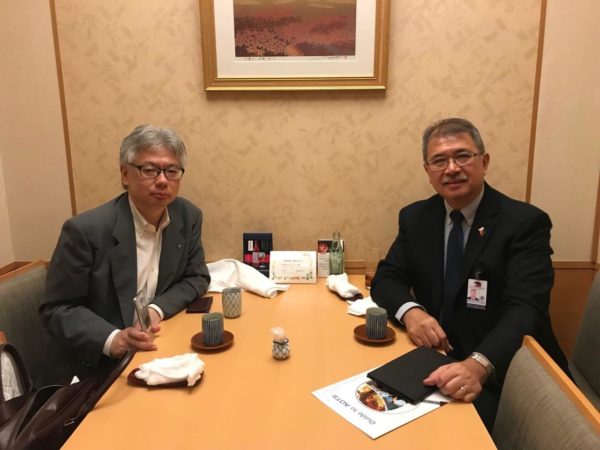 DOST Sec. Fortunato T. de la Peña discusses collaborative opportunities with Tetsuiji Kawakami of the Association for Technical Cooperation and Sustainable
Partnerships. (Image: DOST-STII)
Officials from the Department of Science and Technology (DOST), including Sec. Fortunato T. de la Peña, attended the recent Nikkei Conference on the Future of Asia as part of the Philippine contingent.
here, Sec. de la Peña met with Senior Managing Director Tetsuiji Kawakami of the Association for Technical Cooperation and Sustainable Partnerships. They discussed potential partnerships for technical and management training, either in Japan or onsite in a Japanese-affiliated company in a developing ASEAN country.
Additionally, Sec. de la Peña worked on the Memorandum of Understanding (MOU) on Space Cooperation with the Japan Aerospace Exploration Agency (JAXA), which aims to provide the Philippines with access to satellites and launch vehicles, as well as establish joint research and co-development of satellites, capacity building for policy and technology development, and  human resources upgrading.
Science and math educators invited to join InnoBox contest
The Department of Science and Technology-Science Education In­stitute (DOST-SEI) has officially launched this year's edition of the InnoBox (Innovation in a Box) competi­tion.
Science and math teachers are invited to join the nationwide search for "innovative teaching and learning resources" for the two subjects.
Nine entries–three entries per category, under three categories (Grades 3-6, Grades 7-10 and Grades 11-12)–will receive P50,000 each to develop their project prototype. The top entry in each category will re­ceive a plaque of recognition and P100,000.
Deadline for submission is on July 12. Interested parties may visit www.sei.dost.gov.ph or email in­nobox.seidost@gmail.com for more details.
DOST intensifies Marawi IDPs' livelihood programs
DOST continues to establish livelihood programs for the internally displaced persons (IDPs) of Marawi City in Lanao del Sur. According to Dr. Rowena Cristina Guevara, undersecretary for Research and Development, the agency will continue to provide support in the form of training and hands-on programs until the citizens of the city can fully recover.
Among the technologies and training provided so far include personal care products, charcoal briquetting, herbal processing, and essential oil extraction, as well as a corn mill facility and "Do-It-Yourself (DIY)" bamboo shelter production training for IDPs in Butig, Lanao del Sur. The agency is also providing assistance on Innovation Support System and Management Strategies to Vegetable Production to Farmers in Pantar, Lanao del Norte. These initiatives are being carried out in partnership with the SMILES Foundation.
Study: People unknowingly eat and breathe in microplastics
Researchers from Canada found that Americans unknowingly consume up to 52,000 microplastic particles–tiny plastic shards from man-made products–on a yearly basis. The scientists analyzed hundreds of data sets on microplastic contamination, and compared their findings to usual American diet and consumption habits.
The U.S. is four months away from losing "measles elimination" status
Due to ongoing outbreaks in the state of New York over the past eight months, the nation is in danger of losing its measles elimination status, two decades after achieving it.
According to the United States' Department of Health and Human Services, the U.S. registered over a thousand measles cases in 2019. If the disease, which is preventable by vaccines, continues to be transmitted within the country over the next four months, it will no longer meet the definition of the World Health Organization (WHO) for "elimination" (the absence of endemic measles cases for over 12 months).
As it has been quite a while since measles was a rampant disease in children, the full impact of its resurgence, especially on a population that has not been routinely exposed to it, is both unknown and distressing.
Jupiter and its moons will be clearly visible via binoculars
The National Aeronautics and Space Administration (NASA) have said that Jupiter "is at its biggest and brightest this month," requiring only a pair of binoculars for it and its major moons to be observed in full detail.
According to the agency: "The solar system's largest planet is a brilliant jewel to the naked eye, but looks fantastic through binoculars or a small telescope, which will allow you to spot the four largest moons." The planet will reach opposition–the annual event at which Jupiter, Earth, and the Sun will fall into a straight line–on June 10.
---
References:
http://tempo.com.ph/2019/06/03/innobox-contest-for-science-math-teachers/
http://bangonmarawi.com/2001/12/02/dost-gears-up-for-marawi-idps-livelihood-programs/
https://newsinfo.inquirer.net/1127706/people-eat-inhale-plastics-but-dont-know-it
https://www.whoi.edu/press-room/news-release/study-identifies-new-sub-species-of-pilot-whale-in-pacific-ocean/
https://cnnphilippines.com/world/2019/6/7/Jupiter-visible-space-binoculars.html