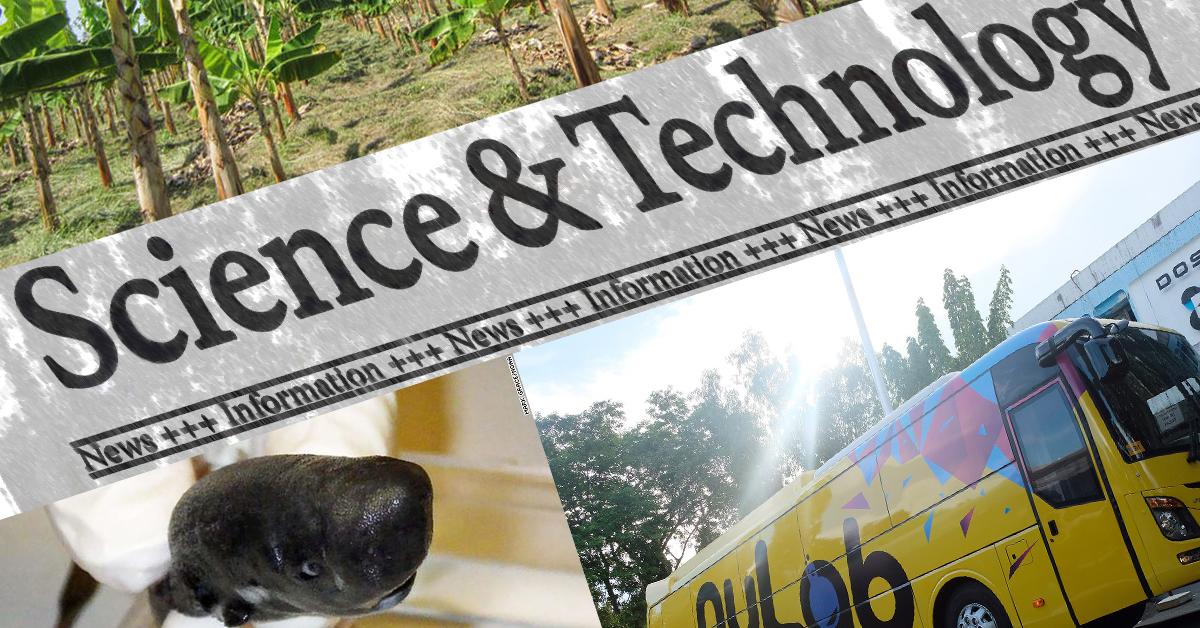 ICYMI: Science and technology updates from July 15 to 21, 2019.
---
Duterte signs act bolstering Magna Carta for S&T professionals
Via ABS-CBN News:
President Rodrigo Duterte approved Monday an act which seeks to strengthen the Magna Carta for scientists, engineers, researchers, and other science and technology workers.

Under Republic Act No. 11312, the government should ensure that science and technology personnel, who have more workload than scientists and researchers, will be given fair compensation.

The act also forbids companies and agencies from putting limits on the compensation of science and technology workers from funded grants.
DOST-SEI launches science bus "nuLab" at NSTW
Unveiled at the National Science and Technology Week celebration at the World Trade Center in Pasay City, nuLab is the new mobile science learning facility of the Department of Science and Technology-Science Education Institute (DOST-SEI). This is DOST-SEI's second science bus for Filipino learners, following the success of the Science Explorer, which has served around 32,000 elementary and high school students in more than 100 municipalities all over the country since 2010.
The "science bus," nuLab, debuted at NSTW last July 17. (Image: DOST-SEI)
Designed for senior high school students, nuLab features advanced STEM modules on nanotechnology, aerospace engineering, nuclear science, earthquake risk analysis, science media literacy, programming, oceanography, robotics, entomology, and environmental science.
Inside nuLab. (Image: DOST-SEI)
nuLab features a huge interactive board, individual monitor for students, laboratory-grade equipment, wireless sensors and more. It can accommodate 24 students in a single session. The "science bus" will visit Ilocos Norte on September 17-19, Iloilo on October 21-24, and Bontoc, Mt. Province on Nov. 18-22.
Coming soon: A ₱20 coin?
Via CNN Philippines:
The Bangko Sentral ng Pilipinas (BSP) might issue ₱20 coins in the future.

In a statement, the BSP announced there is a recommendation to replace the ₱20 bill with a coin version.

This is based on a study by the University of the Philippines, which found that the ₱20 bill is the most used denomination for small-value transactions, and is prone to have a shorter life span.
Dengue deaths rise to 491 within first seven months of 2019
Via Inquirer.net:
Dengue fever has killed at least 491 people, mostly children, throughout the Philippines in the first seven months of 2019, the figures showing why the Department of Health (DOH) declared a national health emergency to raise concern over the spread of the killer mosquito-borne disease.

The fatality figure for 2019 was 155 deaths higher than that of 2018 which saw 336 deaths for the same period.
Lethal banana disease may result in global price hike
The Fusarium fungus presents a very real danger to cavendish bananas. (Image: iStock)
Via Science Magazine:
In a long-feared development, an extremely damaging banana disease has apparently reached Latin America. Late last week, the Colombian Agricultural Institute (ICA) in Bogotá confirmed that four plantations in northern Colombia have been quarantined because of suspected infection with Fusarium wilt tropical race 4 (TR4), a fungus that kills plants by clogging their vascular system. Already widespread in Asia, the disease can wipe out entire plantations.

The finding has yet to be confirmed, but countries in the region are on high alert. Neighboring Ecuador is the largest banana exporter in the world; Colombia, Costa Rica, and Guatemala are big producers as well. A major outbreak of TR4 could ruin many farmers and drive up banana prices globally.
This newly discovered shark glows in the dark
The newly discovered American pocket shark. (Image: CNN)
Via CNN Philippines:
The 5 1/2-inch American Pocket Shark is the first of its kind to be discovered in the Gulf of Mexico, according to a new Tulane University study. 

It's only the second pocket shark ever captured or recorded, Grace said in a statement. The other was found in 1979 in the east Pacific Ocean.

"Both are separate species, each from separate oceans," he said. "Both are exceedingly rare."

According to the paper, the shark secretes a glowing fluid from a tiny pocket gland near its front fins. It's thought to help attract prey, who are drawn to the glow while the tiny predator, practically invisible from below, stealthily attacks.
---
References:
https://news.abs-cbn.com/news/07/15/19/duterte-signs-act-strengthening-magna-carta-for-scientists-engineers
Official DOST-SEI nuLab press release.
https://newsinfo.inquirer.net/1144079/dengue-now-national-emergency-kills-491
https://cnnphilippines.com/news/2019/7/19/20-peso-coin-bsp.html
https://www.sciencemag.org/news/2019/07/devastating-banana-disease-may-have-reached-latin-america-could-drive-global-prices
https://edition.cnn.com/2019/07/21/us/new-shark-species-bioluminescent-trnd/index.html