---
(Updated on May 9, 2020) Each year, bird-watchers and ornitholgists celebrate World Migratory Bird Day to raise awareness about migratory birds and the need to protect them.
Admittedly, many Filipinos may not even be aware of the existence of such a holiday. Nevertheless, it is a significant one, especially since the Philippines is known to be a haven for migratory birds.
Why do birds migrate in the first place, though? And why is the Philippines the go-to place for many migratory birds when it's time for them to flap their wings, so to speak?
Here are five important things you may not know about migratory birds in the Philippines.
1. Migratory birds visit us every year.
Seasonal changes affect food scarcity. This is the primary reason why many species of animals, including birds, temporarily move to warmer regions at certain times of the year. Migration not only enables them to live under suitably warm temperatures, but also makes it easier for them to find food come wintertime.
As part of the East Asian/Australasian Flyway, the Philippines receives annual visits from numerous migratory bird species from China, Japan, Siberia, and other parts of the world. Migration typically peaks from September to November for birds flying to the South. Meanwhile, birds heading to the North pass by the Philippines between February to April.
2. The Philippines plays a significant role in bird migration.
The Philippines has 117 Important Bird Areas (IBAs) spanning 32,302 square kilometers. Out of these IBAs, 47 are part of protected areas, 23 are partially protected, and 47 are unprotected. The IBAs provide shelter for roughly 115 water birds with "Threatened" status. They serve as habitats for large numbers of these birds at a time, making them crucial sites for bird conservation.
3. There are over 600 species of birds in the Philippines — and quite a few of them are migratory.
In the Philippines, there are over 600 species of birds, around 150 of which are migratory. Some examples of these are the grey heron, purple heron, peregrine falcon, northern shoveler, and the Philippine mallard. The last example is actually one of nearly 200 endemic avian species in the country.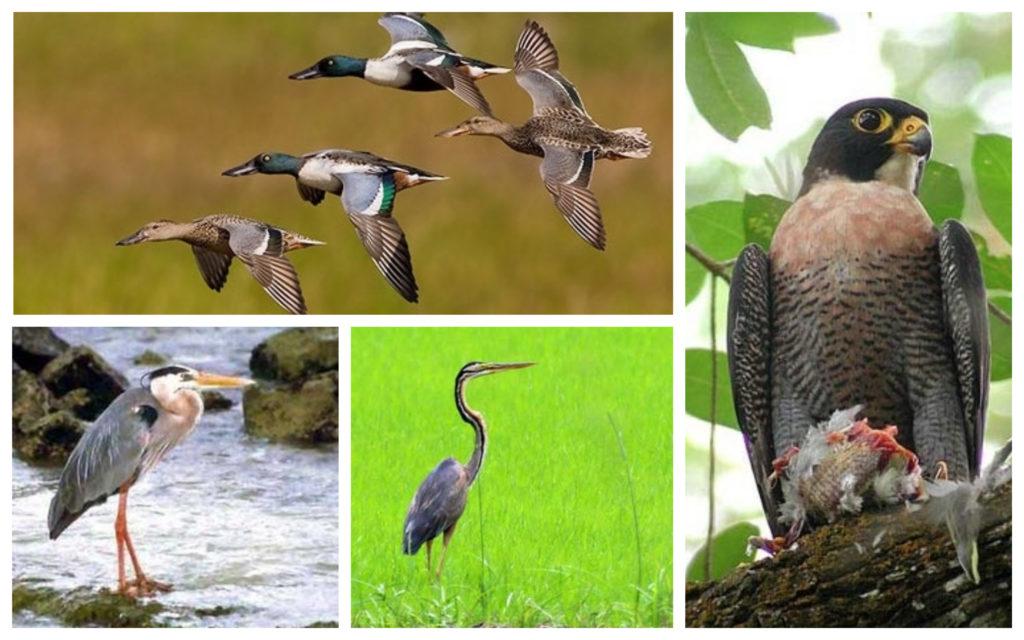 From left, clockwise: the Northern Shoveler, the Peregrine Falcon, the Purple Heron, and the Grey Heron. (Photos: Birdwatch.ph contributors)
4. The presence of migratory birds is a welcome sign.
So, what does it mean when migratory birds start to pop up in a particular area?
"Birds tend to stay if an area has an abundant food to feed on and as long as they remain undisturbed during their visit," according to Director Theresa Mundita Lim from the Biodiversity Management Bureau (BMB) of the Department of Environment and Natural Resources (DENR). When migratory birds frequent a specific area, it means that the area exhibits conditions that are conducive for migration (such as an abundance of food and a comfortable climate).
"Migratory birds serve key functions in the interconnected systems that keep nature healthy, including pollination and seed dispersal of crops for human and livestock consumption; pest regulation; and as an aesthetic source of pride for cultures across the globe," explained the Food and Agriculture Organization (FAO) during the World Migratory Bird Day celebration in 2012.
5. The Philippines has laws protecting migratory birds.
There are actually laws in place to ensure the safety and security of migratory birds. One of these is the Wildlife Resources Conservation and Protection Act (Republic Act 9147), which aims:
(a) to conserve and protect wildlife species and their habitats to promote ecological balance and enhance biological diversity;

(b) to regulate the collection and trade of wildlife;

(c) to pursue, with due regard to the national interest, the Philippine commitment to international conventions, protection of wildlife and their habitats; and

(d) to initiate or support scientific studies on the conservation of biological diversity.
A world united by migratory birds
The 2020 World Migratory Bird Day celebration bears the theme "Birds Connect Our World." It aims to raise awareness about migratory birds, as well as the importance of international cooperation to conserve them.
---
Read this article in Filipino.
Cover photo: Duncan Wright/CC BY 2.5
References
Official press release c/o Haribon Foundation
http://www.birdwatch.ph/html/gallery/gallery1.html
http://www.pna.gov.ph/articles/1051019
https://businessmirror.com.ph/philippines-haven-for-migratory-birds/
https://www.denr.gov.ph/news-and-features/latest-news/53-migratory-bird-sites.html
https://www.lawphil.net/statutes/repacts/ra2001/ra_9147_2001.html

Bitten by the science writing bug, Mikael has years of writing and editorial experience under his belt. As the editor-in-chief of FlipScience, Mikael has sworn to help make science more fun and interesting for geeky readers and casual audiences alike.