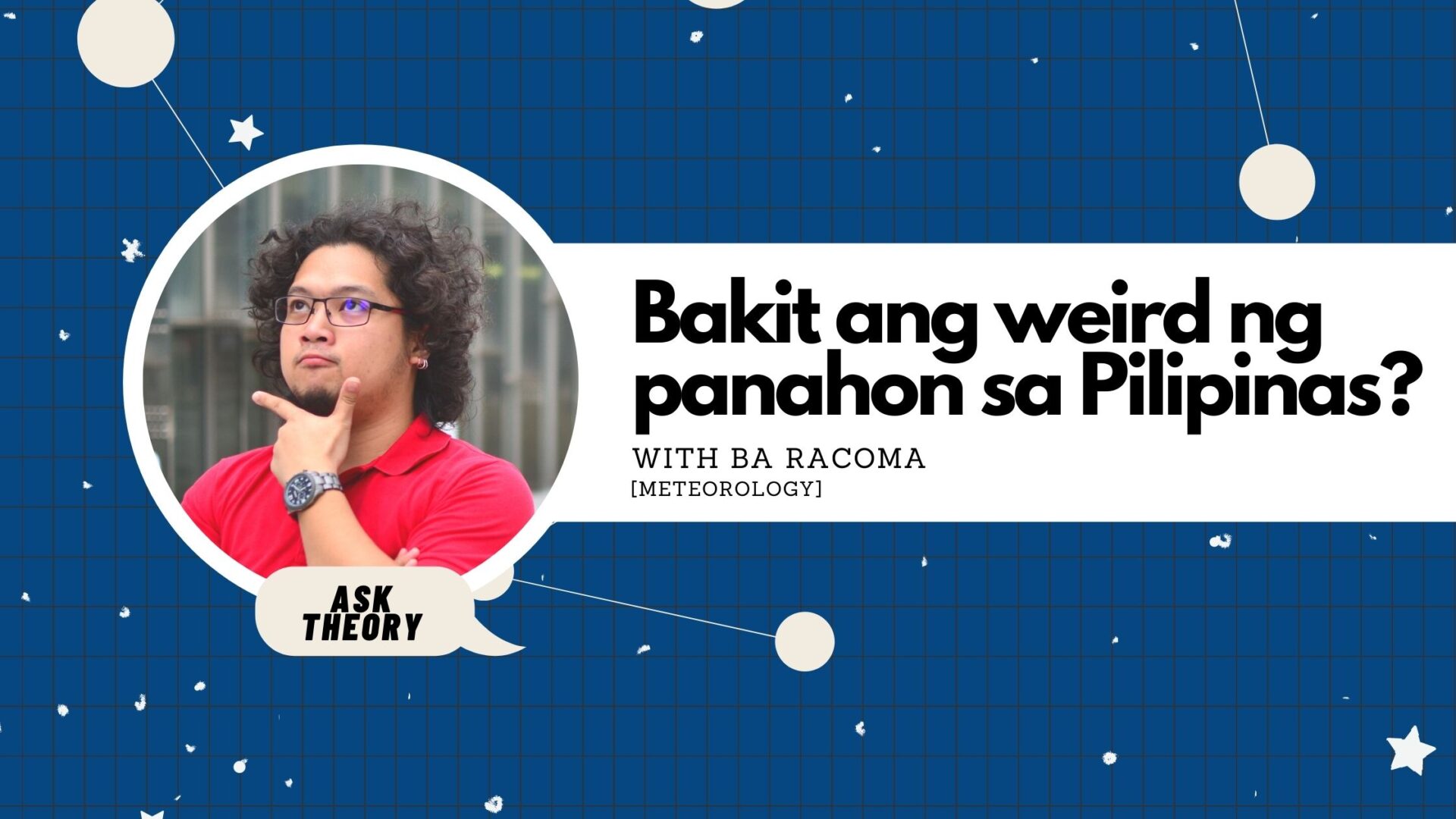 ---
Hosted by EIC Mikael Angelo Francisco, Ask Theory shines the spotlight on Pinoy scientific brilliance, in a fun and entertaining "kwentuhan" format. Each episode of Ask Theory  features a Pinoy scientist from one of the various scientific disciplines. In a very casual Taglish conversation, guests explain what they do in simple terms, as well as share their fascinating stories: how they got into science, the challenges they face, what motivates them to pursue their fields, what future scientists from the Philippines can look forward to, and so much more.
Episode 2: Bakit Ang Weird Ng Panahon Sa Pilipinas?
Even though Neil deGrasse Tyson and Bill Nye make it look so easy, science communication is a multi-step process. You take some complicated concepts, spend time understanding them, find ways to simplify them without oversimplifying them, and then make them interesting for the general population. The great thing about it is, you get to flex your creativity by reaching into your toolbox of talents to find the right tools for the job.
Like memes, for example. Trust me: If you can use Leonardo di Caprio memes to explain how vaccines work, your audience will have no choice but to say…
This episode of Ask Theory features BA Racoma, a PhD student of the University of the Philippines and University of Reading studying tropical cyclones and rainfall. He's also an active science communicator, and is one of the brains behind the #ScienceChatPH initiative on Twitter.
We talked about common misconceptions in weather forecasting, using memes and internet humor to communicate science to the general public (memes + meteorology = memeorology?), the struggles of a PhD student, why the weather seems to be so weird these days, and much more.
Listen to Ask Theory Episode 002: "Bakit Ang Weird Ng Panahon Sa Pilipinas?" here:
The Ask Theory Podcast is available via these platforms — make sure to subscribe, as we'll be releasing one new episode every week:
Apple Podcasts: https://podcasts.apple.com/ph/podcast/ask-theory/id1550251048
Spotify: https://open.spotify.com/show/1GDcxBwETsD4KM1EmTr1aI
Anchor: https://anchor.fm/ask-theory
Breaker: https://www.breaker.audio/ask-theory
Google Podcasts: https://www.google.com/podcasts?feed=aHR0cHM6Ly9hbmNob3IuZm0vcy80OTAyMWNjMC9wb2RjYXN0L3Jzcw==
Pocket Casts: https://pca.st/gv6jxkki
RadioPublic: https://radiopublic.com/ask-theory-WJkbLJ
---