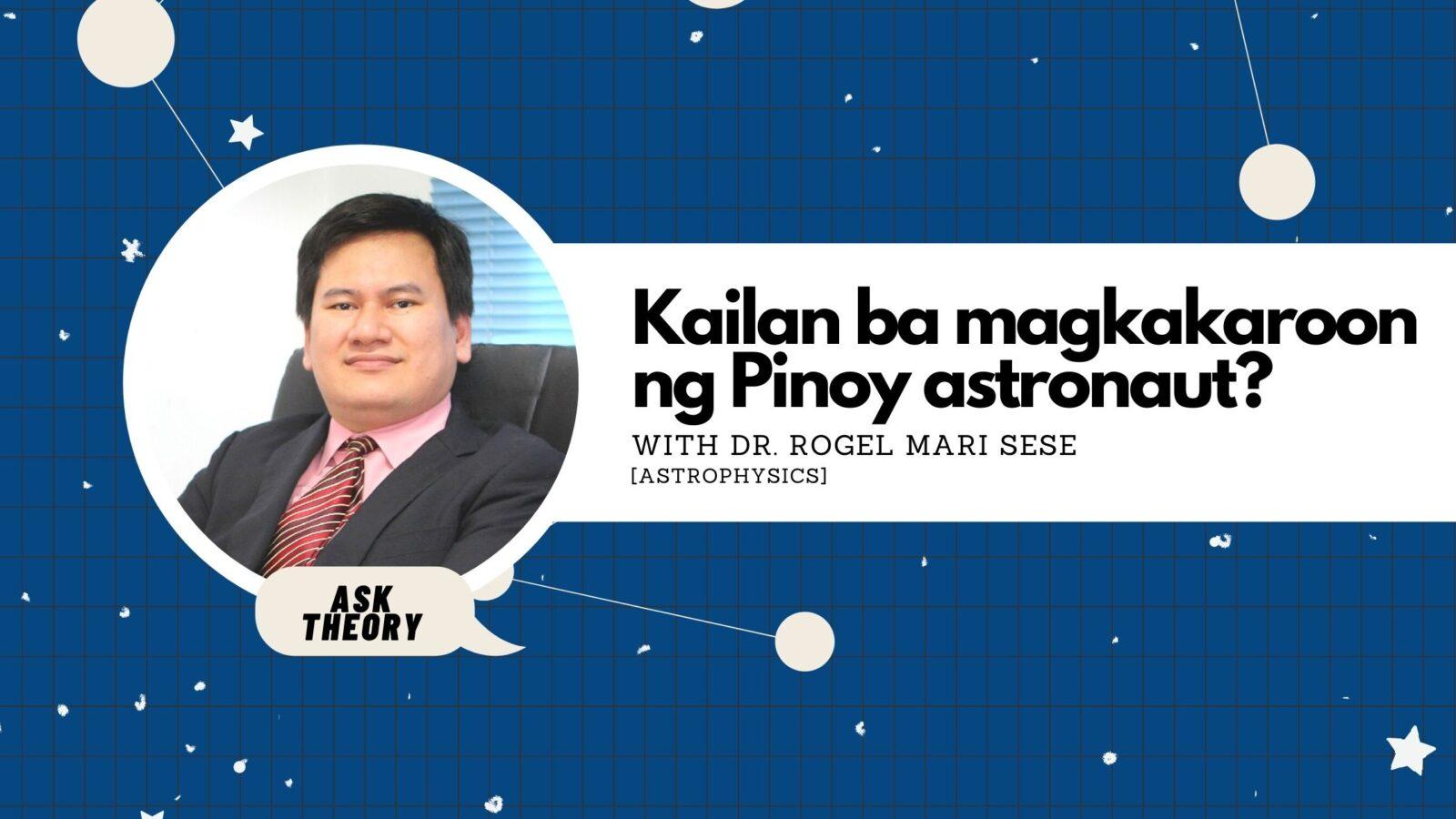 ---
Hosted by EIC Mikael Angelo Francisco, Ask Theory shines the spotlight on Pinoy scientific brilliance, in a fun and entertaining "kwentuhan" format. Each episode of Ask Theory  features a Pinoy scientist from one of the various scientific disciplines. In a very casual Taglish conversation, guests explain what they do in simple terms, as well as share their fascinating stories: how they got into science, the challenges they face, what motivates them to pursue their fields, what future scientists from the Philippines can look forward to, and so much more.
Episode 3: Kailan Ba Magkakaroon Ng Pinoy Astronaut?
When we think about space science, many of us tend to, well, space out. Thoughts of rockets and astronauts fill their minds; some even question the field's value, saying that there are more urgent problems on Earth that need solving than how to send more people into space. What we don't realize, though, is that the benefits of space science are a lot more grounded—in fact, without space tech, our lives would be very different, and a lot less convenient.
This episode of Ask Theory features Dr. Rogel Mari Sese, the Chair of the Department of Aerospace Engineering of Ateneo de Davao University. He is the former Program Leader of the National SPACE Development Program, and the driving force behind the creation of the Philippine Space Agency and Philippine Space Development and Utilization Policy.
We talked about what an astrophysicist does, the oft-neglected ways that space science enhances our daily lives, why the Philippine Space Act and Philippine Space Agency represent a giant leap for the Philippines, and why we still don't have a Pinoy astronaut. (And no, the dude who won that Space Academy competition from that men's perfume brand nearly a decade ago doesn't count—at least, not yet.)
Listen to Ask Theory Episode 003: "Kailan Ba Magkakaroon Ng Pinoy Astronaut?" here:
The Ask Theory Podcast is available via these platforms — make sure to subscribe, as we'll be releasing one new episode every week:
Apple Podcasts: https://podcasts.apple.com/ph/podcast/ask-theory/id1550251048
Spotify: https://open.spotify.com/show/1GDcxBwETsD4KM1EmTr1aI
Anchor: https://anchor.fm/ask-theory
Breaker: https://www.breaker.audio/ask-theory
Google Podcasts: https://www.google.com/podcasts?feed=aHR0cHM6Ly9hbmNob3IuZm0vcy80OTAyMWNjMC9wb2RjYXN0L3Jzcw==
Pocket Casts: https://pca.st/gv6jxkki
RadioPublic: https://radiopublic.com/ask-theory-WJkbLJ
---
Bitten by the science writing bug, Mikael has years of writing and editorial experience under his belt. As the editor-in-chief of FlipScience, Mikael has sworn to help make science more fun and interesting for geeky readers and casual audiences alike.