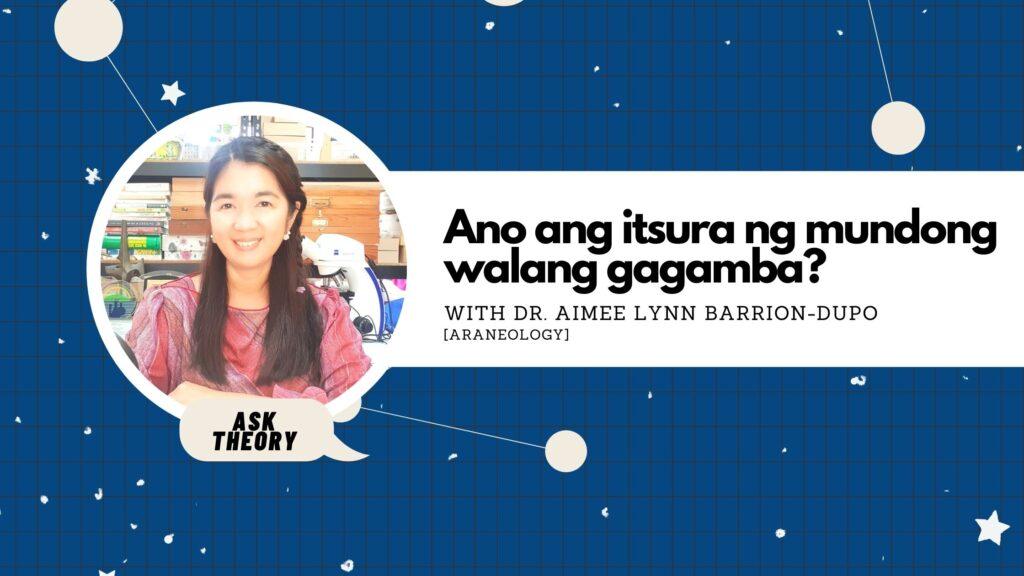 ---
Hosted by EIC Mikael Angelo Francisco, Ask Theory shines the spotlight on Pinoy scientific brilliance, in a fun and entertaining "kwentuhan" format. Each episode of Ask Theory  features a Pinoy scientist from one of the various scientific disciplines. In a very casual Taglish conversation, guests explain what they do in simple terms, as well as share their fascinating stories: how they got into science, the challenges they face, what motivates them to pursue their fields, what future scientists from the Philippines can look forward to, and so much more.
Episode 4: Ano Ang Itsura Ng Mundong Walang Gagamba?
The late comic book writer Stan Lee used to talk about how Marvel's most famous character, Spider-Man, almost never saw the light of day. According to Lee, his publisher Martin Goodman didn't think that a character based on an animal that people fear would ever be profitable. And while Lee eventually did prove his publisher wrong, Goodman's concern was legit — for some reason, many of us seem to be really, really bothered by the prospect of having tiny, eight-legged roommates. Honestly, though? We shouldn't be afraid of spiders. In fact, we should be afraid of a world without them.
Our guest on today's show is Dr. Aimee Lynn Barrion-Dupo, an entomologist and araneologist. She is a biology professor at the University of the Philippines Los Baños, where she also holds the position of Faculty Regent. She describes herself as a scientist who was raised by scientists, and never forgot the wonders of playing with insects and spiders.
We talked about what the world would look like if there were no spiders, why many people are afraid of or even disgusted by insects, some amazing facts about our arachnid friends, and the great power and great responsibility of every scientist.
Listen to Ask Theory Episode 004: "Ano Ang Itsura Ng Mundong Walang Gagamba?" here:
EPISODE TRANSCRIPT:
Speakers: Mikael Francisco, Dr. Aimee Lynn Dupo
Mikael [01:31]: Kamusta po?
Dr. Aimee [01:33]: Ah mabuti, medyo busy ngayon. 
Mikael [01:35]: The research never stops ano?
Dr. Aimee [01:37]: Oo tsaka masmarami ngayong mga webinars that yuo are asked to participate most of the day. 3 to ah ang dami mong meetings, 
Mikael [01:46]: Ah, okay. Naaliw lang po ako nung sinabi nyo webinar kasi Spiders. Marami kayong "web"-inar. Ayun. Pero simulan po natin ito. Describe nyo po yung usual day nyo as an entomologist and you can maybe share some of your current projects. 
Dr. Aimee [02:06]: O sige. Much of my typical day as an entomologist doesn't really involve going out, contradictory sa ine-expect natin sa entomologist na dapat madalas kaming nasa labas. Majority ng activity namin ay nagbabasa basa kami, kasi ang bilis ng turnover ng information especially for insects and spiders, so kelangan you keep yourself up to date, and then you also answer questions about arthropods or and insects through social media, kaya mostly nagbabasa basa. But at least we try to make it a point na once a week, maka pag field work kami, although pandemic we try to go to the nearest field which is Mt. Makiling. So we do half day exploratory work, ito yung current naming project although it's not really funded, sariling gastos lang namin, so we make it a point to observe the arthropods in Mt. Makiling at least once a week. Basta maganda ang panahon, umaakyat kami. So yun mostly yung typical day namin as entomologists. Or nagbubulatlat kami ng mga specimen collections, magtitingin sa microscope yun. 
Mikael [03:14]: So interesting po sa akin na you're an entomologist pero ang specialty nyo po ay spiders. Pwede nyo po ba ikwento sa akin yung difference you know between an entomologist and an arachnologist, and talagang spiders lang po ba ang specialty nyo or arachnids and insects and all sorts of these interesting creepy crawlies?
Dr. Aimee [03:37]: Ang training ko naman po talaga kasi is agriculture, majoring in entomology. Unfortunately, we have no courses for arachnology or araenology yung study of spiders. Wala talaga tayo nun sa curriculum. However, since malapit namang magkamag anak ang spiders tsaka insects, basically, you can use the same principles in the study of insects for the study of spiders. Kasi parehong mga magulang ko ay entomologists din. Nagkataon lang na ang pinagaralan din nila ay gagamba. So naipasa lang din nila sa akin din kasi by affiliation, araw araw kong nakikita yung mga gagamba so parang nangyari lang I developed an interest in spiders also, from my parents. 
Mikael [04:23]: So yun po yung path nyo para maging interested sa science, specifically sa spiders. 
Dr. Aimee [04:30]: Oo kasi akala ko nun lahat ng bata ang kasi, hindi naman kami mayaman. So ang mga laruan namin ay insect net, vials, insect pins. So at that time nung bata ako, akala ko lahat ng mga bata ganon yung laruan. And hindi ako talaga nakakita ng kahit anong pwedeng paglaruan nun. So I was collecting spiders, observing them kasama ko pa sila matulog. So sakin it was very natural na hindi ko alam iba pala yun. Weird pala yun.  
Mikael [05:00]: Ah oo yung based on normal standards. Anong take anong opinion nyo sa mga nagsasabong ng gagamba? 
Dr. Aimee [05:07]: Ah, sa akin lalo na sa bata, I cannot really discourage that kasi ito yung mga first exposures natin sa natural history. Ganon din ang first experience ko by being curious about spiders naglagay ako ng dalawang gagamba sa lalagyan tapos biglang pag gising ko, isa nalang sya. So that was my experience on cannibalism, on predation. If we deprive that kind of exploration for kids, e di baka mawalan lang din sila ng interest on connecting with the environment, and looking at how nature works. Pero kasi when gambling is involved, ibang usapan na yun diba. Kasi, may pera na yun. And then ang laging palaban natin kasi is often to the death. Unlike with other cultures, ang palaban nila is ano lang talaga kung sino ang puputol ng sapot, they make judgement calls tapos binabalik nila agad ng di nasusugatan yung animal. So magkaiba sa kultura ng Pilipino sa kultura nung ibang nagpapalaban ng gagamba. And I hope we can adopt that kind of culture na mas pabor sa survival ng species. 
Mikael [06:16]: Actually, first time ko pong narinig na ganyan ang labanan ng gagamba sa ibang bansa. So it's it's very curious. 
Dr. Aimee [06:22]: Ah sa Japan, meron sila. I think they call it Kumo Gassen, they have occasional spider fights. Talagang nangongolekta sila ng yung malalaki na gagamba yung Argiope yung mga nakikita nyo na may cross na spiders ang tawag natin sa atin ay gagambang pari. Kinokoletka nila yung from the rice fields, they take care of it, they feed it, tapos ang labanan sa festival nila is the simple cutting of the web. The moment na ma cut ng opponent nyo yung web, meron referee na na magsasabi na panalo na sya. And then they release it back. Automatic na sa kanila. 
Mikael [06:56]: Um, parang mas maganda nga yung ganon ano. And may konting, para sa akin mas may konting element of excitement kasi hindi lang sya straightforward na away lang. Parang may may konting, medyo mas complex na kelangan sirain yung web parang mas interesting sya.  
Dr. Aimee [07:11]: Oo. Masmatindi yung observation skills na kelangan dun para makapag judge ka ng laban diba. So mas tight yung labanan pag ganon. 
Mikael [07:19]: Parang mas exciting. Pero mag move tayo from excitement to fear. Bakit po ba takot ang karamihan ng tao sa gagamba?
Dr. Aimee [07:29]: I think natural sa mga tao, ang observation ko ha, if anything that has more than two legs like us, or four legs, nakakatakot na sya agad. Kasi may may sensation tayo na yung pakiramdam na ginagapangan tayo ng maraming paa scares us. Kasi ikaw kahit ikaw, kakabahan ka din pag ginapangan ka ng ipis. So yung gagamba din pag ginapangan ka. Iba iba yung sensation of fear sa atin. Ah plus din siguro the way we portray arthropods, not just spiders, but pati insects. They're often portrayed as villains, monsters. Parang ang pinaka popular lang naman talaga na related sa spider na hero ay si Spider Man. 
Mikael [08:11]: Oh yes.
Dr. Aimee [08:12]: Pero other than that, diba lahat lahat masama. Parang ganon. So it definitely sends you a message on how we perceive spiders in society na hindi kagandahan. 
Mikael [08:24]: What's your favorite thing about your line of work?
Dr. Aimee [08:27]: Siguro ang favorite thing ko, kasi ako I like the outdoors a lot. I don't like to be locked in. Gusto ko talagang nag e-explore, nagtitingin sa ilalim ng mga dahon, looking at how nature works, how organisms interact with one another. So yun yung masaya about the the thing that I do. Every day is an exciting day for discovery. 
Mikael [08:50]: Nabanggit po si Spider Man, medyo fun na question lang ng ano. May debate na kapag na if if si Spider Man daw ay talagang naglalabas ng webs, dapat daw hindi sa kanyang kamay lumalabas, dapat daw somewhere else based on spider anatomy. What do you think about that? 
Dr. Aimee [09:07]: O anatomically that would be correct, dapat nasa may ah anus. Dun sa pwet-an nya lalabas kasi ang spinnerets ng spiders, medyo nasa abdominal part, so nasa dulo sya. Hindi sa kamay. Eh kasi you don't see spiders making their webs sa sa appendegas nila or sa paa nila. E pero si Spider Man diba sa kamay niya lumalabas. Or uh sa case ng mga spitting spiders, sa mouth naman lalabas yung kanilang uh pinaka silk, or a silken substance.  
Mikael [09:41]: So tatandaan ko yan na magpapasalamat ako at hindi ganyan ang naging concept ng mga gumawa kay Spider Man sa kanya. 
Dr. Aimee [09:48]: Oo nga visually unappealing siya for a hero para dun lumalabas yung weapon nya diba? 
Mikael [09:55]: Okay. So balik po tayo sa medyo seryosong usapan. Ano ano ba ang challenges ng pagiging entomologist, or arachnologist or pag aaral ng mga ganitong creatures dito sa Philippines? 
Dr. Aimee [10:08]: Siguro in as much as there is novelty about studying spiders, there is also very little appreciation for spiders in general. Kasi although napapakinabangan natin sila sa mga betting games, napapaglaruan natin sila, their study or getting to know them hindi masyado syang pinahahalagahan kasi again, babalik tayo sa how we value spiders, na ano ba naman ang mundo kung mawala ang gagamba? And ang dami kasing sa sa dami ng problema sa mundo, in terms of prioritizing funds for the study, yung mga basic studies like looking at the taxonomy and ecology of spiders, medyo hindi sya priority. But, it doesn't mean that it's not important. 
Mikael [10:53]: So nabanggit nyo po yung ano ba naman ang mundo kung walang gagamba. Ano nga po kaya ang magiging itsura ng isang mundong walang gagamba? 
Dr. Aimee [11:01]: Magandang tanong yan. I am visualizing na malamang ang mundo na walang gagamba ay kakaunti ang ibon, napakaraming lamok, at napakaraming langaw at napakaraming insekto na ayaw nyo usually makasama. Kasi yung spiders sila yung kumakain and make sure to monitor the numbers of several insect populations. So kapag nawala sila…kung galit ka sa lamok, kung ayaw na ayaw mo ang lamok tsaka langaw, I think your best bet would be spiders. Sa birds, maraming diet ng mga ibon ay nakadepende sa mga gagamba. So kung ikaw ay isang bird watcher, or mahilig ka sa mga ibon, dapat best friends mo din ang mga spiders.  
Mikael [11:45]: So talagang ang laki ng ano nila ang laki ng role nila sa sa mundo. Hindi lang siguro nare realize ng tao kasi yung nauuna yung takot ano? 
Dr. Aimee [11:54]: Oo. At tsaka ang perception kasi nga din syempre when we look at textbooks pag tinanong ay predator, ang sasabihin mo agad lion, tiger, the big animals. Pero sa totoo lang, the major predators that we have are also spiders. Whether it's in the grassland, in the forest or in urban ecosystems, spiders ang predators natin. 
Mikael [12:16]: Oo and and siguro dahil din sa size ano? Pag tiningnan natin, parang ang liit lang ng gagamba, pero di nila nare realize yung power…talagang power ng gagamba. 
Dr. Aimee [12:29]: Oo tama ka dun. Kasi pag maliit, may tendency tayo not to give value kasi maliiit lang naman sya. Tapos since spiders maraming anak, we often assume na they come in unlimited supply. Hindi naman mauubos ang gagamba sa mundo kasi marami silang manganak. 
Mikael [12:46]: Uh I'm curious. Bakit nga po ba ang daming manganak ng gagamba? 
Dr. Aimee [12:50]: Ah. Kasi yung gagamba, naninigurado sila na marami paring matitira. Kasi nga unlike tao, tayo kasi diba pag pinanganak ka, ang daming nag-aalaga sayo. Hindi lang mga magulang mo, hindi lang nanay, tatay mo pati tito, tita. Pero sa spiders, kakaunti ang may parental care. So in the absence of other parental care mechanisms, ang pampalit dun would be numbers. So say for example nanganak ka ng mga around a thousand eggs for example. Kung maraming mamamatay, may matitira pa rin at least 50 individuals na magkakapatid. So bumabawi sila in terms of numbers. Kaya marami silang manganak. 
Mikael [13:31]: Ah so parang more chances of winning. 
Dr. Aimee [13:34]: Yes, oo. Naninigurado talaga. 
Mikael [13:36]: Galing. So that's that's pretty amazing yung yung andami nilang mag…andami nilang offspring at a given time. Speaking of amazing things, what's the most amazing thing that you've learned about spiders that not a lot of people are aware of? 
Dr. Aimee [13:53]: Siguro ang isa sa mga amazing things about spiders na natutunan ko na akala ko alam ng lahat ng tao, diba pag pinag drawing tayo ng spiders, ang una mong idra drawing would be the circular web? 
Mikael [14:05]: Yes. 
Dr. Aimee [14:06]: Although lahat ng spider produce silk, they do not produce the webs that we know of. May mga gumagawa ng trapdoors, may gumagawa ng tent – tent shaped structures, may mukhang net, may nag ah may nagdudura. So they do not make that orb web isang family lang halos ang gumagawa nun. So ganon ka diverse ang spiders. May iba iba pa silang gamit for the web that they produce. 
Mikael [14:34]: Oo nga. Nabasa ko…I actually wrote an article about spider silk. I, if I recall correctly, there are like 7 or so kinds of spider silk, na iba iba po yung function. 
Dr. Aimee [14:45]: Uhm hmm, yun nga yung maganda pang pag aralan kasi magkakaibang protein components pa sya. And yet hindi pa natin fully nae-explore if we could use web composition or a looking at relationships. Kasi syempre, kung iba yung kinakain mo or iba yung gamit mo for the web, malamang magkakaiba talaga sya ng composition in terms of protein diba? Iba yung tibay ng web nila. So marami pa talagang bagay na pwede nating i explore. 
Mikael [15:16]: Oo. And even yung…oo nga eh. I remember ang daming initiatives to research spider silk and how to replicate it on a scale na magagamit ng tao. Parang every year may nababasa akong ganong pag may bagong research, may bagong kung ano about spider silk. 
Dr. Aimee [15:34]: Oo may gumagawa ng research on how to use spider silk as alternative threads. Ang spider silk beforehand ginagamit na syang lining ng mga bullet proof vest, ginagamit din syang fishing lines, gawa nung tensile strength nya. So marami pang opportunities for research. 
Mikael [15:56]: Doc ano bang ibig sabihin ng tensile strength sa konteksto ng spider web?
Dr. Aimee [16:02]: Pag sinabi nating tensile strength, ito yung tibay nung nung web. How much weight it could carry bago sya mapigtal, kumbaga. Eh sa, kung nakakakita na kayo yung kinakatakutan nating gagamba sa gubat, yung malalaki tapos kulay yellow gold ang kanyang web, yun yung isa sa may pinakamatibay na tensiles strength. 
Mikael [16:22]: Wow. Marami po akong napapansin din na mahilig sa exotic pets. Yung mga– mga reptile, mga some–some have, some even have tarantulas as pets. So what uh, I find it fascinating na. Actually, if if you if you were to ask me, I mean I– I like spiders. Pero kung ako yung mamimili kung saan ako mas– kung ano yung spider na mas iiwasan ko, mas iiwasan ko yung malaki at mabuhok na tarantula kesa sa yung mga maliliit na gagamba na nakikita ko lang dito sa bahay. So what are your thoughts on people who, on–on the whole thing about keeping tarantulas as pets? 
Dr. Aimee [17:06]: Sa akin I cannot stop people from their fascination for the exotics. But like any other pet owner, ang syempre, I would like to request sana na for more responsibility as a pet owner. Kung yung mga aso natin we have them registered, we should also have our exotic pets registered na naka monitor lang. Para alam natin kung nasan sila. And if they are moving from place to place. Kunyari ibinigay mo dapat naka record din yun kasi there are ecological problems that could emerge kung meron tayong unwanted release nitong mga exotics. Kasi some of the exotics sa ibang bansa, they feed on birds. So paano kung makawala sila and they survive the forest systems enough to wreak havoc? Pwede nilang ubusin yung ating mga ibon, palaka, yung iba nating wildlife without us knowing. And also ang isang advantage of having our exotic pets monitored is that they could also kasi harbor pathogens and diseases that we know nothing about. Kasi hindi naman natin nakikita yun. Baka yung pag import natin nito, ay ito pa pala yung makaka cause ng disease that would kill other living forms. So kelangan maingat tayo sa ganyan. Pero i'm i'm not in– in any way negating yung interest again. Kasi as much as possible if it,if you love it, you have to love it enough to be responsible for it. 
Mikael [18:36]: Okay. Ganda. May question po ako na pano ba malamaman…is there a way to tell kung ang gagamba na nasa harapan mo ay may lason? 
Dr. Aimee [18:48]: Kasi halos lahat naman ng gagamba ay may venom. Yun nga lang, kakaunti yung may venom enough for na makakapatay or makaka cause ng allergic reactions sa tao. Lahat ng species dito sa Pilipinas hindi naman sya nakakamatay. Yun nga lang, may namamatay simply because they have anaphylactic shock, allergic sila mismo dun sa venom or nagkakaroon ng secondary infection from the bite wound. Hindi nahugasan, yun lang.  
Mikael [19:19]: So ano po ba ang tamang way ng pag handle ng isang gagamba kung halimbawa biglang may makita akong gagamba sa bahay ko at hindi ko alam kung– natakot ako at hindi ko alam kung ano ang dapat gawin. Ang instinct ng iba ay kumuha ng tsinelas o dyaryo at paluin ito. Pero ano po ba ang tamang paraan para i-handle yung mga ganong sitwasyon? 
Dr. Aimee [19:42]: Ang pinaka practical way to handle the situation is first do not panic, kasi mas takot pa yun sa iyo. Kasi in the first place, masmalaki ka sa gagamba, and it only wants to find something to eat kaya sya andun or nawala lang sya. So kukuha kayo ng– best thing is a wide mouthed na jar or yung garapon. So tanggalin yung lid, ipatong sa ibabaw, lagyan ng papel sa ilalim para ma-enclose lang yun ilalim, and then you lift the container with the spider and release it outside. 
Mikael [20:13]: Okay.
Dr. Aimee [20:14]: So pareho kayong remaining unharmed. 
Mikael [20:16]: Oo kasi parang feeling ko naman sa ganyang sitwasyon, pareho nyo namang hindi ginusto. 
Dr. Aimee [20:20]: Oo pareho kayong takot sa isat isa. 
Mikael [20:23]: Okay. Isa pa pong bagay na gusto kong malaman is, kung hindi po kayo nagaaral ng gagamba, what would you be focusing on? In an alternate world, halimbawa? 
Dr. Aimee [20:32]: Uh, other insect– ah, in an alternate world? Librarian. Kasi gusto ko talaga ng library. Isa din anong bat ako nagka interes kasi kababasa ng libro. But i've always been loving staying in the library, opening up books. Pati yung amoy ng libro gusto ko din. So kung hindi ako naging entomologist, or anyone studying spiders, librarian…
Mikael [20:55]: Sobrang nakaka relate ako dyan lalo na yung yun nga, yung smell of cracking a book open kaya kahit yung [inaudible] diba yung pagbabasa ng digital, parang hindi, it's not the same. 
Dr. Aimee [21:05]: Gusto mo pa din yung nahahawakan ko yung I flip the pages. Titingnan ko pa nga sa library kung sino sino na yung nanghiram, ilang taon, from the last borrower ng book, lahat yun inuusysosyo ko. 
Mikael [21:19]: What are– what books are you reading right now? Or anong favorite– what what books can you recommend to our listeners? And about any topic. 
Dr. Aimee [21:26]: Ah kasi most the– most of the books I read ay entomological in nature, yung mga revisions. Pero if there are books na lalo na from my childhood I usually like Memoirs of a Geisha. Minsan din I look at natural history books. Random kasi e. Kung ano lang yung makita kong very interesting like Velveteen Rabbit brings back your childhood memories. Mga ganon lang. 
Mikael [21:56]: Okay. One more thing that I like about your…actually we're, since we're contacts on Facebook, nakikita ko po yung mga posts nyo and I'm also a member of some spider and insect enthusiast groups that you're in. And I really, really appreciate that you post beautiful pictures of the– the different insects and spiders that you encounter. What is your reason for post– for sharing these things online? 
Dr. Aimee [22:23]: Over the years, I realized na part pala ng responsibility ng isang scientist is to be able to communicate yung science that you love to the public. So that you can establish public trust. Kasi the publications that we do, yes we discover new species, pero it doesn't really help the general public unless you can explain to the public why you're doing that science. So kaya I try to as much as possible share as much as I can pero in in short bits of information para ma develop din yung interest for the arthropods that I study. Kasi nga, baka din naman ang disinterest is again, the way we portray arthropods. So if I portray them the way I see it, perhaps I could convince the public to trust the science of entomology more. 
Mikael [23:18]: Okay. So I– I love that message. Kasi in my head, it's basically saying na since you have the capacity to understand and communicate this science, it falls upon your shoulders din as an expert to share that love with other people. Or in other words, with great power comes great responsibility. 
Dr. Aimee [23:30]: Oo at tsaka kung mahal mo talaga diba, you are responsible for it. 
Mikael [23:44]: That is so true. Kanina nabanggit nyo po na if you weren't into spiders, you would be into some other insects. Ano yung other favorite insects nyo po?
Dr. Aimee [23:54]: Ano mga moths, mga lepidopterans. Ah usually affiliated ako sa mga underdog species e. Gusto ko yung mga hindi pinagaaralan. Kasi nga gusto ko maka develop ng appreciation for the under appreciated. 
Mikael [24:08]: Ah that is so good. Oo nga e, parang ngayon nga lang din ako naka– like hindi ako nakakarinig masyado ng…I mean it's common to– to hear about people who collect or study butterflies, yung mga beetles even. Yung mga insects ba na very visually striking, yung mga ganon. Yun yung madalas po na nakikita ko sa mga groups. 
Dr. Aimee [24:29]: Oo kasi, kung kunyari, even if kids for example, are listening in and they grow in an environment na familiarized sila that there are a lot of insects, a lot of spiders na hindi natin na a-appreciate, maybe one day when they become decision makers, I am hoping na because they were exposed to that kind of an environment, they have a better respect for the science that we do. Kasi baka ang failure natin is we also fail to communicate what we want to communicate e. Kulang kasi yung publications. Ang market lang naman ng publications would be our colleagues. But nakikita ko ngayon ang importance talaga ng science communication for public trust. Katulad ng ginagawa mo. 
Mikael [25:10]: Thank you po for saying that and kaya rin kumakausap kami ng mga scientists dito sa ating podcast para din masmakilala din ng mga nakikinig yung mga scientists nating Pilipino para naman hindi puro foreign scientist and mas ma-appreciate yung ginagawa nyo on a daily basis. 
Dr. Aimee [25:28]: Oo. Tsaka girl power din. 
Mikael [25:30]: Ayun din. 
Dr. Aimee [25:30]: Di komo babae ka, e you cannot do…there is no gender in science. Talagang if you want to do it, you just do it. Yung yun kung yan yung interest mo yan yung love mo, nothing should tell you otherwise. 
Mikael [25:45]: Yes tama yan. Actually, It is my belief that someday, we will achieve true quality when if people talk about girl scientists, they don't say women scientist anymore, or girl scientist. They just say scientist. When we someday reach the point na sobrang dami nang women in STEM, na it's become normal, masasabi ko na talagang na-normalize na natin ang science na maging mas inclusive. At hindi lang sya boys club as it has been in over the last few centuries. 
Dr. Aimee [26:18]: Oo I very much agree with you on that na yung pangarap ko din yun na someday hindi novelty ang women in science. Kung di, it's common na scientist lang talaga ang tingin sa atin hindi kalang babae na scientist. Scientist ka yun lang. 
Mikael [26:35]: Yes. So kung halimbawa po may gustong mag reach out sa inyo or gusto kayong ma contact, what's the best way to reach out to you? 
Dr. Aimee [26:44]: Siguro it would be much better either through yung Facebook or pero masmaganda dun sa Instagram ko kasi with Facebook kasi marami din akong ibang ka communicate academically e. Mas informal yung instagram account ko so you can just find me — @aimsdupo sa IG. 
Mikael [27:01]: aimsdupo. A-I-M-S-D-U-P-O?
Dr. Aimee [27:04]: Yes. 
Mikael [27:05]: Okay. Is there anything you want to promote or share with our listeners? Anything else that we haven't touched upon? 
Dr. Aimee [27:12]: Siguro ano lang, trust science and the people who work with science. Kasi right now talagang mabigat na much of the decision making tools or even the decision making processes should be grounded on science. With whatever we do kelangan we should trust science a lot. And the people who work with science are really sincere about it kasi we won't be devoting our life for it if we weren't really passionate about it. 
Mikael [27:43]: Yes I agree. Hindi– nakikita ko yung sa fieldwork, hindi yun madali. Yung pag aaral, definitely hindi din madali. And yung coming up with new findings and interpreting that, it's a process that takes a long time. Even though I'm not a scientist, I do appreciate the amount of work that goes into pretty much any research project. So I definitely agree. If someone out there– someone out there listening hears all of this and says, I think I want to become an entomologist too. Or parang gusto ko ding pagaralan ang mga gagamba. Ano ang advice nyo para sa kanya lalo na nandito tayo sa Pilipinas?
Dr. Aimee [28:22]: Ang advice ko is go for it, either you start it early by taking courses in biology, reading about the object you are– or the animals that you are interested in, find books about it or find a mentor as early as possible to guide you. Para kung anong career path ang gusto mong gawin, meron ka na agad mentor. You can go to biology, agriculture and forestry they all offer entomological courses. 
Mikael [28:55]: Okay. So sana sa mga nakikinig dyan na nararamdaman yung inspiration or nagkakaron ng spider sense para mag aral ng mga gagamba someday, please pursue that field of science and you know, just go for it sabi nga ni Doc. So maraming salamat po Doc Aimee and I really appreciate that you made time for us here and sana ma invite po namin kayo ulit for a future episode. Maybe we can talk about other insects or some of your exciting research in the future. 
Dr. Aimee [29:25]: Sige sure. 
Mikael [29:27]: Sige po maraming salamat po.
Dr. Aimee [29:29]: Okay salamat.
---
The Ask Theory Podcast is available via these platforms — make sure to subscribe, as we'll be releasing one new episode every week:
Apple Podcasts: https://podcasts.apple.com/ph/podcast/ask-theory/id1550251048
Spotify: https://open.spotify.com/show/1GDcxBwETsD4KM1EmTr1aI
Anchor: https://anchor.fm/ask-theory
Breaker: https://www.breaker.audio/ask-theory
Google Podcasts: https://www.google.com/podcasts?feed=aHR0cHM6Ly9hbmNob3IuZm0vcy80OTAyMWNjMC9wb2RjYXN0L3Jzcw==
Pocket Casts: https://pca.st/gv6jxkki
RadioPublic: https://radiopublic.com/ask-theory-WJkbLJ
---