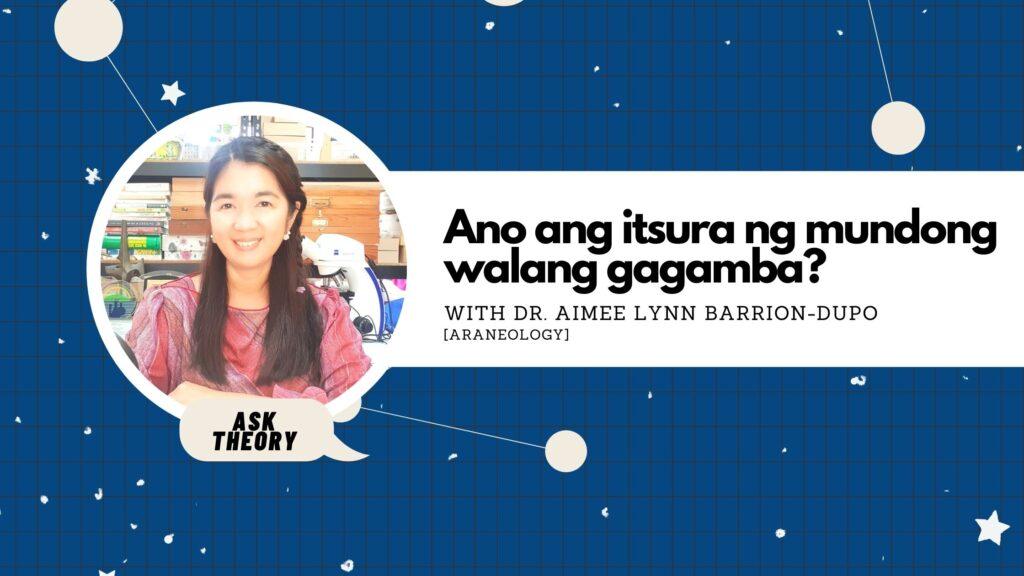 ---
Hosted by EIC Mikael Angelo Francisco, Ask Theory shines the spotlight on Pinoy scientific brilliance, in a fun and entertaining "kwentuhan" format. Each episode of Ask Theory  features a Pinoy scientist from one of the various scientific disciplines. In a very casual Taglish conversation, guests explain what they do in simple terms, as well as share their fascinating stories: how they got into science, the challenges they face, what motivates them to pursue their fields, what future scientists from the Philippines can look forward to, and so much more.
Episode 4: Ano Ang Itsura Ng Mundong Walang Gagamba?
The late comic book writer Stan Lee used to talk about how Marvel's most famous character, Spider-Man, almost never saw the light of day. According to Lee, his publisher Martin Goodman didn't think that a character based on an animal that people fear would ever be profitable. And while Lee eventually did prove his publisher wrong, Goodman's concern was legit — for some reason, many of us seem to be really, really bothered by the prospect of having tiny, eight-legged roommates. Honestly, though? We shouldn't be afraid of spiders. In fact, we should be afraid of a world without them.
Our guest on today's show is Dr. Aimee Lynn Barrion-Dupo, an entomologist and araneologist. She is a biology professor at the University of the Philippines Los Baños, where she also holds the position of Faculty Regent. She describes herself as a scientist who was raised by scientists, and never forgot the wonders of playing with insects and spiders.
We talked about what the world would look like if there were no spiders, why many people are afraid of or even disgusted by insects, some amazing facts about our arachnid friends, and the great power and great responsibility of every scientist.
Listen to Ask Theory Episode 004: "Ano Ang Itsura Ng Mundong Walang Gagamba?" here:
The Ask Theory Podcast is available via these platforms — make sure to subscribe, as we'll be releasing one new episode every week:
Apple Podcasts: https://podcasts.apple.com/ph/podcast/ask-theory/id1550251048
Spotify: https://open.spotify.com/show/1GDcxBwETsD4KM1EmTr1aI
Anchor: https://anchor.fm/ask-theory
Breaker: https://www.breaker.audio/ask-theory
Google Podcasts: https://www.google.com/podcasts?feed=aHR0cHM6Ly9hbmNob3IuZm0vcy80OTAyMWNjMC9wb2RjYXN0L3Jzcw==
Pocket Casts: https://pca.st/gv6jxkki
RadioPublic: https://radiopublic.com/ask-theory-WJkbLJ
---
Bitten by the science writing bug, Mikael has years of writing and editorial experience under his belt. As the editor-in-chief of FlipScience, Mikael has sworn to help make science more fun and interesting for geeky readers and casual audiences alike.