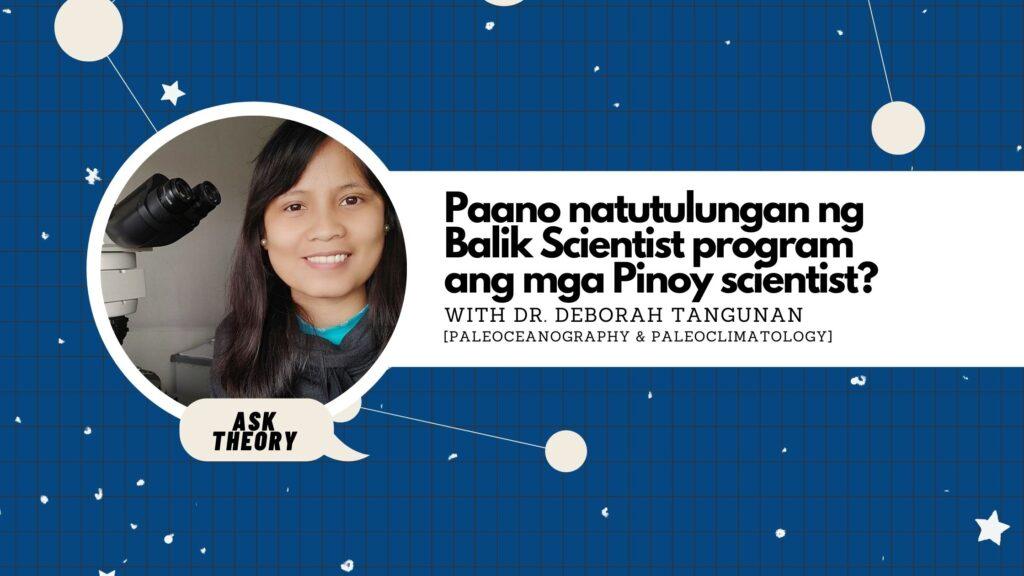 ---
Hosted by EIC Mikael Angelo Francisco, Ask Theory shines the spotlight on Pinoy scientific brilliance, in a fun and entertaining "kwentuhan" format. Each episode of Ask Theory  features a Pinoy scientist from one of the various scientific disciplines. In a very casual conversation, guests explain what they do in simple terms, as well as share their fascinating stories: how they got into science, the challenges they face, what motivates them to pursue their fields, what future scientists from the Philippines can look forward to, and so much more.
Episode 18: Paano Natutulungan Ng Balik Scientist Program Ang Mga Pinoy Scientist?
When opportunity knocks, you'd be a fool not to answer (or at the very least, check the peephole). This is particularly true if you're a Pinoy scientist who wants to become an expert in a highly specialized field. Oftentimes, you can only really go further in your quest to obtain knowledge by looking elsewhere. The question is: When you've already reached those so-called greener pastures, why would you ever want to return to the Philippines? Well, there are plenty of reasons — and not just because there's no place like home.
Our guest on today's show is Dr. Deborah Tangunan, an experienced geologist specializing in micropaleontology, biogeochemistry, paleoceanography, and paleoclimatology. Aside from her research, she also devotes time and energy to science communication, like when she became part of the Department of Science and Technology's Balik Scientist program.
We talked about what paleoceanographers and paleoclimatologists do, the joy of studying coccolithophores, her collaborative storybook project with scientists from different countries, how the Balik Scientist program helps Pinoy scientists here and abroad, why scientists must share their work with the public, and more.
Listen to Ask Theory Episode 018: Paano Natutulungan Ng Balik Scientist Program Ang Mga Pinoy Scientist? here:
Download the free science e-storybook Once Upon A Time… A Scientific Fairy Tale (available in different languages, including English and Filipino) here.
(Full transcript to follow; watch this page for updates)
---
The Ask Theory Podcast is available via these platforms — make sure to subscribe, as we'll be releasing a new episode every week:
Spotify: https://open.spotify.com/show/1GDcxBwETsD4KM1EmTr1aI
Apple Podcasts: https://podcasts.apple.com/ph/podcast/ask-theory/id1550251048
Anchor: https://anchor.fm/ask-theory
Breaker: https://www.breaker.audio/ask-theory
Google Podcasts: https://www.google.com/podcasts?feed=aHR0cHM6Ly9hbmNob3IuZm0vcy80OTAyMWNjMC9wb2RjYXN0L3Jzcw==
Pocket Casts: https://pca.st/gv6jxkki
RadioPublic: https://radiopublic.com/ask-theory-WJkbLJ
Music: Hopeful Cinematic Ambient by bdProductions
Bitten by the science writing bug, Mikael has years of writing and editorial experience under his belt. As the editor-in-chief of FlipScience, Mikael has sworn to help make science more fun and interesting for geeky readers and casual audiences alike.