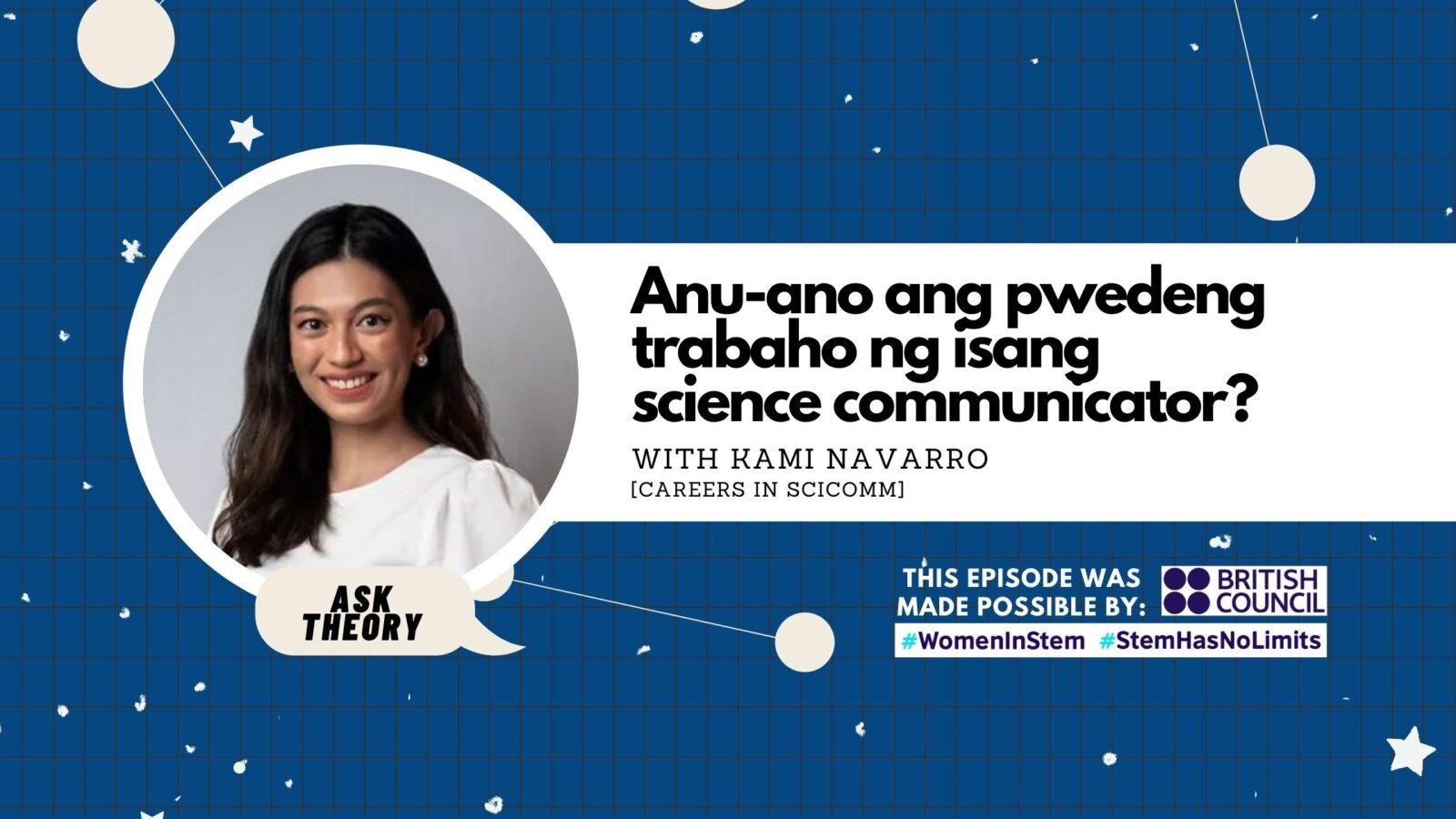 ---
Hosted by EIC Mikael Angelo Francisco, Ask Theory shines the spotlight on Pinoy scientific brilliance, in a fun and entertaining "kwentuhan" format. Each episode of Ask Theory  features a Pinoy scientist from one of the various scientific disciplines. In a very casual conversation, guests explain what they do in simple terms, as well as share their fascinating stories: how they got into science, the challenges they face, what motivates them to pursue their fields, what future scientists from the Philippines can look forward to, and so much more.
Episode 62: Anu-Ano Ang Pwedeng Trabaho Ng Isang Science Communicator?
Kami Navarro is a professional science communicator based in Singapore. She manages Pinoy Scientists, a platform that aims to highlight Filipino scientists worldwide and their stories, and is also part of the Panel of Experts for the International Science Council's Public Value of Science program. She was previously the science editor at a Singapore-based STEM media company and taught science communication at top universities in the Philippines.
We talked about the various career paths one can pursue in science communication, what every early-career science communicator should know, the Pinoy Scientists initiative, the best and worst parts of being a science communicator, developing science communication in the Philippines, and more.
How to contact Kami:
Website: kaminavarro.com
Instagram: @scikam
This episode of Ask Theory was made possible by the British Council in the Philippines, in support of their Women in STEM Scholarship program.
Tell a keen Filipina scientist you know about the British Council scholarships for Women in STEM and help them realise their dreams! Visit https://www.britishcouncil.org/study-work-abroad/in-uk/scholarship-women-stem for more information on how to apply.
Listen to Ask Theory Episode 62 here:
(Full transcript to follow; watch this page for updates)
---
The Ask Theory Podcast is available via these platforms — make sure to subscribe, as we'll be releasing a new episode every week:
Spotify: https://open.spotify.com/show/1GDcxBwETsD4KM1EmTr1aI
Apple Podcasts: https://podcasts.apple.com/ph/podcast/ask-theory/id1550251048
Anchor: https://anchor.fm/ask-theory
Breaker: https://www.breaker.audio/ask-theory
Google Podcasts: https://www.google.com/podcasts?feed=aHR0cHM6Ly9hbmNob3IuZm0vcy80OTAyMWNjMC9wb2RjYXN0L3Jzcw==
Pocket Casts: https://pca.st/gv6jxkki
RadioPublic: https://radiopublic.com/ask-theory-WJkbLJ
Music: Hopeful Cinematic Ambient by bdProductions; My Mysterious Planet by Free Music