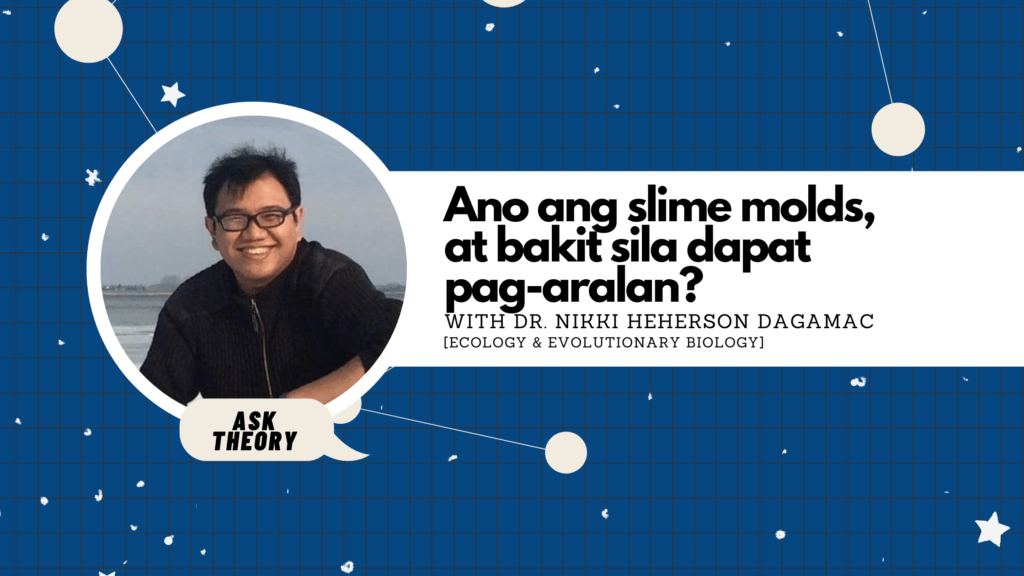 ---
Hosted by EIC Mikael Angelo Francisco, Ask Theory shines the spotlight on Pinoy scientific brilliance, in a fun and entertaining "kwentuhan" format. Each episode of Ask Theory  features a Pinoy scientist from one of the various scientific disciplines. In a very casual conversation, guests explain what they do in simple terms, as well as share their fascinating stories: how they got into science, the challenges they face, what motivates them to pursue their fields, what future scientists from the Philippines can look forward to, and so much more.
Episode 130: Ano Ang Slime Molds, At Bakit Sila Dapat Pag-Aralan?
Dr. Nikki Heherson Dagamac is a long-term Balik-Scientist at the Department of Biological Sciences, College of Science at the University of Santo Tomas. He translated his expertise in the fields of basic and applied ecology, evolution, and genetics in the development of the course plans of various technical courses in the Biology program. His knowledge on machine learning, ecological modeling and statistics, and population genetics became fundamental in drafting remote and virtual laboratory exercises in Evolutionary Biology and Ecology.
We talked about slime molds and why they matter, becoming a Balik Scientist, shaping the next generation of scientists, applying science in biodiversity conservation, and more.
How to contact Dr. Nikki:
Email: nadagamac@ust.edu.ph
Listen to Ask Theory Episode 130 here:

(Full transcript to follow; watch this page for updates)
---
The Ask Theory Podcast is available via these platforms — make sure to subscribe, as we'll be releasing a new episode every week:
Spotify: https://open.spotify.com/show/1GDcxBwETsD4KM1EmTr1aI
Apple Podcasts: https://podcasts.apple.com/ph/podcast/ask-theory/id1550251048
Anchor: https://anchor.fm/ask-theory
Breaker: https://www.breaker.audio/ask-theory
Google Podcasts: https://www.google.com/podcasts?feed=aHR0cHM6Ly9hbmNob3IuZm0vcy80OTAyMWNjMC9wb2RjYXN0L3Jzcw==
Pocket Casts: https://pca.st/gv6jxkki
RadioPublic: https://radiopublic.com/ask-theory-WJkbLJ
Music: Hopeful Cinematic Ambient by bdProductions; My Mysterious Planet by Free Music