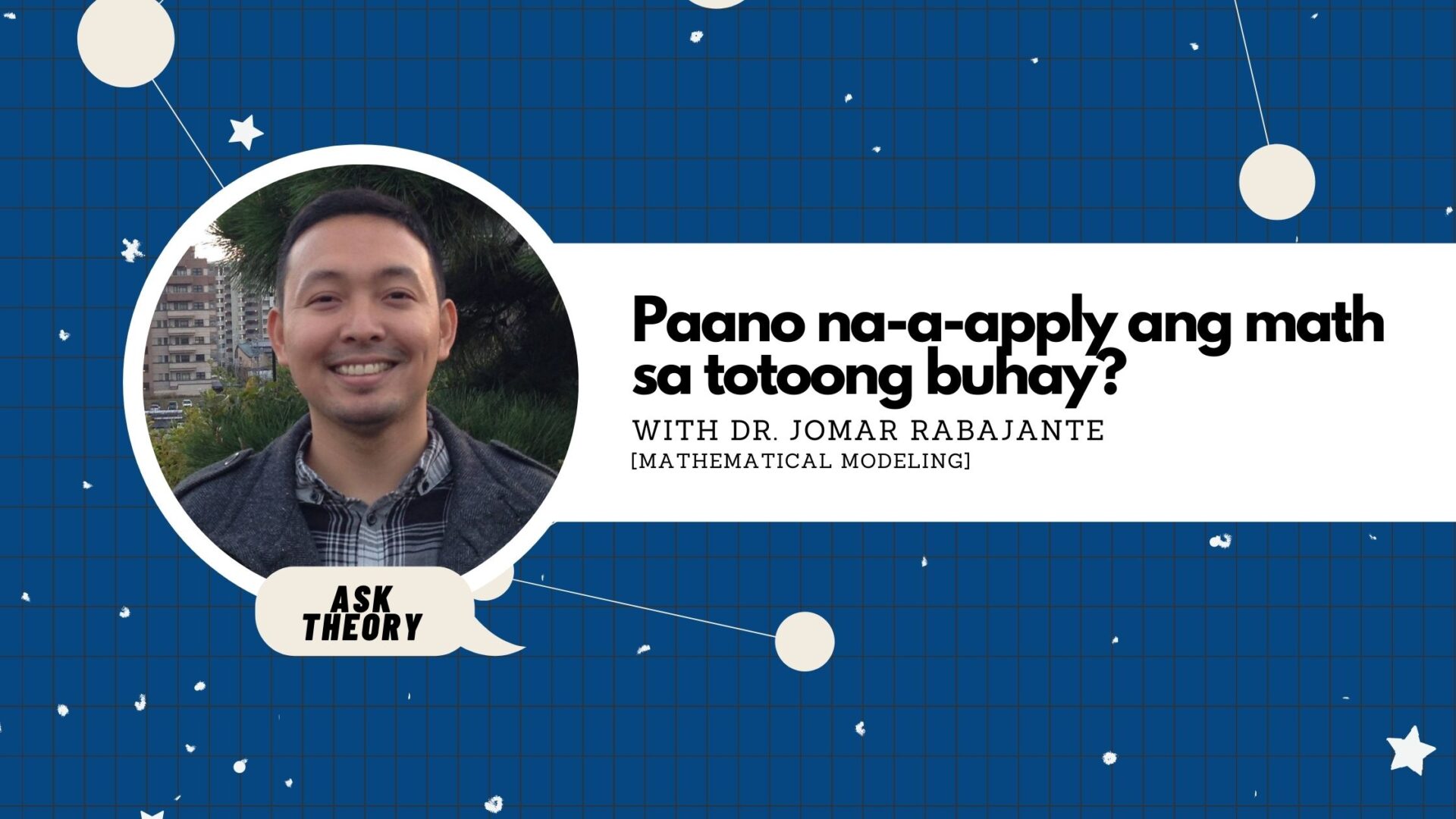 ---
Hosted by EIC Mikael Angelo Francisco, Ask Theory shines the spotlight on Pinoy scientific brilliance, in a fun and entertaining "kwentuhan" format. Each episode of Ask Theory  features a Pinoy scientist from one of the various scientific disciplines. In a very casual conversation, guests explain what they do in simple terms, as well as share their fascinating stories: how they got into science, the challenges they face, what motivates them to pursue their fields, what future scientists from the Philippines can look forward to, and so much more.
Episode 28: Paano Na-A-Apply Ang Math Sa Totoong Buhay?
This episode features Dr. Jomar Rabajante, a faculty member of the Institute of Mathematical Sciences and Physics at the University of the Philippines Los Baños. He is the OIC-Dean of the Graduate School of UPLB, a fellow of the UP Resilience Institute, and a lead researcher of the UP COVID-19 Pandemic Response Team. 
We talked about simulation theory and our concept of reality, the surprising and unexpected things that numbers can reveal about real life, being named one of the Philippines' Outstanding Young Scientists, using data and numbers to deliver crucial pandemic information to policymakers, how to recover from being overwhelmed by numbers and statistics, and more.
Listen to Ask Theory Episode 28: Paano Na-A-Apply Ang Math Sa Totoong Buhay? here:
EPISODE TRANSCRIPT:
Speakers: Mikael Francisco, Jomar Rabajante
Mikael Francisco 0:20
Hi Doc Jomar, kamusta po?
Jomar Rabajante 0:22
Okay naman currently nandito ako sa Laguna medyo mabanas ngayon pero okay lang. Maulan, mabanas, maulan, mabanas so ganon yung nangyayari.
Mikael Francisco 0:31
Parang paiba iba
Jomar Rabajante 0:32
Yes paiba iba yung weather. Ngayong araw medyo mabanas
Mikael Francisco 0:36
Oo parang one day ganyan the other day iba naman parang medyo extremes. Pero buti nalang yung interest mo sa science or interest mo sa statistics, hindi ganyan. Like there's a lot to talk about but I want to know how you've managed to devote so many of your years to, to science, to math. So please tell us the story of how you became interested in science. 
Jomar Rabajante 01:00
Medyo ano no, iba iba tayo ng kwento. Ako ang kwento ko ay elementary ko, highschool ko. I studied in Don Bosco, we had good science ano subjects noon no, pero ang naging focus talaga more on..kasi ang Don Bosco medyo tech-voc ang dating ng…so ako paka electronics ayun mga nagkukutingting. Pero itong math, yung pagka mahal ko sa math, ano nalang talaga sya dumating nalang. Kasi my parents, nung mag co college na ako, parang gusto nila mag accounting ako or more on the business side. Pero sabi ko, ano yung medyo pwede kong kuhain na business course pero kakaiba? And they they they told me merong parang actuarial science program sa UPLB. So Applied Math yun, so I took the course Applied Math. Although at the end of my ano, degree program, hindi naman actuarial science yung kinuha kong major. Operations Research yung kinuha ko. Tapos later on tuloy tuloy na. Nag…although nag work muna ako sa industry, but after that I came back to the academe and then nag masters ako PHD. So talagang ano lang sya, nagkataon because of my parents, pero natuwa naman ako dahil tinahak ko itong direksyon. 
Mikael Francisco 2:14
Yes and I'd like you to tell our listeners more about you, in case they haven't read about you yet or heard about you yet, which is unlikely in this, in this era of COVID news, and maybe tell us a bit about what keeps you busy these days as well?
Jomar Rabajante 02:30
Siguro sasagutin ko yan, tatlo. Tatlong bagay ang nagpapa-busy sa akin. Of course ano naman no, kahit busy nakakapag ano naman ako, Netflix nakakapag ano ako…nakapag plantito pa rin ako so still ano naman may time for for para sa sarili ko ano. Pero tatlo siguro yung bagay na naging busy ako. Una, syempre yung sinabi mo kanina, my..on my COVID 19 data analytics work. Kasi I help LGUs, I help national institutions and also, consultant ako ng ilang mga organizations for COVID. So talagang naging busy ako since 2020 kasi ang goal ko talaga is hangga't maaga, bigyan natin ng solusyon, strategy yung mga LGUs, yung community naten, para talaga labanan yung COVID 19 using data. Kasi without data how can we monitor yung ano natin sitwasyon ngayon. So yun yung una. Pangalawa, definitely alam naman ng lahat na professor ako. Nagtuturo ako sa UPLB. Yung pagtuturo ko ng mga klase ko, and ngayon, lalo na ngayon, end of sem so busy talaga sa mga submission ng grades, yun so dyan busyng-busy ako. Recently, since November 2020, ang talagang isa sa mga nagiging busy ako kasi naging Dean ako ng UPLB Graduate School so the administrative side nung aking work busy doon. So ito yung tatlo na somehow pag na pag nakita mo ako, mostly iyun yung ginagawa kong tatlo. 
Mikael Francisco 4:04
Wow. So oo nga. Talagang you – right now you're wearing so many hats. Among all of those hats yung talagang the bulk of your work, really has something to do with what we call Mathematical modelling. And, ano ba yung mathematical modelling. Diba it's this this term is not really something that we hear everyday. Though I would think na most of us have a vague idea or concept of what it is. So i'd like you to imagine that a 7 year old child asks you ano po ba yung mathematical modelling? So I would like to hear how you would explain that concept to a 7 year old child. 
Jomar Rabajante 04:38
Pwede ko syang i-relate by very very short ano lang statement, kasi diba usually when we are still kids may mga bagay tayong ini-imagine. Or siguro minsan may mga bagay tayong gustong i solve and usually pag may mga ini-imagine tayo, na tra-translate natin ito to somehow reality by painting…diba nagpai-paint tayo, or by nagmo-mold tayo sa clay diba. Sort of, if by for example, nai-imagine natin ay robot, tapos siguro wala tayong robot na nabili sa you know sa store, what we're going to do magagawa tayo ng magugupit tayo ng mga karton tapos gagawa tayo ng robots. So somehow we have our own way na yung imagination natin ma translate to a something na tangible. So parang ganon yung mathematical modelling. We have issues, we have problems, na kelangan ng solusyon, pero madalas mahirap bigyan ng direchang solusyon so, what we do is yung mga ganitong realidad, itra-translate natin to something na magiging tangible sa atin in our case, mathematical models, mga mathematical equations, mathematical expressions, para kaya naming i-manipulate and i-analyze and then later on i-interpret, para ibalik ulit to solve yung ating mga issues or problems. So siguro yun yung way ko to explain to a 7 year old child kung ano ang mathematical model. It's really the word model we translate our imaginations to something tangible na kaya nating i-analyze para yung ating imahinasyon, kung problema man ito or kung something na kelangan nating solusyunan, mabigyan natin ng ano, ma-address natin mabigyan natin ng solusyon. So yun siguro. 
Mikael Francisco 06:44
You know I love the the analogy you used, yung sa robot kasi parang on one hand sobrang gets ko yun yung may nakita ka sa store, then di mo nabili so you have to make your own. It's not something that you have right now, but you have enough information in your head, or or yung sa memory mo, to be able to construct something that represents it. Something that you're not holding in your hand. And another thing is yung word na model. Parang sumakto sya diba parang robot scale model ang ganda. So what are the tools that you use to turn these numbers into models?
Jomar Rabajante 07:23
Marami yan. Usually when we talk about math, naiisip natin is pen and paper diba? We have our pen, we have a paper, we solve our yang mga mathematical expressions or kung may mga equations na kelangan i solve. Pero yung mga ganitong pen and paper kung talagang mag wo work tayo with real life problems, medyo madalang or ginagamit parin pero madalang usually we use computers. Minsan merong software or madalas, ako madalas, I create my own computer programs, nagpro programming kami para ma-analyze yung data. Kung meron mang kaming mathematical model, mga equation na derived from real world issues, kaya naming ma-simulate. So kelangan mo talaga ng computers. So yeah mostly ito yung and pen and paper and computers, ito yung madalas na kasama namin. But definitely ano no, currently, hindi nalang basta nagso-solo ang mga mathematical modellers. What I mean is diba minsan, if you have pen and paper or computer you can do your own. Pero mandalas, may mga kasama kaming ibang tao, naguusap kami. So siguro pwede namang sabihin ano na rin ito ano tool yung communication with other people. So we need, we need this para mas maging maganda yung mga lalabas na results.  
Mikael Francisco 08:45
Ang ganda kasi naalala ko yung sabi rin nung, in my past interviews with other scientists, parang ang isa sa mga lessons na recurring dun is science is not something that you do alone. Parang contrary to the yeah, to the notion that scientists are just people quietly working, mga ayaw sa kapwa tao, ayaw makipag usap nasa lab lang or something, science really is a cooperative thing no? It's something you build upon your shared knowledge, the evidence that you find and then you try to make something better. Something useful, something helpful out of all of that stuff. So ang ganda. Random lang, naisip ko lang kasi, may naalala akong parang fun lang. Have you are you familiar with The Matrix? 
Jomar Rabajante 09:28
Yes, yes. Oo. I think lahat yata tayo fan nung The Matrix. 
Mikael Francisco  09:32
Oo nung mga nakanood ng 90s ano pati sequels. 
Jomar Rabajante 09:36
90s yes. 
Mikael Francisco 09:37
Yeah but ang isa sa mga pinaka intriguing na concepts dun is yung yung the idea that we're all just in a simulation. And I actually I actually recently wrote an article about simulation theory na parang medyo medyo mind bending sya e. Do you have any just random parang thoughts about that notion na this might all be just a simulation. Ano ba yung odds na ganon nga and if ganon nga, so what? 
Jomar Rabajante 10:01
Oo siguro ano aaminin ko I have…medyo philosophical to ano ito no sabihin na nasa simulation lang tayo. But siguro magkwento lang ako na there were times lalo na nung sobrang ano ako nakatutok ako sa aking thesis tsaka dissertation, there were times na kahit natutulog na ako, napapanaginipan ko sila na feeling ko i'm part of the model. I mean siguro dahil sa sobrang pag iisip, naging ganon no, na parang feeling ko part ako ng simulation. Pag natutulog ako gumagalaw sa utak ko yung mga ayun nga kasi nagsi-simulate kami ng mga parasites, mga fishes, feeling ko nandun ako. Pero ano siguro kung ibabalik natin dun sa Matrix, parang ang dating is, if titingnan natin yung mundo as simulation, dapat maging maingat tayo. Kasi sometimes simulation we can just play around computers and then may simulation ka, may simulation results ka. Pero ang gusto kong sabihin dito be careful tayo kasi we are talking about real world problems, we are talking about humans, we are talking about communities. So dapat yung ating gagawing mga models if we really want to be impactful, dapat ano e, ethical, dapat susunod tayo sa good practice. Kasi our models, our mathematical results can be harmful, or it can be beneficial. Siguro yun lang yung danger na dapat hindi lang natin isipin yung mundo as simulation. But it's really real that if ever we're going to suggest something sa policy makers, dapat alam natin what will be the implications and ano yung ethical implications ng mga ito. So naging seryoso yung sagot ko dun sa Matrix mo ano? 
Mikael Francisco 11:40
Yes but that's that's a really great take kasi yan din yung actually medyo ganyan din yung…I mean not as eloquently as you put it, pero medyo ganyan din yung thoughts ko on it na parang if you adopt that mindset na this is all just a simulation, it's very…you're bordering on the oh okay, di kahit ano gagawin ko nalang kasi none of this is real. But that's not the case. That's not the reality we're in. Our actions, our thoughts, our words, may impact yan. Not just sa atin but sa ibang tao and regardless whether or not you know we believe that we're in a simulation, may real world consequences ang lahat ng ginagawa natin even mathematical models. So sobrang agree ako dyan na yung ethics…yung ethical aspects kelangan consider. The benefits, the harm, kelangan in everything we do nasa isip natin yan. And you mentioned that umabot sa point na sometimes you would dream na you were in the models themselves or you were you were interacting with the numbers. So I think my question there is do you ever feel overwhelmed by all these numbers and statistics? And when that happens, what do you do?
Jomar Rabajante 12:48
The answer is yes. Totoo yan kasi there are times na wait lang, sobrang complicated nitong ginagawa ko or wait lang, sobrang huge or itong data set ko sobrang laki na parang ang hirap i-analyze. Yeah totoo yun minsan ano talaga e. Napapatigil ka nalang or siguro sabihin na natin na me-mental block ka nalang diba. Lalo na kapag ang dami dami mong ginagawa. So yeah totoo yun nao-overwhelm ako ng mga mathematical expressions, numbers, statistics na mga yan. Pero ako ang ginagawa ko para ma address ko ito, nagpapahinga ako or or what I mean is, kapag kunyari diba nagre research ka ngayon, marami kang ginagawa, tapos parang wala kang patutunguhan, stop mo muna. You do other things. Kasi minsan ano e…ako experience ko lang ito. I I'm not sure if this is true sa ibang tao no na kapag naka rest ako or nanonood ako ng mga you know movies, or nag se-series ako, mga dra-k drama mga ganyan, or nag nag aano ako naglalaro sa labas ng frisbee or nag naghahalaman, may mga biglang alam mo yun, biglang pipitik nalang na wait lang, parang ano a magandang gawin ito. Tapos later on makikita mo na effective yung naisip mo. Siguro dahil nare-rest yung mind. Tapos magkakaroon ka ng some some eureka moments, parang ganon. 
Mikael Francisco 14:15
Oo. Tama yeah. Kaya importante talaga ang ano e. Tama yang sinasabi nilang work life balance. 
Jomar Rabajante 14:21
Yes oo. 
Mikael Francisco 14:23
Related to that. And maybe drawing from your own experiences as an educator, do you have any tips for conquering yung fear of math and numbers which is very common…a very common complaint or parang sentiment that we hear from you know, from people of all ages. How do you get over that feeling that you're intimidated by numbers and statistics? 
Jomar Rabajante 14:48
Siguro unang una, totoo naman yan minsan diba may mga parang math anxiety tayo or fear of math and numbers. Minsan we need to to accept, what I mean is yung mga weaknesses natin alamin natin. For example ako, diba iniisip nila oy math ka, kaya mo bang i solve ito tapos ang dami nilang papabigay na ayun numbers ganyan. Sabi ko wait lang, i'm not a calculator. Hindi ako ganong tao. So I know that's my weakness di ako yung diba minsan may makikita tayo sa TV na parang sobrang ambilis mag compute. Sabi ko no i'm not like that person and I know I know weakness ko yan. So I know kung ano yung mga weakness ko and of course by by knowing your weaknesses, you can do something na para ma address yun. Pero ako ang ang ginagawa ko dito sa kunyari may something na parang takot ako or feeling ko weakness ko to, ang gagawin ko lang practice. And kelangan kong magamit or maging involved. Let's say if I want to to solve a problem using math, kelangan kong maging involved dito na mag practice. Kasi diba, for example, maglalaro ka ng basketball. Sa una matatakot ka kasi hindi ka marunong but later on kapag nag practice ka or ginagawa mo ito ng madalas, parang nasanay ka na. So math is also like that. Kapag nasanay ka na kapag lagi mo itong ginagawa, yung dati mong takot parang mawawala dahan dahan. The same with other practices, fields or disciplines, tingin ko kapag ginagawa mo ito, nasanay ka na, later on ano na e, mawawala na rin siguro yung fear. 
Mikael Francisco 16:23
Oh yeah, very practical good practical piece of advice. I-accept muna na we have limitations and find ways to work around them. Tama yan. And we might be surprised no, by what we can do. And speaking of surprising things, surprising abilities, well you mentioned earlier na yun nga, numbers can tell us a lot about the real world. Can help us solve problems, can help us get a better grasp of how to approach everything from public health to economics to to urban planning, and all of that stuff.  But what are some of the, para sa inyo, yung mga surprising and unexpected na ay pwede pala natin tong matutunan from math. Or, pwede pala nating ma-predict, ma matantsa, makita ito through numbers. Ano ano yung mga kagulat gulat na bagay na yun?
Jomar Rabajante 17:15
Hindi ko masasabing kagulat gulat no. But yeah sometimes kagulat gulat sya kasi parang ano e parang biglang merong revelation parang siguro yun yung tamang term ko siguro, revelation. Kasi in mathematics, we study patterns. Or if there are systems or mga phenomenon kaming nakikita what we do is we find patterns. And syempre diba tayo nung bata tayo diba kapag meron tayong nakitang something sa bahay tapos may pattern parang ang saya saya natin, parang gusto nating pagaralan yung pattern. So kami parang ganon ano ang saya namin na makadiscover ng pattern, and, I believe yun yung mga revelations yun yung mga surprising things na hindi natin akalain na may pattern. To make yung sinasabi kong concrete, for example, in epidemics, may mga bagay na hindi clear sa atin tayo yung generation natin first time nating na encounter itong ganitong kalawak na pandemic diba? So pag inaral namin ito using mathematical models, may nakikita kaming mga patterns na wait lang, these patterns posibleng makaapekto sa community. Kung matatandaan natin last year, people…kung ano natin kung babalikan natin yung 2020 siguro mga February or early March. Iniisip ng mga tao this COVID 19 di ito pupunta sa Pilipinas or hindi ito magiging malaking problema. But that time February palang inaaral na namin ito and we see patterns na posible siyang maging outbreak, and posible sayang kumalat sa buong Pilipinas. Although, asynchronously, hindi sabay sabay. And then yung time din na yun, we we released yung mga projections namin through the UP Resilience Institute. Yung mga…totoo ito. Maraming ibang tao tinitingnan kami dati na hindi yan magiging totoo ganyan. But later on, nangyari. Although hindi naman hindi kami nanghuhula or hindi kami ano ito parang ano ba yun…prophet – no. Actually, yung mga yung mga worst case projections namin, yun yung mga ayaw namin mangyari. Pero sinasabi namin ito so that we can intervene, we can create strategies, we can do something na hindi mangyari ito. So itong yun yung yung mga bagay na lumalabas na patterns na surprising or revelations, ito yung parang something na ano e, na math can provide. And ito yung mga pwedeng makatulong sa mga policy makers. Sabi nga nila evidence, evidence-based policy making or evidence based decision making – mathematics, data analytics, itong mga modelling natin – ito'y ilang ilan sa mga tools that can help with this evidence-based policy making or decision making. So yun. 
Mikael Francisco 20:03
I'd like to ask you a few more things about that later on. But recently kasi, you were one of the recipients of a a one of a kind recognition. One of the Outstanding Young Scientists of this year. So i'd like to know, how does it feel to be recognized in your field like that? Ano ba ang ano ba what makes an outstanding young scientist ba? 
Jomar Rabajante 20:28
Oo. Siguro for those people who don't know itong Outstanding Young Scientist or OYS, ito ay ina-award ng National Academy ano nga ba daw of Science and Technology ng or NAST ng Pilipinas. Ito ay, yung NAST ay composed ng mga academetians, mga talagang kilala na, talagang mga foundation na ng science natin sa ano sa sa Philippines. Tapos kasama na din dito sa mga academetians, ay posibleng mga national science…maging national scientist so sila sila yan. So talagang kapag na awardan ka ng OYS, it's something like…okay. Yung mga pundasyon yung mga tinitingala nating scientists nare-recognize itong mga emerging, itong mga young scientists. So this this is really something na parang wow. So ako ano ang na feel ko, of course di ko itatanggi, masaya ako. Hindi ko maitago yung tuwa so totoo naman yun di ko maitatanggi pero kung merong feeling na mas angat pa dun sa pagkatuwa ko, yun ay pagiging proud as part of my institution. Kasi ako, ako kunyari. I have a colleague kasi part ano ako ano, faculty member ako ng Institute of Mathematical Sciences and Physics ng UPLB. If I have a colleague na naging OYS masayang masaya ako for him or for her, na talagang wow proud ako for you. Nagkataon lang ako yun, yung colleague na yun. So parang kung ako ay member ng ano ng ng institute namin, magiging proud ako. Nagkataon lang na ako yun yung tao na yun na na-awardan. So the bottomline here is, parang bakit ako proud duon kasi, isa una pinapakita na even if you're from the province or even if hindi ka part ng you know, ng mga sa Manila na laging nagkakaroon ng OYS sa mathematics, kayang kaya na ma produce ito sa provinces, and madalas, medyo madalang din naman yung mga applied math na nagiging OYS so, pinapakita dito na kaya ng applied math na maging outstanding. At maraming pwedeng gawin ang applied math, lalong lalo na mathematical biology kasi bago lang ito. Kayang magkaroon ng career sa direksyon na ito sa ng mathematical biology or applied mathematics. 
Mikael Francisco 22:53
And yun nga e. Actually that phrase mathematical, ano, biology, yung that combination of…parang two fields sya in one. And it's not something that I or the public hears often. So it's to know na may meron syang need na finu-fulfill ano? Just like that need that the country had and still has when it comes to analyzing, crunching and providing perspectives based on numbers and evidence related to COVID 19. So throughout the course of the COVID 19 pandemic, you and your teammates, you've talked to alot of journalists, you've given your thoughts and your, your projections to help give the public a better picture of the situation of COVID 19 in the Philippines. So what are your thoughts and feelings about having such an important responsibility at this crucial time? And, do you think perhaps more importantly, do you think that people and the people in position who have the power to do something, are they listening to you? Are they listening to the numbers? Are they listening to science? 
Jomar Rabajante 24:01
Oo, mahirap na tanong yan ano. Siguro ano unang sasabihin ko nalang muna ay ano yung ginawa namin nuong lalo nung start nung pandemic, kasi nagkataon lang din na even before the pandemic, may mga workshops na kaming ginagawa para i-train yung mga younger sa akin tsaka i train yung maraming tao sa mathematical…kasi ang mathematical biology diba, pero merong sub-branch sya na tinatawag na mathematical epidemiology which applies mathematics to infectious diseases so since 2018, 19 tapos 2020, may mga ginagawa kaming international workshop on mathematical biology yung una sa Cebu, then Bohol then yung 2020 UPLB. So may ginagawa na kaming ganito. So nung nagkaroon ng pandemic, san tayo mag start and then yung mga tao hindi nila alam ang gagawin. So sabi namin wait lang, hindi hindi tayo dapat magtago lang at hahayaan yung pandemic. This is the opportunity for us to help. So kahit walang nagpu-push sa amin, yung team namin, we we…we get data, we analyze data, we do the projections, we create models, yun yung ginawa namin kahit walang nagpu-push. Nagkataon lang din siguro na since yung mga tao kelangan nila ng information nung ni-release namin yung mga results namin, nakapagbigay linaw or nakapag enlighten kasi wala ngang masyadong information. So somehow maraming tao ang nagpasalamat sa amin, lalo na yung mga ano no nasa businesses, kasi they thought diba parang inannounce mag E ECQ, they thought na in a week or in two weeks mawawala na yung virus. But kami inexplain namin sa kanila na ito ito yung posibleng mangyari. So they realized na no, ano pala ito, medyo matagal na laban. That time din we helped LGUs na ma-estimate ilang yung mga kelangan nila na ICUs, mga testing kits, marami kaming publications na rin na na release na na-publish sa mga international journals. So to cut the story short, kahit walang nagpu-push sa amin dati, ginawa namin yung dapat naming gawin and may mga nakarecognize at maraming mga natulungan. Until now. Minsan nga, kahapon even gabing gabi, may meeting pa rin ako with LGUs. So ano to e, yeah, as a scientist, as part of the academe, we have responsibility to help kahit walang naga-ask sa atin at alam nating makakatulong, we do that. Pero ano ano. Nung unang una, maraming nagba-bash din. Kasi hindi ang mga tao na may scientist na nagsasalita ng ganon ganito and then we are parang, what's mathematics in epidemiology. So maraming nagba-bash but later on they realized na importante pala ang data analytics, statistics, mathematics. So na ano naman. After ng mga bashing na yun, narealize nila so now, tuloy tuloy yung mga request sa amin and kami din, even though maraming maraming request, ine-entertain pa din namin and tinutulungan talaga namin yung mga organizations mga government units para talagang ma fight natin yung COVID 19. 
Mikael Francisco 27:16
Yeah. And I'm sure na, you know it's comforting it's it's very great to hear na the people, yung mga LGUs, the people, the decision makers have actually been consulting you and asking for help kasi, para sa akin naman being being a good leader doesn't mean you know everything. In fact it means recognizing when you don't know things and learning when to ask for help you know, from people who actually know what to do so that you can make the best decisions. So it's it's good to hear that. For the average person na hindi nakalubog sa numbers, or hindi nakikita or naa-appreciate itong mga trends, itong statistics, from the current numbers and trends related to COVID 19 dito sa Pilipinas, ano ang maaasahan ng average na person, ano ang maaasahan ko, ng pangkaraniwang tao na malaman tungkol sa, kung nasaan tayo ngayon, at kung saan tayo papunta. Basically I guess my question is, kamusta ba ang Pilipinas based on the numbers and gano pa kaya katagal to? 
Jomar Rabajante 28:14
Mahirap na tanong yan ano. Kasi maraming pwedeng mangyari. Kasi remember, COVID 19 is not just about biology or not just about the virus, it's not…yung public health issue na ito involves also economics, behaviour of people. Kung makikita mo talagang ano sya e, I mean, what I mean is if you study COVID 19 hindi lang pwede yung biology or you know epidemiology. Hindi lang ganon. Kailangan talaga alamin nyo yung behaviour ng mga tao, even yung magiging strategies, interventions ng government, kelangan mong ma consider. Yung political realm nito. So sobrang complex nya. So what what we actually do when we do projections hindi kami nagbibigay ng isang ito yung mangyayari sa future, no not like that. We provide scenarios. Kapag ginawa ito ng government, pag merong ganitong testing, pag may ganito ganyan, ito yung scenario. Pag ginawa mo tong ganito, ito yung scenario. So these are the things that we provide to the decision makers, policy makers…pero kung sasagutin nasaan na tayo, iba iba depende kung nasang lugar ka. Currently, maraming mga provinces ngayon na dati nung 2020, hindi na ako magbibigay ng names ano, kung anong province. But marami dati nung 2020 na mga lugar walang masyadong kaso. Pero ngayon ang tataas ng kaso. At nang nung mga marami din dun, nung kapag tinanong ko ready na ba kayo, hindi pala sila nakapag ready because they thought nung 2020 hindi sila tinamaan masyado, hindi rin sila tatamaan ng 2021. Pero sobrang taas ng cases. Hindi itong mga provinces na to ay outside NCR. So iba iba. For the NCR naman we see na oo, medyo nalampasan natin yung 10,000 plus cases per day, nasa around I mean, mababa na yung mga numbers natin ngayon, nagde decline pero kung makikita natin medyo nagpla plateau or somehow, hindi ganon kabilis yung pagbaba. So all in all pag sinagot ko yung tanong mo, nasan na tayo ngayon? Still sasabihin ko we have community transmissions, so kailangang mag ingat. And kelangan tuunan ng pansin ang mabilisang roll out ng vaccine. Syempre may problems with supply pero kelangan e kasi, posibleng may transmission pero pwede nating ma-inhibit yung mga yung magiging severe or critical at makakatulong ang vaccine. We hope, kasi may mga projections kami may mga scenarios kami na by the end of 2021, talagang bababa na yung mga kaso and we can go back. Or siguro sabihin natin to be safe, in 2022 early 2022, we can go back to our…hindi pa, hindi pala tayo makaka go back kasi wala nang going back to the pre-pandemic no. It's really something new. So what I mean is medyo ano na tayo, magpo post pandemic na sana early 2022 where we can have social gatherings but of course na meron tayong pagiingat. Hindi na tayo magkakaroon ng takot na mag we..well, there's still COVID 19 but di na tayo magkakaroon ng takot katulad nung 2020 at 2021 na na scenarios. So sana yan yung mangyari but still we have community transmission kitang kita sa data. Hindi nagsisinungaling yang data. 
Mikael Francisco 31:52
While you were talking about all of this, I was just nodding like parang ah yeah, I really wish you know…I really wish you know, more people, especially yun nga yung mga taong nasa posisyon to do something about this. Not just yung ordinary, average person. Feeling ko medyo na-barrage na tayong lahat ng projections, ng news. Kumbaga, this is not entirely new information but I I really hope more people lalo na yung may capacity to do something about it will listen and really take the data seriously because I agree with you the data doesn't lie. You can see the trends. And as much as masabi natin na ah hindi naman ganyan ang sitwasyon ngayon e, siguro next year wala na yan, or siguro hindi naman kami tatamaan ng ganyan, mahirap maging sigurado, lalong lalo na if the data says otherwise. So yeah, talagang I hope na in the coming weeks, months, mas natin yung real pag embrace or pag implement ng science and data into policy making, decision making yung mga restrictions, lalong lalo na yung pag roll out ng vaccine. Yung pag pri priority nun. Sana talaga. Kasi, you know you're right. There is really no going back to normal but we can…we can reach a state where we don't have to be so afraid anymore. And the only way we can do that if we, is if we can start listening to science and data and acting appropriately. 
Jomar Rabajante 33:17
Yeah, true. 
Mikael Francisco 33:19
I know that you're really busy so I kinda feel guilty asking about this pero what is the best way to contact you if people want to connect with you or your team and to maybe ask for…I know you guys are are swamped with requests but you know, if people wanna learn more about you and what you do, what's the best way to reach out to you?
Jomar Rabajante 33:40
Hindi naman mahirap akong hanapin. I-search nyo lang sa Google or tanong nyo kay tanong nyo siguro kay Alexa. Mahahanap nila. Kasi hindi naman dahil sa sikat ako ano, hindi naman ganon. Nagkataon lang siguro marami akong publications, marami akong mga engagements, so pag ginoogle mo, lalabas talaga yung name ko at may website ako. I have Facebook, I have IG, I have Twitter. So and lalo na lalo na sa Twitter makikita nyo na public naman yung mga post ko, mga tweets ko so from from those social media platform you can contact me. Makikita nyo rin naman sa pag sinearch nyo sa Google kung anong email add ko if you want to to ask formal inquiries so hindi naman mahirap hanapin. Ano lang, search nyo lang yung name ko Jomar Rabajante and yung ako and my team are very much willing to, you know, kung may kailangan kayo sa amin, let's let's talk. Baka matulungan namin kayo. 
Mikael Francisco 34:44
That's awesome. You know some people say that Twitter is a very toxic place, na parang it's a toxic…social media is toxic, Twitter is toxic pero ako, I think they're just following the wrong people because I follow a lot of scientists…Pinoy scientists on Twitter and ang gaganda ng discussions. So I would definitely recommend na yung mga tao if you want some sensible updates on your feed, follow the hashtag ano sciencechatph. Some of the scientists there are my good friends and you'll see like you might have opinions about Twitter but you'll see na having that public platform where young scientists share their thoughts and inputs on the the issues of today, sobrang andami nyong matututunan. So ano ang advice…what's what's one piece of advice na pwede nyong maibigay sa mga Pinoy na gustong sumunod sa inyong yapak or pumasok dyan sa sa bagong emerging field na ito na may pangangailangan talaga sa Pilipinas. What is your advice for them?
Jomar Rabajante 35:45
Siguro yung advice ko hindi lang for math. Not just for mathematical biology or applied math. Yung advice ko for anyone, kahit saang discipline or siguro kahit sino na wala pang masasabing expertise nila. Dalawa dalawa yung pwede kong ibigay ngayon ano. Kasi I I know marami na kayong naririnig na tips. Pero sa akin dalawa, at itong tips ko hindi din naman bago. The first one is, yung passion. Be passionate. Yung pagkakaroon mo ng passion pwede namang hindi ka pa expert dun pero passionate ka so what you're going to do is really strive hard para ma-attain mo yung level na sasabihin mo somehow may alam na ako dito. Somehow, pwede na ako mag research dito. So be passionate lang. At itong pagiging passionate na to, hindi ito madali ano kasi, before you siguro learn the mathematics, kasi medyo advanced minsan yung mga math na ginagamit namin. Before you learn them kelangan kang dumaan sa mga prerequisites. Iba yung iba iniisip yung mga algebra, calculus, parang para saan ito? But these these concepts very important sila dun sa mga math na ginagamit namin for you know, to do mathematical models and analyze the mathematical models to help the community. So maraming pagdadaanan pero babalik yan sa passion. Pag passionate ka talaga gagawin mo lahat. The other one is still related to passion yung grit. Na somehow if if tingin mo parang andami mo nang problema, hindi mo na hindi ka na maka push, parang ayaw mo na, yung passion mo dagdagan mo ng ano ng perseverance and yung level na hindi ka susuko tatayo ka pa din, at ipu-push mo talaga na ma-attain yung dream mo, ito yung importante sa ano e, sa science. Kasi diba, yung hindi nare-realize ng mga tao when they talk about science iniisip nila na kung ano yung true ngayon ito yung true forever. No. In science of of course there is no absolute truth. But what I mean is yung mga facts natin ngayon or yung mga alam nating theories, pwede nating i-test. Pwede nating i-question. Baka mamaya by doing this, we can discover more, we can invent something new, we can you know parang si ano si Newton. Yung kanyang gravity. Later on lumabas si Einstein na somehow, parang in some sense, yung gravity idea ng gravity dun kay Einstein ay mas masasabi nating applicable or better
Mikael Francisco 38:42
Malawak
Jomar Rabajante 38:43
Than the of…mas malawak in some sense. So ganon ang science. It should be, it's full of questions, it's full of curiosity so kailangan talaga mag move forward. Kapag ang ang science natigil na parang end na parang ang hirap. Ibig sabihin baka nag end na yung humanity noon. So continuous talaga yan. So continuous yung discovery, continuous yung invention, yung innovation. At itong mga sinasabi na continuous na ito, mangyayari lang ito if you have the grit, if you have the passion, the perseverance to move forward. Yun
Mikael Francisco 39:17
Ganda. And I love it. The end of science is the end of humanity. Ang ganda. I think that says a lot. So yeah. Thank you, thank you so much for those great words of wisdom and for sharing your time and your expertise with us. With me and with our listeners I wish you guys more power. Your team is doing fantastic work, work that is really important these days. And so I look forward to hearing more from you and maybe inviting you again on the podcast at some point. So goodluck and take care and stay safe. 
Jomar Rabajante 39:50
Take care din. Stay safe and be healthy always. Thank you very much. 
---
The Ask Theory Podcast is available via these platforms — make sure to subscribe, as we'll be releasing a new episode every week:
Spotify: https://open.spotify.com/show/1GDcxBwETsD4KM1EmTr1aI
Apple Podcasts: https://podcasts.apple.com/ph/podcast/ask-theory/id1550251048
Anchor: https://anchor.fm/ask-theory
Breaker: https://www.breaker.audio/ask-theory
Google Podcasts: https://www.google.com/podcasts?feed=aHR0cHM6Ly9hbmNob3IuZm0vcy80OTAyMWNjMC9wb2RjYXN0L3Jzcw==
Pocket Casts: https://pca.st/gv6jxkki
RadioPublic: https://radiopublic.com/ask-theory-WJkbLJ
Music: Hopeful Cinematic Ambient by bdProductions; My Mysterious Planet by Free Music