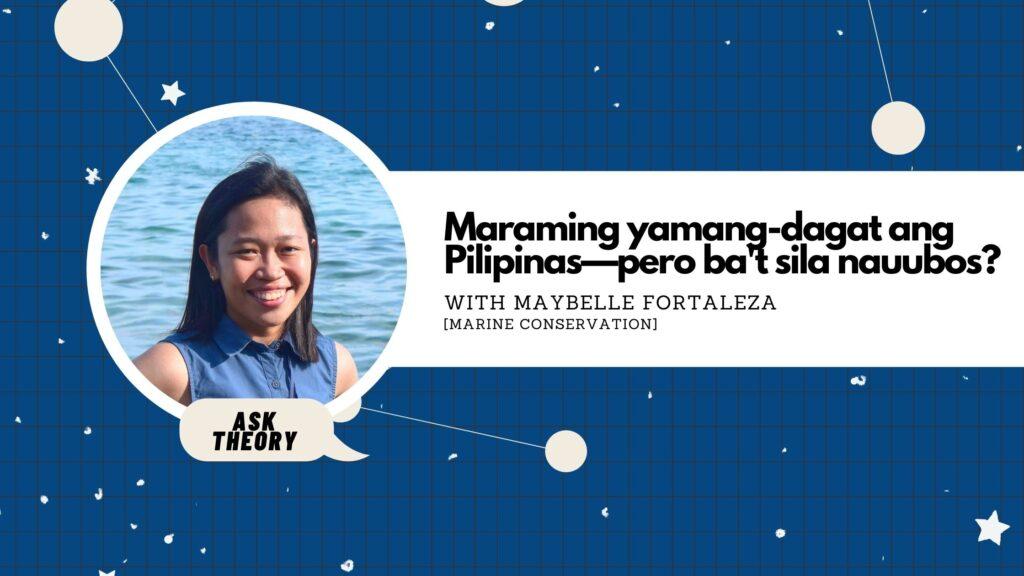 ---
Hosted by EIC Mikael Angelo Francisco, Ask Theory shines the spotlight on Pinoy scientific brilliance, in a fun and entertaining "kwentuhan" format. Each episode of Ask Theory  features a Pinoy scientist from one of the various scientific disciplines. In a very casual conversation, guests explain what they do in simple terms, as well as share their fascinating stories: how they got into science, the challenges they face, what motivates them to pursue their fields, what future scientists from the Philippines can look forward to, and so much more.
Episode 30: Maraming Yamang-Dagat Ang Pilipinas—Pero Ba't Sila Nauubos?
This episode features Maybelle Fortaleza, a marine scientist and member of the research team at the Coral Reef Resiliency and Ecology Studies Laboratory in UP Mindanao.
We talked about the possible reasons why the Philippines is so biodiverse, the biggest problem in marine conservation, how to change or improve the way we talk about saving marine species, meeting science idols and celebrities, the need for inclusive science communication in local communities, and more.
Listen to Ask Theory Episode 30 here:
EPISODE TRANSCRIPT:
Mikael 01:32
Hello Maybelle!
Maybelle 01:34
Hello Mikael!
Mikael 01:36
Have you been vaccinated na?
Maybelle 01:38
Oo. Actually last week lang nung Thursday
Mikael  01:41
Swerte. Naku. So sa mga nakikinig dito sa podcast natin, if you're under the, any of the categories that can avail the vaccine, I really suggest na magpa schedule na kayo habang early pa so that yung roll out nung vaccines natin. Medyo makakatulong din tayo by securing our slot. You know, if, if you're free. Syempre, diba. Kasi iba sa atin we work everyday, medyo mahirap mag schedule ng vaccination. But if you can, please get the vaccine to secure yourself and your loved ones.
Maybelle 02:16
Yup. Oo tama yun. Kami kasi inorganize na sya ng University namin. So nag volunteer yung campus namin na, na maging vaccination site. So lahat ng government employees na under that organization, parang ininvite nalang din sila dito sa university. So, mas mas naging convenient sya for yung nasa A4 category. 
Mikael  02:40
Wow. That's cool. Sabi nga nila sana all. Sana lahat. So today ang dami nating paguusapan. I'm actually very excited because this this episode has been in the making for a long time. And i'm glad that finally, nag jive yung schedule namin. I would like you to talk a bit about yourself, what you do, what keeps you busy these days, and maybe share a bit about what got you interested in science. 
Maybelle 03:09
Okay. So dun tayo magsisimula ano sa kung paano ako naging interested sa science. Kasi, a lot of people I know yung sa mga ka edad ko, we grew up with Mathtinik and Sineskwela. Pero personally, I prefer yung latter kasi I didn't like numbers. Tapos sa hometown ko kasi, wala pang cable yung TV namin noon. Pero may times naman na ano, na nakakasagap sya ng ibang channel so yun, may chance kaming manuod ng show ni Steve Erwin. And then, nung highschool ako, meron akong magaling na biology teacher. Tapos kahit na sobrang strict nya, I learned so much from her. Tapos dun ko naisip na, what if mag Biology ako sa college kasi kung wala man akong research opportunities, at least I can still pursue medicine. So nung time na yun, dumating college, pumasa ako sa UP Mindanao, and all those moments na nag da day dream ako about becoming a Wildlife Biologist, lahat yun nagbago nung nag field trip kami sa Samal Island. So dun ko naisip na what if pagaralan ko marine life kaya. So, yun. Masaya kasi yung science na mapapanood natin sa TV, nababasa sa books, tapos yung mga lectures din ng professors at experts interesting. Pero once you're in the field, it gets more interesting kasi and more satisfying kasi nga, nakikita ko sila tapos na o observe ko sila. And then now, I work as University Research Associate dito sa Coral Reef Resiliency and Ecology Studies Laboratory. They call is CRESLAB dito sa UP Mindanao. So I work on reef fishes, and marine mollusks, especially yung sa Biology, Ecology at Diversity nila. 
Mikael  05:07
Do you miss field work? I mean I think mas, mas restricted ang iyong movement over the past few months
Maybelle 05:14
Yes. Oo. Honestly. Kasi before yung pandemic, actually, galing kami ng Tawi Tawi. Tapos nandon kami for, siguro mga ano…more than 10 days para sa isang training. Tsaka nag collect din kami ng mga isda doon. So parang nung nagkaroon ng lockdown, syempre biglang na overwhelm kami na nasa bahay lang kami. Wala kaming magawa. 
Mikael  05:44
Oo
Maybelle 05:45
We recently concluded our 3 year project. Tapos yung project na yun is on DNA barcoding of reef fishes in Northern Luzon and Southern Mindanao. So kaya kami napadpad sa Tawi Tawi. So this project is funded by the DOST (?) So actually, yun, Yung ang mga pinagkakabalahan namin these days. Tapos nagpre-prepare ng terminal reports. And meron din kaming prine-prepare na practical manuals sa gustong mag work on reef fish biology. So it was made available to our collaborator, yung Mindanao State University in Tawi Tawi. Pero, nag… may ini improve pa kami sa content ng lab manual. So we hope that it would still come out this year, tapos magiging available sya for a wider audience. 
Mikael  06:34
Cool. Pero may question ako. Ano yun significance ng ano DNA barcoding for people who aren't you know, just familiar – that familiar with that practice. Bakit sya importante? 
Maybelle 06:45
Importante yung DNA barcoding kasi sa ngayon, we see species ng reef fishes na parang magkakapareho yung hitsura nila. As in yung kulay, yung patterns, pero yun pala may underlying characteristics sila na yun yung nag cau cause ng differentiation sa population. 
So ginagamit sya usually, dito sa labmate ko, ginagamit nila for sardines. And alam natin na yung sardines, ay mahalagang ano, commodity sa atin sa Pilipinas. So mahalaga na ma identify natin ano yung populations or ilang populations yung na nag e-exist sa waters natin para maayos yung management. 
Mikael  07:29
Galing. Yung with that information with that data, mas nagiging maayos ang pag manage ng population or yung basically alam natin kung ano yung nasa mga karagatan natin. 
Maybelle 07:39
Yes. Oo
Mikael  07:40
Nasa tubig natin. And lalong lalo na, I like how you mentioned yung example mo yung sardines, which is, ano naman, hindi naman sa ano pero most – for most of us, ang usual na encounter natin sa isda, either pet or food diba?
Maybelle 07:53
Yes. Oo
Mikael  07:54
You don't really think about…and it's it's understandable. We don't really think too much about the science behind it. Yung 
Maybelle 08:04
Totoo yan
Mikael  08:04
Yung life nila. Diba. Kasi it's really just limited to what we need from them or why we need them on a daily basis or on a regular basis. 
Maybelle 08:14
Oo totoo yan. Kasi for most of us, parang kung titingnan mo yung isda, ulam ganon or pet. Pero actually yung greater greater na scheme duon, meron tayong live reef fish ah sorry, live reef food fish trade. Meron tayong ornamental trade. So lahat yun nakaka affect kasi hina harvest yung mga iba't ibang isda for different ano purposes. 
Mikael  08:39
Oo. So andaming mga dapat na i consider. Andaming kumbaga, tali tali yan e. If ah if one population or if one species of fish suffers, maraming…it's like a row of dominoes. And you know, sometimes we just don't realize it. 
Maybelle 08:55
Yes. Exactly. 
Mikael  08:57
Oo. Pero speaking of like greater things or bigger picture, let's talk about something na ang ang pinaka popular example nitong bagay na ito ay the only the largest structure visible from space is the largest living organism and it's visible from outer space. And that of course is the great barrier reef. But I want to talk about, in general, Coral reefs. Now dito sa podcast, we have a parang mini segment where we have a hypothetical, imaginary seven year old child. And yung guest namin, pinapaliwanag nya dun sa batang yun a specific concept or specific idea para mas maintindihan nya. So for you, I would like you to explain to our imaginary child, kung ano ba ang coral reef.  
Maybelle 09:47
Okay. So sige. I'll try. Ang coral reefs ay mga structures na makikita natin sa ilalim ng dagat. So tinatawag silang rainforest of the sea dahil katulad ng rainforest no, ang coral reefs ay, they host a lot of living organisms. So kung tayo mga tao we live in our houses, yung mga isda, yung mga makukulay na feather stars, yung mga starfish, snails and shells, sila associated sila sa coral reefs. And importante na tatandaan natin na ang bawat coral na bumubuo sa coral reef ay mga hayop. So kahit na hindi sila gumagalaw, we should just observe and respect marine life. 
Mikael  10:38
That's a very good attempt, a very good explanation in fact. And importante yung na mention mo sa dulo na they're living – they're animals, they're living things
Maybelle 10:48 
Yes, oo.
Mikael  10:49
Kasi every every once in awhile we see sa news na meron nadiskubre ng mga corals na may nakalagay na pangalan may nakaukit na 
Maybelle 11:00
Yes. Sobrang oo…sobrang ano nakaka discourage makakita ng ganon. 
Mikael  11:06
I would imagine ano lalo na, I think, I think for some people they think na ay bato lang naman kasi ito e
Maybelle 11:12
Yes exactly. Kasi yun nga nandun lang sila massive na structure so akala nila tutungtungan nila para parang resting station kumbaga kapag nag sno-snorkling. Pero it's not. 
Mikael  11:24
Oo. And hindi naman natin inaaway or ina antagonize yung mga taong nakagawa na nun
Maybelle 11:28
Oo importante yun 
Mikael  11:30
Oo diba totoo yan. And I think we'll get into that in a bit. Pero yung importante kasi dito is once we have that knowledge, that awareness that we're actually doing irreversible damage kasi..and I mean irreversible kasi just a fun fact that i'd like to share with our listeners, yung mga coral iba iba ang growth rate nila. 
Maybelle 11:52
Yes
Mikael  11:52
So akala natin, you know, when we look at these things kasi we don't really think about the years that came before that to take it to that point, or the years that will follow dun sa development ng organism na yun. But if you damage or if you step on a coral or if you put your name on a coral, you could actually be undoing thousands of years of growth. 
Maybelle 12:14
Yes
Mikael  12:15
So so yung iba sobrang bagal ng growth rate nila and imagine, within just a few seconds ganon kalaki yung naging impact, naging negative impact ng actions mo on something that is alive. So maybe if we have that awareness, that perspective, maybe we'll be more respectful. More careful about how we treat not just corals but every living thing in the ecosystems that we visit. 
Maybelle 12:40
Tama ka dyan
Mikael  12:42
So pero nung nalaman ko yun nung nabasa ko yun, actually nagulat ako kasi kahit ako wala akong masyadong alam sa corals e. Before I was writing about these things, I only really knew what I would read about sa mga libro, or sa news, and and normally hindi naman na fea feature yung mga ganyan mga fun facts sa mga trivia. Usually it's a new discovery or yet another bulletin about how the environment is in danger, or climate change, or something. And it's, it's the same messaging that we've been subjected to for as long as many of us can remember. But the world of science is full of interesting and fun things that can surprise us. And so i'd like to ask you, what is the most interesting or unexpected thing you've learned so far that's related to your work?
Maybelle 13:29
Okay so siguro yung parehong most interesting at unexpected sa akin is that kung ano yung natutunan ko sa classroom, ibang iba sya sa on the ground. Kasi after graduating in 2016, nag volunteer ako sa isang NGO, that is Balyena.org or Balyena at Lumba sa PIlipinas. So hindi ako dun sa whale survey na project bale before meron silang reef fisheries project tapos nasa Bohol ako for one month to help them collect data about manta rays and devil rays. So yung or mga manta rays at devil rays na yun nahuhuli nila sa Bohol sea and this was before they were protected under CITES Appendix II. So before yung perspective ko kasi sa conservation masyadong by the book. So parang nandun lang ako sa, you know, sa science of it, and then dahil araw araw kaming nasa landing area, nakakausap namin yung mga tao duon. So siguro yung pinaka tumatak sa akin, with all the conversations that I had, yung sinabi ng wife ng isang fisherman. Na sabi nya, hindi daw mauubos yung resources, because God will always provide. So, I consider it interesting because nakita ko yung belief system na yun, yung culture, alongside with the scientific aspect. Parang lahat sila, equally important and that, they need to be discussed. Tapos unexpected kasi, para syang hard pill to swallow na science is not enough sa ganitong usapin. Kasi we need to empower communities. And we should be aware na yung government should also secure alternative livelihoods first. Kasi, you know, you can't call conservation a success if you know the people you claim to protect, are struggling with poverty. Kasi nga inalis mo yung major source of livelihood nila. 
Mikael  15:29
That is so true. Lalong lalo na yung when we, when we come up with strategies na parang ang focus lang talaga ay you know, i-save yung species, which is noble, which is good. Pero walang consideration dun sa ibang moving parts of the whole thing. 
Maybelle 15:44
Yes
Mikael  15:45 
Diba. Hindi naman sa standby lang yung mangingisda na mawawalan ng kabuhayan or yung mga taong magugutom kapag wala nang source of food. 
Maybelle 15:53
Oo
Mikael  15:54
Lalo na at naniniwala sila na yun nga God will provide, na nature is endless and boundless. Diba
Maybelle 16:00
Oo, para bang nag re replenish lang sya. Oo. Pero kung titingnan natin yun nga, may limit. Tapos yun nga, mahirap din na ipasok mo yung pure science na yun if yun nga at risk yung livelihood nila. 
Mikael  16:14
Oo totoo yan. But speaking of how rich and bountiful nature is. You know i've always read about how yung Philippines, sobrang biodiverse. Lalong lalo na yung marine areas natin no, oo. Yung there's this the coral triangle yung part tayo nung ano, yung 
Maybelle 16:34
Nasa loob tayo ng coral triangle. Ganon
Mikael  16:35
Yes. Yes oo yung ating center of the center of marine biodiversity 
Maybelle16:42
Oo
Mikael  16:43
Bakit nga ba napaka biodiverse ng Pilipinas? Lalong lalo na yung marine areas natin?
Maybelle 16:49
Sige. So I'll try to explain na in such a way na parang nai imagine ng listeners, ano? So, if you have a world map, tapos titingnan mo yung Pilipinas and then the Malay Peninsula and then yung New Guinea tapos mag draw draw ka ng triangles sa borders nila, ito yung tinatawag ni John Briggs na East Indies Triangle. So sa paper nya in 1999, sinabi nya na this area harbors the highest marine diversity. And if you go out of this triangle, yung diversity na yun, nag de decrease. So, actually maraming tawag sa region na ito. Tapos, it just depends kung sinong group of scientists yung nagde desrcribe. So kasi sometimes yung term ay Indo-Malay-Philippines Archipelago, Indo-Australian Archipelago, or Indo-Malayan Triangle. Pero for this discussion, we will just use coral triangle kasi yun yung popularly known. And then, now if you look at this triangle, yung Pilipinas nasa tuktok or apex, and this location is special for some reason. So, we go to coral triangle tapos it is understood na sya yung epicenter ng marine biodiversity. And there are actually 4 hypotheses bakit sya tinatawag na mega diverse. So itong discussion na ito will be based sa publication nila Carpenter and Springer in 2005. So yung apat na hypotheses na yun would be the Center of Overlap, The Center of Accumulation, Center of Refuge, and finally yung Center of Origin. Yung coral triangle kasi diba, nasa gitna sya ng Indian Ocean and Pacific Ocean. So yung sinasabi sa Center of Overlap, mataas yung species diversity sa coral triangle kasi nga nagooverlap yung fauna ng dalawang malalaking oceans. And then pag sa Center of Accumulation naman, sinasabi na yung speciation…so speciation is the evolutionary process para magkaroon ng iba't ibang species. So again going back, dun sa Center of Accumulation, yung speciation na yun, nagsimula daw sa periphery ng ngcoral triangle and that yung prevailing na ocean currents, yun yung nag cau cause bakit napapadpad sila dun sa Coral Triangle na area. And then, pag sinabi naman nating Center of Refuge, ang center nito is about habitats. So sinasabi na, sobrang extensive and diverse ng shallow water habitats sa coral triangle, kaya by logic, parang mas marami yung nasu support nyang species, given na nasa tropical area. And then finally pag yung Center of Origin naman, or tinatawag din Center of Speciation, yung ancestral populations daw ay nanggaling mismo sa Coral Triangle, and nag disperse nalang sya outward. Now, the listeners should note na parang these are very simple explanations lang ano, ng each of the hypotheses. But all of these would just – would always refer to geologic complexity, periods of isolation, periods of alternating sea level rise, tapos ang pinaka importante na element is that it occurred millions of years ago. Okay so, dun sa apat na hypotheses na yun, yung Center of Origin yung sinu support nila Carpenter and Springer. That's why they named the Philippines as the center of the center of marine shore fish biodiversity. So hindi ko naman sinasabi na ito yung sole reason ano kung bakit mega diverse yung Pilipinas or ang coral triangle overall. Kasi nga maraming scientists coming from different backgrounds have provided evidences to support each of these hypotheses. So a lot of work has been done on corals, gastropods, even mangroves as their examples. So ang bottomline lang dito is that the hypotheses are not mutually exclusive. Tsaka, ganon din naman sa science e. So multiple explanations are needed to explain those biological patterns. Going back dun sa paper nila Carpenter and Springer, so nakita nga nila na yung Central Philippines ang may highest reef fish diversity and endemism. So yun. So wala tayong map nun but if I were to describe it, yung Central Philippines na tinutukoy nila, it starts from the Verde Island passage, yung area between Batangas and Mindoro, tapos it goes to the internal Visayan seas. And then later nitong 2011, yung boss ko, si Dr. Naniola and his co-authors, sinabi nila na historically, si Visayan region yung may highest coral reef – reef fish diversity. So nagtutugma sya duon sa previous paper nina Carpenter and Springer. So ang catch dito is that dahil sa intense fishing pressure and aquarium trade, nawala na yung ibang species sa area. So, yun yung napaka unfortunate na nangyari sa Visayan region. So ngayon, Sulu sea na yung sinasabi na may highest reef fish diversity. And itong last year lang, si Dr. Richard Mualil and his colleagues from MSU Tawi Tawi, cli-naim nila na yung Tawi Tawi is the heart of the coral triangle, based on the diversity of commercially important reef fishes. So yung commercially important reef fishes, ito yung mga hinuhuli because of their market value. So in summary lang, mataas yung marine diversity sa PIlipinas because because of the diverse habitats and their unique characteristics. Tapos nag i-interplay di duon yung productivity, and of course yung influence ng ocean currents.
Mikael  23:12
Galing. I mean, That's…that's something new. Nagulat ako when I heard about. Kasi i've always read and heard about yung Verde Island passage being the place where andami daming na di discover na bagong species every year. Hindi ko alam na nangyari na pala yung due to let's say human interference or 
Maybelle 23:34
Oo
Mikael  23:35 
You know human activities, nalipat na yung korona. So parang, nagulat ako ha. As in legit 
Maybelle 23:40
Kasi, oo. Hindi maiiwasan na mag shi-shift sya kasi kasi yun nga, iba iba yung pressure sa bawat bays and gulfs or sa marine biogeographic regions in general. 
Mikael  23: 52
Oo nga. So talagang hindi mo mae-expect na mag stay lang dun. Pero it's it's been oft repeated kasi parang in in news articles every year, even in some of the articles that we published sa FlipScience, based on our interviews with researchers. I think yung pinaka usual na nakakausap namin about that is yung mga taga California Academy of Sciences? Who always, oo, parang every year, suki sila ng…every year they publish a list.  For our listeners, every year they publish a list of newly discovered species. And a lot of that list, maraming species from the Philippines and karamhian mga sea slug that they find sa ano…dito dito sa Philippines, sa Verde Island passage oo. So, na reinforce yung belief ko over the years that talagang yung Verde Island passage yung talagang maraming ano. Pero you know, it's interesting also a bit sad you know when you look at the reasons behind these things happening  in our waters na hindi tayo, tayo as a people hindi masyadong aware of it. 
Maybelle 24:55
Oo. Tapos yung background lang kasi. Ever since na publish yung findings ni Carpenter and Springer in 2005, maraming chuma-challenge actually, so kaya ko nabanggit na maraming scientists din na from different backgrounds ang nag a-argue na pwedeng itong si Indonesia, ganon. So mga works naman yun ni Allen. So depende actually kung paano, anong organism yung titingnan mo. So ganon naman yung beauty ng science. Parang just provide your evidence para i claim mo ito. Ganon that's it. 
Mikael  25:27
Yeah. 
Maybelle 25:28
Tapos yung ano kasi, yung California Academy of Sciences, meron silang expedition sa VIP. So that's why yung mga publications nila, recently lang lumalabas kasi nga it takes years para pag aralan yung mga taxonomy ng mga organisms na yun. So yun. 
Mikael  25:49
Yeah. Oo so hindi sya instant noodles na nakita ko lang yung species ngayon, okay. Sama na yan sa report
Maybelle 25:52
Yes. 
Mikael  25:54
Syempre may verification process yan. Which is also, oo…which is also why sa mga listeners natin, if you read yung mga articles featuring yung mga bagong dinescribe na species, makikita nyo na yung yung specimen somewhere collected in 2012, 
Maybelle 26:15
Yes
Mikael  26:16
Somewhere collected in 2017. Hindi naman kasi nga sya yung nga instant na may bagong palaka, pangalanan na natin. 
Maybelle 26:21
Yes exactly. Tapos meron ding kakulangan ng mga taxonomists, or mga related na researchers, so ganon lumalaki yung taxonomic gap. Yun yung tawag sa problem na yun 
Mikael  26:32
Oo nga. Kelangan din natin and yun nga, it aligns with what we've been trying to tell people din that the Philippines really needs more…the world needs more scientists. But, especially the Philippines. And there's so much to discover, and so much to be done, and we need all the help we can get. 
Maybelle 26:49
Yes
Mikael  26:50
Tama ba? So, I want you to talk a little bit about the interesting experiences that you've had while doing fieldwork, or maybe doing your research, writing your papers. Anything that you'd like to share that can give them a nice picture of what you do. And maybe, baka may ma- convince din na gawin yung ginagawa mo. 
Maybelle 27:06
Oo, kaya nga. Yun yung goal nito. 
Mikael  27:10
That's the goal.
Maybelle 27:12
Sige. So, in 2018, I joined a two week international marine biology workshop sa Taiwan. So that was a really nice experience kasi we had alternating lectures and laboratory sessions. Tapos everyday, iba iba yung expertise. Pero under Marine Biology pa rin na field. Tapos we also had a chance to visit their museum, yun yung National Museum of Marine Biology and Aquarium, and we met one of their esteemed ichthyologists, so Dr. Hans Ho. Tapos, patapos na yung workshop and then my boss emailed me telling me na dumeretso daw ako ng Dumaguete, kasi i me-meet namin si Kent Carpenter and Jeffrey WIlliams. So nabanggit ko na si Kent Carpenter kanina sa ano, sa yung center of the center of marine shore fish diversity. So at that time, parang hindi ko ma explain yung feeling kasi back in 2016, nababasa ko lang yung names nila sa papers. Sinusulat ko lang sila sa manuscript ko. Tapos biglang ma me-meet ko na sila for a training. And then kumbaga for me, yun yung equivalent ng meet and greet nung celebrities. So yun na, dumeretso ako ng Dumaguete, tapos I was expecting a classroom set up, kasi training daw e. So iniisip ko baka may handouts, baka magpo-power point, pero wala. So as in dumeretso lang kami sa palengke, tapos si Kent, may hawak hawak lang syang laminated sheets, tapos may printed…printed sya na photos ng mga isda, tapos binibili lang sa palengke yung mga hindi pa nila na co collect. So we spent two days doing the same thing, and they were just sharing information kung ano yung mga best practices na dapat gagawin sa field and sa laboratory. And then nung 2019, it's our turn para mag organize ng training workshops so yun na rin yung kung ano natutunan namin, yun na rin yung ini introduce namin to our partner HEIs. So yung HEIs, these are higher education institutions, meron kaming mga collaborators dito sa Davao region. Then dun sa opportunities na yun nung 2018, dun ko na realize na kakaunti lang talaga yung nagtratrabaho on reef fish systematics and taxonomy. And it's both interesting and challenging kasi sobrang importante ng biodiversity research for a country that's mega diverse. And yun nga, kokonti ang experts and then yung role namin is to encourage more people to work on this. 
Mikael  30:00
Yeah. Gusto ko lang i share. Naka relate ako dun sa sinabi mo na ano yung para kang na star stuck when you met the guy. Kasi nung, nung 2018, i'm sure some of the listeners are aware of this, there was a Nobel Prize winner, si Sir Richard Jay Roberts who came to the Philippines, and talked a bit about GMOs, talked a bit about his work. And sobrang excited ako kasi kinover ko yung yung presson nya. And I had the opportunity to even take photos with him. So parang okay. Ganito pala yung, parang ito yung equivalent ng meet and greet ng artista pero scientist yung oo…So talagang may, may sense of ano, yung there are many ways na working in science whether as a scientist or as a communicator, or whatever work related to science, can be fulfilling. Maybe in diba in discovery, in meeting interesting people, in helping the community to better appreciate science or to solve problems. But maybe we can take some time to talk about problems naman. And maybe not just yung problems related to, to what you do, but also the problems maybe in communicating? For some context, ever since I was a child, kapag napaguusapan ang conservation, species conservation laging nagiging focus yung parang main reason as overfishing, for example, for marine species. Basically human activity, and it's usually related to getting or obtaining these species for food or for commercial purposes, or for sustaining livelihoods. So yung message na yun, na overfishing is a big nemesis of marine conservation, it's been repeated again and again and again. Nandyan yung, yun nga, masyado silang nangingisda, gumagamit sila ng destructive fishing practices, etc. etc…and no one is denying that it's a problem. Talaga namang problem sya. But I guess my question for you is, is overfishing the biggest problem in marine conservation? Lalong lalo na na alongside pollution, it is almost always the reason given when a marine species is nearing extinction. 
Maybelle 32:15
Oo, so for me actually, yes. Kasi yun yung actual harvest, or extraction nung mismong marine resources, so mapa isda man or invertebrates. Kasi we also consume shellfish and then yung pusit. 
Mikael  32:30
Yes
Maybelle 32:30
So we turn to overfishing because there's available data. Tapos nakikita mo yang catch trends over the years. Now the greater problem would be yung tinatawag na IUU or Illegal Unreported and Unregulated Fishing. 
Mikael  32:45
Okay
Maybelle 32:46
Sa Pilipinas kasi, we have municipal and commercial fishers. Tapos meron din tayong tinatawag na municipal waters, so ito yung area na 15 kilometers from the coastline. Tapos meron data yung Oceana, yung marine conversation na NGO, sinasabi nila na may na de-detect daw silang  commercial fishing vessels na umaaligid sa municipal waters. And they are suspected to be illegally extracting from it. So this means na yung marine resources sa municipal waters na dapat ay exclusive for the municipal fisherfolk, naaagaw nung commercial fishing boats. And worse, destructive yung pamamaraan nila ng pangingisda. Kasi hindi naman na mo monitor e, kung anong types ng nets ganon. Tapos, na ha harvest pati yung the smallest fish so wala na syang chance mag grow and you know para mag replenish ng kanilang population. And then, when it comes to marine pollution naman, you have lots of industries, commercial establishments, meron ding run offs ng agricultural wastes. And even human waste na nadu- dump sa riverside. Tapos lahat yan, nag e end up sa ocean. Hindi ako nag wowork on marine pollution but I think it will be a very good topic to be discussed by other known experts na nagwo-work on it, including marine plastics. So, I will just leave a concept na tinatawag na teach the reef. So it means na whatever is being done in upland areas, it will eventually affect the coastal and marine habitats. 
Mikael  34:26
So what a very…ang ano. I think ang question ko dyan is bakit nakakalusot itong mga ito? I mean I know it's not an easy question to answer, pero what do you think…kulang ba ang pangil ng batas ng Pilipinas? Or kulang ba ng nagbabantay? Ano bang ano ba…what do you think?
Maybelle 34:44
I would say talagang kulang yung pangil ng batas, kasi nakapaloob naman yan e na may parang may penalties, tapos merong…meron itong sa mga marine protected areas most especially meron silang bantay dagat. Pero yun nga. Hindi natin alam kung sino yung nagma-manage or sino yung mga kasosyo nitong mga commercial boats so hindi talaga natin alam ano yung nangyayari on the ground kung nagpapa kung…ano ba. Patay mali or ganon. Kasi may data. Na tra-track talaga sila. 
Mikael  35:20
Ang hirap ano? 
Maybelle 35:21 
Oo, ang hirap.
Mikael  35:22
Gusto mong ma solve pero ayun nga andaming…
Maybelle 35:26
Oo. Maraming babanggain. 
Mikael  35:29
Yun oo and that is not a problem that's unique to ano, to marine conservation. 
Maybelle 35:34
Yes.
Mikael  35:35
As our listeners probably already know, parang struggle talaga to ng…struggle ito ng science, struggle ito ng scientist ng conservationalist. 
Maybelle 35:42
Yes, lalo na dito sa atin, oo.
Mikael  35:43
Diba. Oo lalo na dito sa atin. It's kind of sad. Like, ang sabi nila, you only really appreciate you know, something when you've lost it. Pero sana hindi natin antayin na, hindi natin antayin na mawala 
Maybelle 35:55
Wag naman.
Mikael  35:56
Oo
Maybelle 35:57
Kasi pinagyayabang natin always na ito, mega diverse, ganito ganyan. Pero, ano ba ginagawa natin to protect it? Para ma keep yun, diba? 
Mikael  36:06
Oo totoo. Ito ano lang, parang naisip ko lang bigla. As consumers, or as ordinary people, parang naririnig natin itong mga mensaheng ito na kelangan i save yung species natin, pero ano bang magagawa ng ordinaryong tao kagaya ko para makatulong?
Maybelle 36:24
Okay. So, We have different ways naman to contribute para ma conserve natin yung ating marine ecosystems. But, we can't really put the blame agad…kagaya nung ano nasa Facebook yung save the parrot fish? 
Mikael  36:42
Oh yeah, I remember that. 
Maybelle 36:44
Yes. So…
Mikael  36:46
Can you talk a bit about that?
Maybelle 36:47
Yung sa save the Parrot fish kasi, outdated yung information in the first place. Tapos maling species yung sinasabing i-protect. So bale ang pino post nila sa Facebook would be protecting Parrot fish species, pero yun pala mga species na nasa Caribbean. And yun nga, yung sinasabi ko kanina na may malalaki oceans sa earth, magkakaiba yung species na nakikita natin dito sa Pilipinas, iba rin yung dun sa Caribbean. Tapos yung mga pino post kasi sa Facebook, masyadong general na save the Parrot fish. Marami tayong species ng Parrot fish and hindi naman natin pwede sabihan yung mga mangingisda na, "Uy. Tama na yan," or, "Stop nyo na hulihin yan" diba kasi yun naman yung ano nila. Yun yung kabuhayan nila and hindi sya nakakatulong in the sense na wala pa kasi tayong scientific basis. Bakit nga ba natin sila ipro protect in the first place? Kasi, kung i pro-protect mo yung isang group lang ng reef fishes, e di parang pino promote mo na din na ma exploit yung ibang species.
Mikael  37:58
Yung iba
Maybelle 37: 59
Oo. So hindi siya nakaktulong, rather, mas nakakasama siya sa ecosystem. Tapos, yung mga sinasabi na protect yung Parrot fish kasi nga sila ay sand poopers, no please stop. Medyo ano na yun, maraming mali dun sa mga pino post and it's really harmful kasi nga, yun yung madaling ma pick up ng mga tao sa social media. And hindi naman nila malalaman kung tama ba yun or hindi.
Mikael  38:32
Oo
Maybelle 38:33
Hindi nila maa assess right away, kumbaga.
Mikael  38:35
That's true. 
Maybelle 38:36
Kahit kami…I mean, ako nalang. Kahit ako personally, ayaw ko nagi identify ng Parrot fish kasi halos magkamukha sila. Pare pareho silang mga green ganon, orange…tapos yun. Sobrang challenging. Pero wala akong choice so kelangan kong ano, kelangan ko silang pagaralan. Tapos yun. Ang pag conserve kasi ng species or pag protect…yung mga management measures, dapat kasi species-specific. Or, kung merong data. And kung gusto mo naman yung na approach is yun nga, pwede kasi na holistic naman yung approach and ito, protect natin itong area na ito kasi maraming herbivores, maraming maraming ganitong klaseng isda, so why not lahat nalang sila diba? 
Mikael  39:25
Totoo totoo. I-manage sya. Kumbaga equal ano, kasi lahat naman yan importante e. 
Maybelle 39:30 
Yes
Mikael  39:31
The reason why, diba… the reason why the ecosystem thrives is because every part of it plays a role. Kahit hindi natin…kahit hindi sya obvious. 
Maybelle 39:38
Oo
Mikael  39:39
So they all deserve equal protection. They all deserve to be given equal importance. 
Maybelle 39:44
Oo, tama
Mikael  39:45
So related to that, what do you think needs to change or improve about the way we talk about marine conservation in general?
Maybelle 39:53
Okay. So mag di disclaimer ako kasi these are not my own ideas, rather yung mga…mga natutunan ko from discussions with my boss, yung personal experience ko as volunteer, and then kung ano yung nababasa ko from publications and popular articles nina Dr. Angel Alcala and Dr. Rene Abesamis. 
Mikael  40:15
Yeah
Maybelle 40:16
So these two people are actually big names sa marine science community and sila yung tinatawag na champions when we talk about marine protected areas. When we talk about marine conservation kasi, yun nga nabanggit ko na kanina na it should be holistic. Kasi dati nga yung concept ng MPAs, nakatutok lang dun sa mismong coral reefs, kasi nga, dun natin nakikita yung mga isda. Ngayon, experts are proposing that habitat protection should be more encompassing. So this means that aside from the coral reefs, we should also take care of the mangrove areas, the seagrass beds…kasi, sa lifecycle ng isda, itong mangroves and seagrass beds ay nursery grounds nila. So yun, when we protect the coastal and marine ecosystems, we support the entire life cycle of reef fishes. And kapag ganon yung mangyayari, it would mean na better at healthier yung ating fish stocks and then meron tayong food security. Now, kung ganito yung understanding natin, parang ang dali nya lang ma-grasp. Pero actually what happens on the ground yun yung mahirap kasi, marine conservation in the Philippines is really politically driven. Marami tayong pwedeng i input dito ano pero siguro yung bottomline lang is that we need leaders at the LGU level na maniniwala sa science. Tapos who will trust in science. And importante din yung makikinig sila sa needs ng constituents because after all, archipelagic country tayo, so hindi maalis kasi na we will always be dependent to our waters. So, it's the source of our food, our livelihood, it's the seas that we navigate, the beach we enjoy, the place you call home. So all of these na nabanggit kong benefits they are called as ecosystem services and the only way na ma-enjoy natin ito for for the long time is when we work together to protect the coastal and marine ecosystems.
Mikael  42:31
Beautiful message and I hope na, you know…lalo na yung sinabi mo about having leaders at the LGU level who believe in science. 
Maybelle 42:38
Oo
Mikael  42:39
Diba. I mean I think the pandemic has made it abundantly clear 
Maybelle 42:44
Yes.
Mikael  42:45
Hindi naman dyo-dyosin ang science,hindi naman sasambahin ang science. Pero when you make decisions diba, base it on science, base it on evidence. When you prioritize, base it on the things we can measure, on the things that have been tested, diba
Maybelle 43:00
Oo, tama yun kasi yun nga, hindi naman sya, yung mga konsepto kayang kaya naman ipaliwanag ng mga experts and that yun nga. Minsan kasi yung gap nangyayari na talaga when nag iimplement na ng mga measures, at hindi na hawak yun ng mga experts, rather nasa kanila yung power na yun e. So yun. Yun din dapat ma improve din talaga 
Mikael  43:27
Yeah and yun nga. It's not easy, it's really not easy to to share these insights sometimes, lalo na if it goes against popular opinion, or government plans minsan natatawag na bayaran, minsan naiinsulto. It's it's…sometimes it can just really be painful, like ako i'm not a scientist. I don't work in these fields, I don't do field work pero ako yung nasasaktan when I, when I read or hear you know scientists giving evidence-based observations , evidence-based advice, and then just getting dismissed. Parang that's not, that's not how you should, parang that's not how if you're if you're in a position to make decisions. That's not how you should regard additional information that can help you make better decisions. Hindi mo siya dapat kokontrahin just because it doesn't go with your belief system, or because or maybe you're you're protecting your own interest. Or, someone else's interests. You make decisions for the good of the majority, you know. For the greater good and to make those decisions, you need to be empowered with facts, data, evidence, science. 
Maybelle 44:35
Yes, oo. Tama yan
Mikael  44:37
Yeah so, dami nating napagusapan ang dami kong natutunan and I wish we had more time, pero if someone wants to like talk to you, talk to your team, learn more from you or about what you do, what's the best way to reach out to you? 
Maybelle 44:52
Meron kaming Facebook page. It's called Coral Reef Resiliency and Ecology Studies Laboratory so pwede nyo pong i like doon for updates. Tapos actually tinatapos lang talaga namin yung reports so by the time na gagawa din kami ng popularized version para mas maintindihan ng audience sa social media, so po post namin doon soon. And then sa gustong magtanong about reef fish reef fish ID, DNA barcoding din, we actually organize training workshops. Na stop lang dahil sa pandemic, so please feel to contact me nasa Facebook naman tapos yun. 
Mikael  45:32
Okay, great. Can you share one piece of advice for anyone who wants to get into your line of work?
Maybelle 45:40
So mag sha share lang din naman ako ng ano personal experience kasi, yung boss ko kasi, isa siyang kilalang diver. So dati tinatanong din ako diver ka ba parang ganon. Tapos at that time, honestly, I also questioned myself na nasa tamang path ba ako kasi hindi pa ako nag di dive pa non. Then many people don't understand na getting a license is already a privilege. Tapos actually yung first field experience ko was spending more than 24 hours sa rocky intertidal area just to observe how limpets move, tapos every 30 minutes yun. Tapos when I got this project, ang trabaho ko naman is mamalengke. So ayun. So yung first few years ko as a researcher did not really require me to be a diver. Then nung na meet ko na si Kent, ang sabi nya sa amin ang marine ecologist daw nasa palengke. So there I stopped doubting myself. So yun again maraming ways to become a researcher, so don't be discouraged if your path is different. At tsaka never stop learning kasi marami kang mame-meet along the way and then some of them will be good mentors, some of them will be siguro bad ganon. Pero at the end of the day, ikaw naman mag de decide kung which one you will become. Tsaka para maging guided lang, always ask yourself, para kanino ba yung science na ginagawa natin. 
Mikael  47:17
Ganda. And you know take the good with the bad. And you know tayo lang, tama ka, take the good with the bad and you know filter out. Diba may matututunan ka rin pareho like kung ano yung dapat mong gawin. Makikita mo rin kung hindi mo dapat gawin
Maybelle 47:29
Wag dapat
Mikael  47:32
Wag dapat oo. So yun. I really enjoyed this conversation kasi andami kong natutunan like akala ko medyo…i'll be honest I thought I came into this interview knowing you know expecting some answers certain answers. Pero, I learned a lot of new things and that makes me really excited kasi
Maybelle 47: 48
Salamat
Mikael  47:49
You know, there's there's more for me to learn, and there's more for us to share with the people listening sa podcast na to. Cause you know, lagi ko ngang sinasabi there's always something new to learn about science
Maybelle 48:01
Yup, totoo yan. And i'm still learning about coral reefs ganon. 
Mikael  48:06
Yes, oo. Especially here, oo, sa bansa natin, na sobrang fertile ground not just for different species but for science in general. So I really hope na, I hope that Maybelle's story you know, it's fired some of you guys to you know. Baka someday, kung buhay pa ang podcast na ito, many years from now, maka kwentuhan ko din kayo tungkol sa pamamalengke at pag co- conserve ng marine species. So thank you so much Maybelle and I hope that we can invite you on the show again nextime
Maybelle 48:37
Thank you Mikael . Thank you thank you
---
The Ask Theory Podcast is available via these platforms — make sure to subscribe, as we'll be releasing a new episode every week:
Spotify: https://open.spotify.com/show/1GDcxBwETsD4KM1EmTr1aI
Apple Podcasts: https://podcasts.apple.com/ph/podcast/ask-theory/id1550251048
Anchor: https://anchor.fm/ask-theory
Breaker: https://www.breaker.audio/ask-theory
Google Podcasts: https://www.google.com/podcasts?feed=aHR0cHM6Ly9hbmNob3IuZm0vcy80OTAyMWNjMC9wb2RjYXN0L3Jzcw==
Pocket Casts: https://pca.st/gv6jxkki
RadioPublic: https://radiopublic.com/ask-theory-WJkbLJ
Music: Hopeful Cinematic Ambient by bdProductions; My Mysterious Planet by Free Music