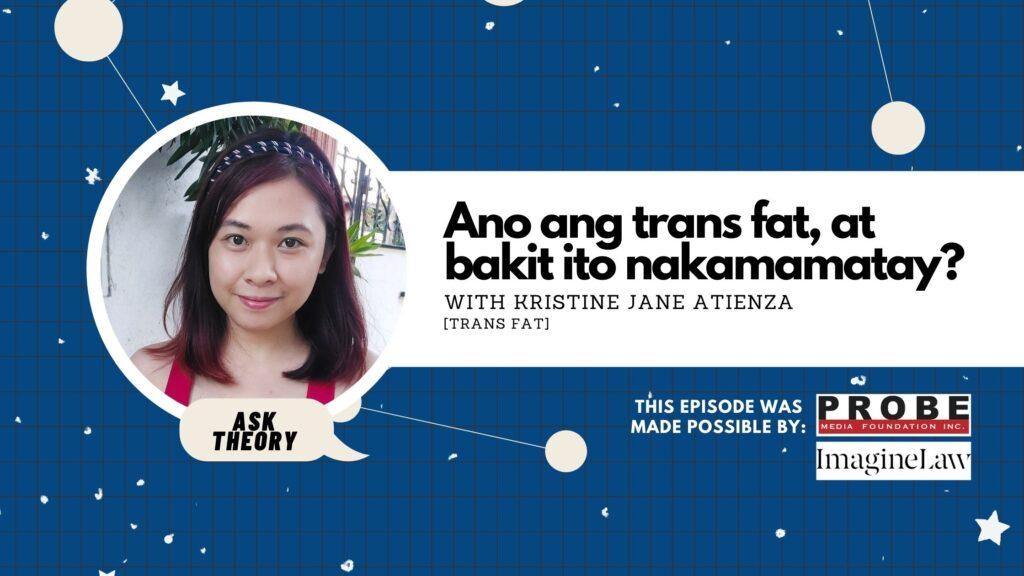 ---
Hosted by EIC Mikael Angelo Francisco, Ask Theory shines the spotlight on Pinoy scientific brilliance, in a fun and entertaining "kwentuhan" format. Each episode of Ask Theory  features a Pinoy scientist from one of the various scientific disciplines. In a very casual conversation, guests explain what they do in simple terms, as well as share their fascinating stories: how they got into science, the challenges they face, what motivates them to pursue their fields, what future scientists from the Philippines can look forward to, and so much more.
Episode 23: Ano Ang Trans Fat, At Bakit Ito Nakamamatay?
This episode features Kristine Jane Atienza, a licensed nutritionist-dietitian who has worked with the United Nations World Food Program and World Vision. A space enthusiast, she is also a founding member of the Philippine Union of Student Organizations for Astronomy (PUSO for Astro) and a core member of the Manila Street Astronomers.
We talked about why trans fats are so bad for the body, everyday food items that are actually sources of trans fats, viable alternatives for trans fatty ingredients, how consumers can avoid trans fats, space nutrition (and what astronauts eat), and more.
Listen to Ask Theory Episode 23: Ano Ang Trans Fat, At Bakit Ito Nakamamatay? here:
(Full transcript to follow; watch this page for updates)
This episode of Ask Theory was made possible by Probe Media Foundation Inc. and ImagineLaw Inc. as part of Cycle 3 of the (Un)Covering Trans Fats Media Fellowship Program, which supports Filipino journalists and media practitioners in crafting and publishing stories that have a focus on trans fats issues.
---
The Ask Theory Podcast is available via these platforms — make sure to subscribe, as we'll be releasing a new episode every week:
Spotify: https://open.spotify.com/show/1GDcxBwETsD4KM1EmTr1aI
Apple Podcasts: https://podcasts.apple.com/ph/podcast/ask-theory/id1550251048
Anchor: https://anchor.fm/ask-theory
Breaker: https://www.breaker.audio/ask-theory
Google Podcasts: https://www.google.com/podcasts?feed=aHR0cHM6Ly9hbmNob3IuZm0vcy80OTAyMWNjMC9wb2RjYXN0L3Jzcw==
Pocket Casts: https://pca.st/gv6jxkki
RadioPublic: https://radiopublic.com/ask-theory-WJkbLJ
Music: Hopeful Cinematic Ambient by bdProductions; My Mysterious Planet by Free Music