The University of the Philippines Diliman will celebrate its first-ever Science, Technology, and Society (STS) Month in October 2018. This month-long celebration will take a closer look at various aspects and fields of science —  inventions and innovations, biological determinism, historical and social memory studies, genetics, and nutrition and health — from a Filipino-centric perspective.
UP Diliman celebrates science and the arts
UP Diliman's STS Month will officially start with Paglulunsad: Science, Technology, and Society Month: Bodies, Science, and Philippine Society on October 4 at the Palma Hall Lobby. The opening activity will also kick off Agham Para Sa Bayan, a free exhibit at the Palma Hall Lobby. Agham Para Sa Bayan will showcase the UP Diliman community's contributions to science and technology research. Among the exhibit's many highlights will be the Diwata-1 and Diwata-2 microsatellites and the Fish-i Project.
Meanwhile, Project Genome: Stasis and Mobility: Nasa Dugo Natin Yan?! is a visual showcase that will challenge existing notions on culture and genetics. Project Genome seeks to make you question your own perceptions on language, heritage, citizenship, and self. Does culture contribute to an individual's genetic make-up? How does one's environment shape their genetic structure? While this exhibit may leave you with more questions than answers, it promises to be a thought-provoking experience. Project Genome will be open to the public from October 19 to November 16 at the Bulwagan ng Dangal.
Discussing issues on science and society
The Department of Food Science and Nutrition of the College of Home Economics (CHE) will host Bukluran: The 1st Diliman International Food Science & Nutrition Symposium from October 17 to 19. The conference, comprised of plenary lectures, will focus on food science, nutrition, history, and anthropology. It aims to come up with effective solutions for ensuring that families have access to proper nutrition, achieving the United Nations Sustainable Development Goals (UNSDGs) relevant to food science and nutrition, and facilitating sustainable economic and social development in the Philippines.
The Colloquium on HIV/Aids in Southeast Asia (AIDS-SEA) will take place at the Asian Center's GT Toyota Auditorium from October 25 to 26. This collaborative effort with the School of Oriental and African Studies (SOAS) University of London will examine HIV/AIDS as a cultural phenomenon, with a specific focus on health, sexuality, and identity politics. It will tackle how the representation of AIDS/HIV across popular culture and media shape public perception on the illness.
Science fiction fans will definitely appreciate the Forum on Science, Technology, and Society: Celebrating 200 Years of Mary Shelley's Frankenstein. This is a lecture forum on cloning, bioethics, and artificial intelligence structured around the iconic work of fiction. This discussion will take place on October 30 at the National Science Complex's Institute of Biology Auditorium.
Partnering up for science
On October 22, the Institute of Biology Auditorium will be the venue for the 1st Annual Graduate Student Research Conference. It will feature presentations from College of Science graduate students, helping them connect with potential mentors.
Meanwhile, the National Institute of Physics will host the Philippine-American Academy of Science and Engineering (PAASE) 2018 Meeting: Volunteerism to Promote Philippine Science, Engineering and Innovation from October 24 to 25. The meeting will serve as a venue for local researchers, industry partners, and foreign collaborators to discuss and come up with well-defined S&T solutions for achieving the Philippine Development Plan 2017-2022.
UP Diliman's College of Science at 35
Alongside STS month, the College of Science (CS) will also celebrate its 35th anniversary.
A post-midterm concert organized by the CS Student Council will be held on October 12 at the CS Amphitheatre. Afterwards, from October 15 to 19, the CS Ampitheatre will be the venue for the UP Science Fair.
The college will formally celebrate its anniversary on October 26 at the CS Administration Building. This program will be immediately followed by a concert at the CS Ampitheatre featuring the College's students and faculty. Last but not the least, the Ampitheatre will serve as the venue for a Halloween-themed Thanksgiving event for the College's administrative staff, faculty, and personnel on October 27.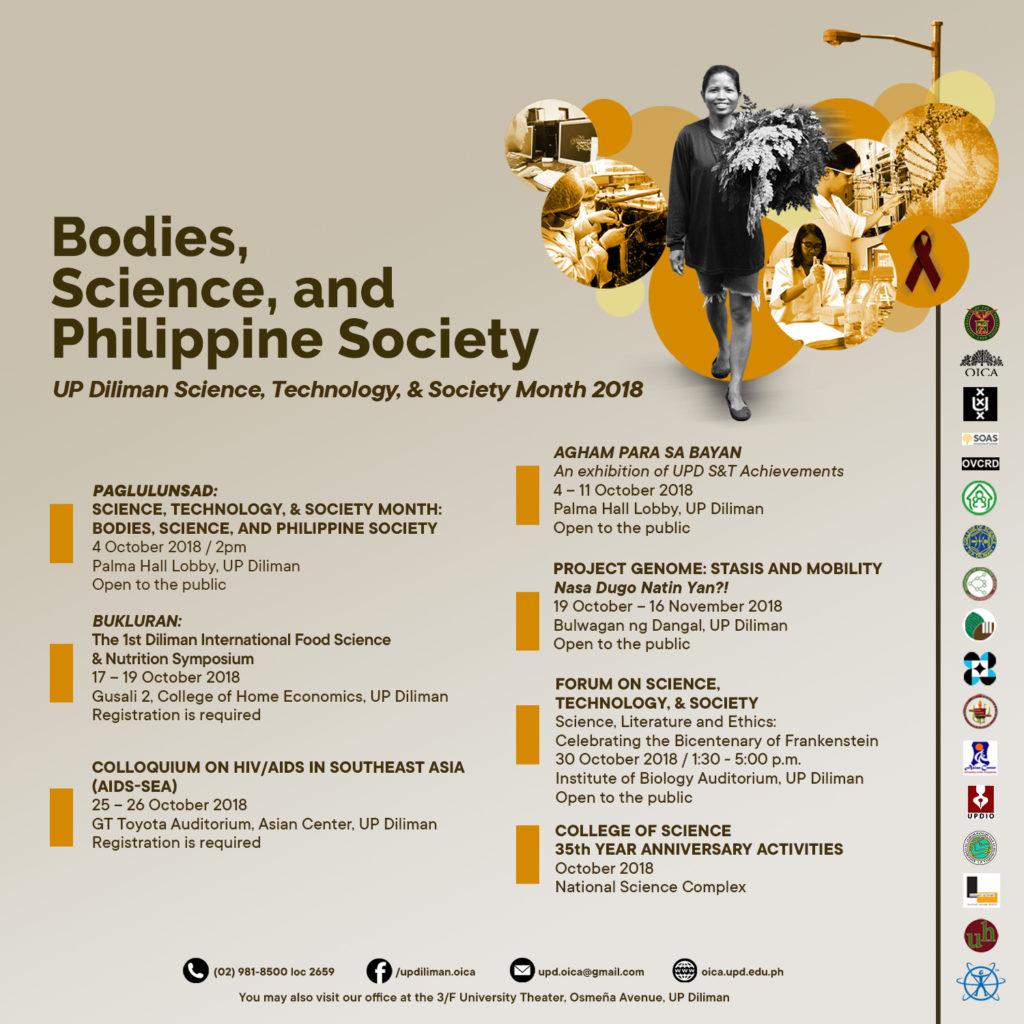 For more information, contact the UP Diliman Office for Initiatives in Culture and the Arts (UPD OICA) via email (upd.oica@gmail.com) or landline (981-8500 loc 2659). You may also go to their official website or Facebook page, or visit their office on the third floor of the University Theater.
---

Bitten by the science writing bug, Mikael has years of writing and editorial experience under his belt. As the editor-in-chief of FlipScience, Mikael has sworn to help make science more fun and interesting for geeky readers and casual audiences alike.