When Diwata-1 was successfully launched into space early last year, it certainly made headlines. The micro-satellite was built and designed by Filipinos, measuring 55 x 35 x 55 cm and weighing 50 kg. It's a tiny piece of technology, but with tremendous significance in Philippine history. Here are the 10 most important things to learn about Diwata-1, revolving around its development, its purpose, and its future.
1. Diwata-1 is as small as a coffee table – one that's really fast and equipped with high-tech cameras.
This shiny "coffee table" has the best view of the Earth. The micro-satellite passes four (4) times a day over the Philippines and spends six (6) minutes over the country per pass. It can capture 900 images per pass, or a total of 3,600 images daily. Diwata-1 moves at 7 kilometers per second with an inclination of 51˚, in order to capture data and images.
2. It is the first Philippine-made micro-satellite.
Diwata-1 is the first of the two micro-satellites the Philippines aims to send into space in three years via the Philippine Scientific Earth Observation Micro-Satellite (PHL-Microsat) Program of the Department of Science and Technology (DOST) in collaboration with the University of the Philippines Diliman, and two Japanese academic institutions, Tohoku University (TU) and Hokkaido University (HU). The micro-satellites are part of the DOST's 10-year PhP24-billion Space Technology Development (STD) Program.
Launched and deployed to orbit on April 27, 2016, Diwata-1 is truly the first of its kind in the Philippines. The Philippines previously controlled the communication satellites Agila-1 and Agila-2. However, these were privately owned, built by foreign scientists and engineers, and were incapable of capturing images.
3. It's built for scientific earth observation missions focusing on the Philippines.
Diwata-1's equipment captures data and images from about 1,000 selected areas in the Philippines to assist in weather observation, disaster risk management, environmental monitoring (most notably for forest protection, agriculture, fisheries, and mining), monitoring and preservation of cultural and historical sites, and other services benefiting the public.

4. It's neither a telecommunications device nor a weather satellite.
Diwata-1 cannot be used for telecommunications. It carries optical payloads for earth observation, not communication payloads (i.e. transponders, amplifiers, etc.).
Unlike weather satellites, Diwata-1 occupies a Low Earth Orbit (400 kilometers). It is non-geostationary, which means weather conditions such as typhoons cannot be monitored in real time. Weather satellites are also much larger and equipped with more advanced and sophisticated sensors.
5. It is named after an enchanting character in Philippine folklore.
PHL-Microsat-1 is more popularly known by its nickname, Diwata. In Philippine folklore, a diwata is a nymph or a goddess of the forest. Revered and feared as a guardian spirit of nature in pre-colonial Philippines, the diwatas are invoked to request for abundant crops, good health, and fortune. Incidentally, images captured by Diwata-1 can be used for crop inventory, disaster management, and even the monitoring of coastal waters for the security of the country's territory.
According to the PHL-MICROSAT Program's website, "Choosing a name for the micro-satellite didn't go through much deliberation. Diwata was supposed to be a temporary name, but it stuck and became the official name of the microsatellite."
6. There's a lone woman in the all-Filipino team that made Diwata-1.
She is Engr. Kaye Kristine Vergel, who graduated in March this year with an M.S. in Cosmoscience from the Hokkaido University in Japan. She completed her thesis titled "Remote sensing assessment of typhoon-induced vegetation damages in the Philippines." As part of the "Magnificent 9," the pioneering 9-member team of young Filipino scientists and engineers who designed, developed, and assembled Diwata-1, Kaye was in charge of mission planning and day-to-day creation of commands for Diwata-1.
The other brilliant members of Diwata-1's pioneer team are Harold Bryan Paler, John Leur Labrador, Benjamin Jonah Magallon, Julian Marvick Oliveros, Juan Paolo Espiritu, Ariston Gonzalez, Delburg Mitchao, and Gerwin Guba.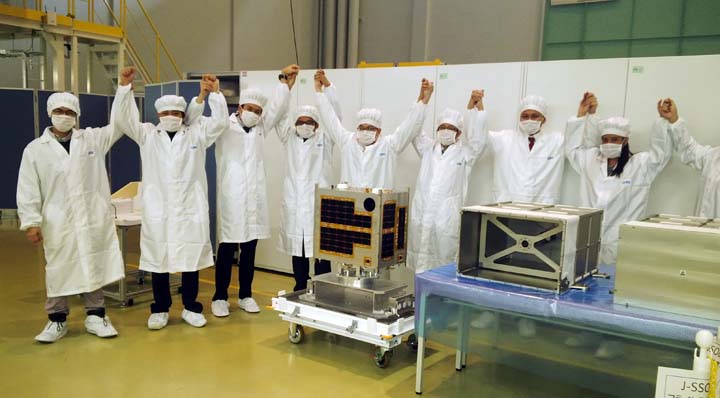 7. Its payload includes four state-of-the-art cameras and equipment used for measurement and detection.
A High Precision Telescope (HPT) helps gauge the extent of damage caused by disasters and calamities like typhoons and volcanic eruptions. It also monitors changes in natural and cultural heritage sites like the rice terraces in the Cordilleras, Mayon Volcano, Vigan in Ilocos Sur, and the reefs of Palawan and Occidental Mindoro.
The Space-borne Multi-spectral Imager (SMI) with liquid crystal tunable filter (LCTF) monitors changes in vegetation due to climate or pests. Images from this payload can also detect the health and composition of the ocean. This gives valuable information on the status of fishing sites and coastal ecosystems.
A Wide Field Camera (WFC) is capable of observing cloud formations, giving scientists the information needed to monitor and more accurately predict weather patterns and disturbances.
There's also a Medium Field Camera (MFC), which, when used in conjunction with the other optical payloads, can also assist in forestry monitoring and preservation, wildfire management, and geographical data collection.
8. Diwata-1 loves sending messages to PEDRO.
A ground receiving station (GRS) called the Philippine Earth Data Resources Observation (PEDRO) Center at the Department of Science and Technology – Advanced Science and Technology Institute (DOST-ASTI), UP Diliman, Quezon City receives and processes the data and images captured by Diwata-1. To date, Diwata-1 has captured thousands of images culled from the roughly 5,000 times it has circled the Earth. PEDRO processed and disseminated Diwata-1's output to government agencies, for use in their public service initiatives.  
9. It has taken thousands of images, and these are still free and accessible to the public.  
To boost research and knowledge exchange, photos taken by Diwata-1 can be accessed through www.phl-microsat.upd.edu.ph following registration procedures. According to DOST-ASTI, access will remain free "under certain conditions" and as long as it has "continuous support from the government." Selling the photos is strictly prohibited, but practically anyone can visit the site to view and use these photos for non-commercial purposes.
10. Its younger sibling, Diwata-2, is in the works.
The Diwata-2 project is set to be deployed in the second quarter of 2018. This is in preparation for the expected end of Diwata-1's useful life by November 2018 due to decay and the gravitational pull of the Earth. To prolong its useful life, Diwata-2 will be launched to an orbit 213 kilometers higher than Diwata-1's. To improve communications, Diwata-2 will also be equipped with a radio. –MF
---
Cover Photo: ESA/Astronaut Tim Peake/Twitter
Author:
Faye de Jesus
Faye de Jesus is a freelance writer and communications specialist with over 15 years of experience in corporate messaging and branding, PR, media and stakeholder relations. She volunteers for education- and learning-centered projects and likes sharing her love for books, reading, and learning with children.