• The seven winners of the 3rd Indie-Siyensya Filmmaking Competition have been announced.
• All in all, there were 300 film concept proposals and 45 film entries in the competition.
---
This year's Indie-Siyensya Filmmaking Competition has reached its stunning climax, with participants crossing their fingers for a happy ending. The awarding ceremony took place at the Philippine International Convention Center in Pasay City last November 28. It saw over 100 students, teachers, science professionals, and filmmakers in attendance.
Champions of indie science filmmaking
There were three winners under each category (Open and Youth). The films showcased the significance of science and technology in local and national issues.
Here are the winners in the Open Category:
• Third Place: Dagem (Hector Badis, Cordillera Philippine Council for Agriculture, Aquatic and Natural Resources Research and Development), a film on how Benguet farmers use science and technology to handle the impact of climate change on vegetable farm terraces
• Second Place: The Land Will Grow, The Food We'll Eat (Brian Sulicipan, Ambag-Ambagan Collective), a documentary on permaculture practice in the Philippines
• First Place: Sugbuanong Alibangbang (Edward Laurence Opena, Cebu Normal University), a film on the Jumalon Butterfly Sanctuary and its fight against butterfly extinction in Cebu.
Meanwhile, here are the winners under the Youth Category:
• Third Place: Akuwakultura (Angelo Cruz, Rizal National Science High School), a film on aquaculture in Laguna Lake
• Second Place: Lambat (Cyah Angela Somblingo, Johan Villanueva, and Norie Bautista, Cavite National High School), a documentary on water pollution in Cavite
• First Place: Manglares (Buhay at Peligro) (Patrick Pimentel, Cavite National High School), a film on disaster mitigation
Lastly, forensic science film Bakas (Kiano Bacolod, Philippine Science High School-Central Luzon Campus) won the Viewer's Choice Award.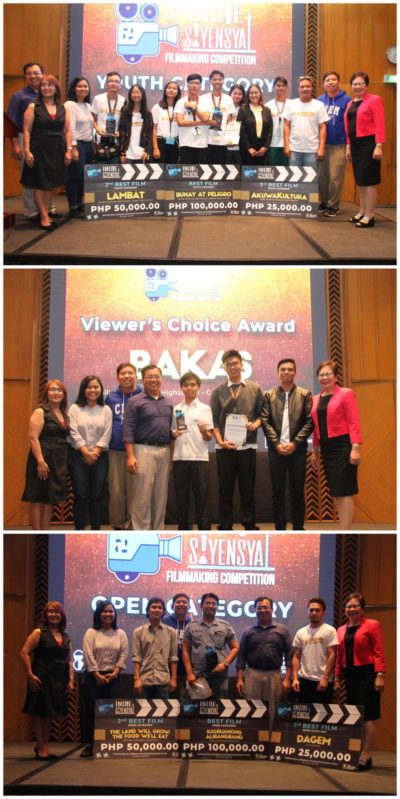 Communicating science through films
Indie-Siyensya is co-organized by the Department of Science and Technology-Science Education Institute (DOST-SEI) and the Film Development Council of the Philippines (FDCP). The competition aims to promote a culture of science in the Philippines through effective filmmaking.
According to DOST-SEI Director Dr. Josette Biyo, the Indie-Siyensya competition greatly contributes to the growing field of science communication in the Philippines. At the awarding ceremony, she also encouraged aspiring science communicators and documentary filmmakers to join next year's Indie-Siyensya competition.
---

Bitten by the science writing bug, Mikael has years of writing and editorial experience under his belt. As the editor-in-chief of FlipScience, Mikael has sworn to help make science more fun and interesting for geeky readers and casual audiences alike.