• Carcharhinus obsolerus is 2019's first new shark species.
• However, there have been no reported sightings of the creature for the past 80 years.
• While it's highly likely that the "lost shark" is now extinct, there's still a chance that it may show up again.
---
Meat, er, meet Carcharhinus obsolerus, the first newly described species of shark this year. This curious carcharhinid, a type of whaler shark, takes its name from the Latin word for "extinct." Why, you ask? Because this so-called "lost shark" may have actually died out eight decades ago.
New Year, old meat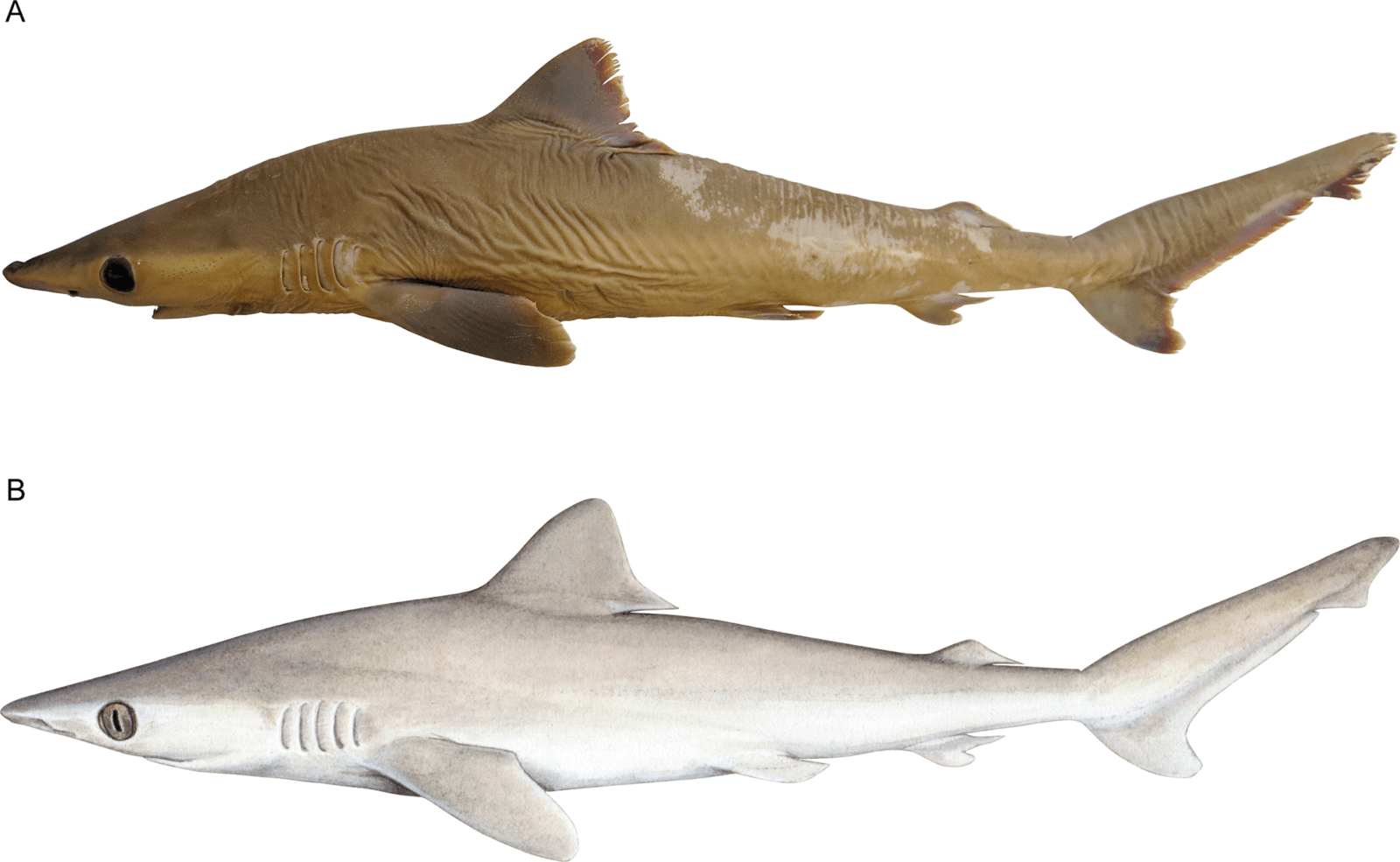 Top: Preserved specimen of
Carcharhinus obsolerus
. Bottom: Painting by Lindsay Marshall.
(Image: Lindsay Marshall/PLOS One)
Initially thought to be part of a different species, Carcharhinus obsolerus was formally classified based on analysis of a late-term embryo and two juveniles. Preserved in ethanol since the 1930s, they are the only known specimens of Carcharhinus obsolerus in existence.
In its heyday, Carcharhinus obsolerus swam along the coasts of Southeast Asia, including the waters of Borneo, Thailand, and Vietnam. Despite its similarities to the Borneo shark (Carcharhinus borneensis), Carcharhinus obsolerus had different facial features and a distinct tooth morphology. It also had a stubby nose, a pear-shaped bottom, a slender body, and large eyes.
It has been at least 80 years since the last Carcharhinus obsolerus sighting, whether in the wild or in fish markets. This led the researchers to conclude that the species may have already gone the way of the dinosaurs.
Carcharhinus obsolerus' upper (A and B) and lower (C and D) teeth. (Image: PLOS One)
Gone too soon? Maybe not
Due to the importance of whaler sharks in fisheries worldwide and the notoriously intense fishing pressure in Carcharhinus obsolerus' habitat, the researchers emphasized the significance of taking a closer look at (and taking better care of) the shark diversity in the area.
"There is an urgent need to assess its extinction risk status for the IUCN Red List of Threatened Species," said the authors in their study. "With so few known records, there is a possibility that Carcharhinus obsolerus has been lost from the marine environment before any understanding could be gained of its full historic distribution, biology, ecosystem role, and importance in local fisheries."
However, there's still hope, albeit slim, that Carcharhinus obsolerus might suddenly turn up again. After all, the Borneo shark resurfaced in 2004, its first known sighting in 67 years.
---
Cover photo: PLOS ONE

References
https://journals.plos.org/plosone/article?id=10.1371/journal.pone.0209387
https://www.independent.co.uk/environment/nature/new-shark-discovery-extinction-lost-borneo-overfishing-carcharhinus-obsolerus-a8711686.html

Bitten by the science writing bug, Mikael has years of writing and editorial experience under his belt. As the editor-in-chief of FlipScience, Mikael has sworn to help make science more fun and interesting for geeky readers and casual audiences alike.