Terry Gosliner © 2020 California Academy of Sciences
•The California Academy of Sciences has released its 2021 list of newly described species.
•The new species include 14 beetles, 12 sea slugs, nine ants, seven fish, six scorpions, five sea stars, five flowering plants, four sharks, three spiders, two sea pens, one moss, one pygmy pipehorse, and one worm-like amphibian.
•Three of the 70 species⁠ (two weevils and one sea slug) came from the Philippines.
---
In 2021, with the help of numerous international collaborators, the California Academy of Sciences added 70 new species from five continents and three oceans to its ever-growing catalog of different plant and animal species.
New species from the Philippines
Last year, the Academy described 213 species, seven of which came from various parts of the Philippines.
The list of 2021's newly described species includes 14 beetles, 12 sea slugs, nine ants, seven fish, six scorpions, five sea stars, five flowering plants, four sharks, three spiders, two sea pens, one moss, one pygmy pipehorse, and one caecilian (a legless amphibian).
Three of these species — two weevils (a type of beetle) and one sea slug — are from the Philippines.
Pachyrhynchus obumanuvu
Pachyrhynchus obumanuvu. (Analyn Cabras)
Living 3,000 ft (914 m) above sea level in one of the few remaining primary forest areas in Davao, Pachyrhynchus obumanuvu sports bright hues of scarlet, yellow, and green arranged in complex patterns. Measuring up to 0.53 in (1.35 cm) in length, this Easter egg weevil's brilliant coloration brings to mind the traditional attire of the Obu-Manuvu, the indigenous tribe it was named after. According to Dr. Analyn Cabras, a researcher from the University of Mindanao who described the species, many insects become extinct before they can even be discovered. By giving P. obumanuvu its name, Cabras hopes to promote continued species identification, as well as inspire more communities to actively take part in species conservation. After all, as Cabras puts it: "How can we teach conservation and wildlife regeneration if we can't put a name to a face?"
Metapocyrtus um
Male (A & B) and female (C & D) Metapocyrtus um. (Analyn Cabras & Matthew Van Dam)
Taking its name from the initials of the University of Mindanao (UM), Metapocyrtus um was discovered at an elevation of about 4,265 ft (1,300 m) in the forested areas of Davao City's Mt. Malambo. Females of the species may reach up to 1.27 cm (0.5 in) in length, while males may grow up to 0.99 cm (0.39 in) long. Like other species under the Pachyrhynchini weevil tribe, its elytra (wing cases) are fused, meaning it cannot fly. This is said to be the main reason why the species is endemic to the Philippines' mountain ranges. However, it has also been recorded in Japan, Malaysia, and Taiwan due to being inadvertently exported through local plant products.
Chromodoris alcalai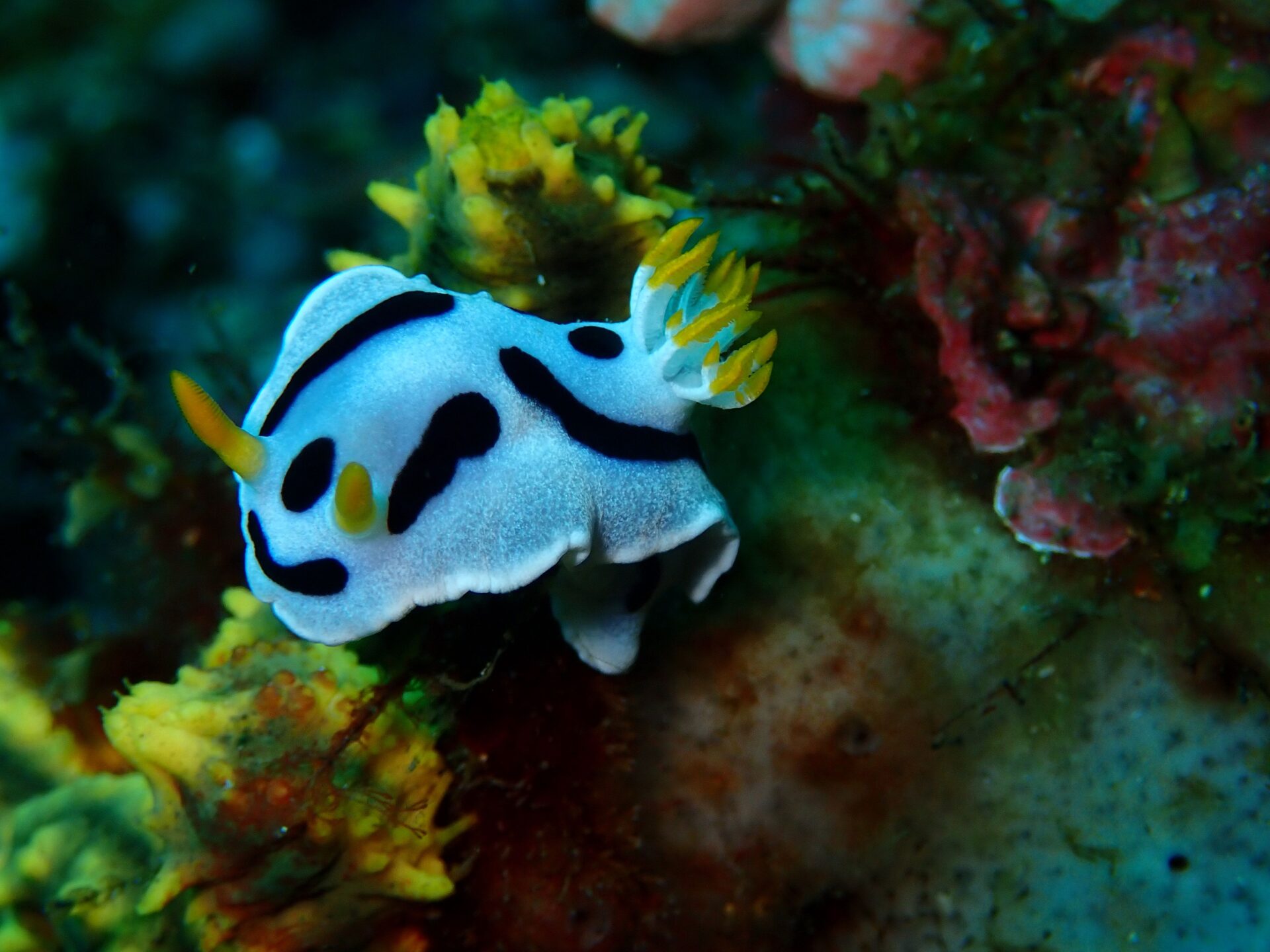 Chromodoris alcalai. (Terry Gosliner © 2021 California Academy of Sciences)
Found in Japan, Malaysia, Indonesia, the Philippines, and Western Australia, Chromodoris alcalai Gosliner was first discovered in 2018 and mistakenly lumped in with another species, C. dianae. However, a closer analysis of the nudibranch's molecular data, coloration, external features, and internal anatomy revealed that it was actually an entirely different species. Growing up to up to 6 cm (2.36 in) in length, C. alcalai sports black bands and spots on its translucent bluish or white body, somewhat reminiscent of a Rorschach inkblot test. Its species name takes inspiration from Dr. Angel C. Alcala, a National Scientist and pioneer in Philippine marine biodiversity conservation.
---
References
https://asbp.org.ph/wp-content/uploads/2021/07/PJSB-ACA-2020-014.pdf
https://www.biotaxa.org/Zootaxa/article/view/zootaxa.5068.4.10
https://www.calacademy.org/press/releases/academy-scientists-describe-70-new-species-in-2021
https://www.researchgate.net/profile/Analyn-Cabras/publication/355874179_Pachyrhynchus_obumanuvu_sp_nov_a_new_species_of_easter_egg_weevil_Coleoptera_Curculionidae_Entiminae_Pachyrhynchini_from_Mindanao_Island_Philippines/links/61824712a767a03c14e8e40e/Pachyrhynchus-obumanuvu-sp-nov-a-new-species-of-easter-egg-weevil-Coleoptera-Curculionidae-Entiminae-Pachyrhynchini-from-Mindanao-Island-Philippines.pdf
Bitten by the science writing bug, Mikael has years of writing and editorial experience under his belt. As the editor-in-chief of FlipScience, Mikael has sworn to help make science more fun and interesting for geeky readers and casual audiences alike.