• Countless species of flora and fauna were discovered and/or named in 2018.
• Some of the species got their names from noteworthy Filipinos.
• Among these species are four plants and two animals.
---
If it seems like the list of plant and animal species on Earth keeps growing each year, that's because it's far from complete.
The Convention on Biological Diversity (CBD) revealed that out of an estimated 30 million species, taxonomists have named roughly 1.78 million species of animals, plants and microorganisms. In other words, after 250 years of studying nature, we've barely even scratched the surface.
Studying life is undeniably exciting and inherently fascinating. It's especially thrilling to hear about newly discovered plants or animals named after our fellow Filipinos. Here are six species that, just this year, got their names from noteworthy Filipinos.
Medinilla theresae
Medinilla theresae. Image: Edwino Fernando/ASEAN Centre for Biodiversity
First on this list is Medinilla theresae, a unique species only found on two mountains in Mindanao:  Mt. Redondo (Dinagat Island) and Mt. Hamiguitan (Davao Oriental). It is a cauliflorous shrub, which means it produces flowers from its main stem or older branches, not from newer ones. Growing up to 1.5 meters high, it was named after Theresa Mundita Lim, wildlife advocate and executive director of the Asean Centre for Biodiversity. Researchers from the University of the Philippines discovered this remarkable species.
Amyema lisae
A new type of mistletoe discovered in November 2017,
Amyema lisae
 takes its name from environmentalist 
Lisa Paguntalan
. She is the Executive Director of the Philippine Biodiversity Conservation Foundation Inc. (PBCFI). Researchers Pieter B. Pelser, Shiella Mae B. Olimpos, Peter O'Byrne, and Julie Barcelona named the new species after her "to honor her contributions to nature conservation in the Philippines."
Hypselodoris perii
Hypselodoris perii (Terry Gosliner © California Academy of Sciences)
This nudibranch was among the 229 types of flora and fauna described by the California Academy of Sciences in 2018. Hypselodoris perii was named in honor of Peri Paleracio, the Filipino dive instructor who first discovered the colorful sea slug.
Discospermum reyesii
Discospermum reyesii. Image: P.B. Pelser & J.F. Barcelona (©2017)
Discospermum reyesii takes its name from Dr. Nicanor Reyes Sr., the founder and first president of Far Eastern University (FEU). A trio of Filipino scientists discovered the new species in Argao, Cebu. It is the third species recognized as a member of the Rubiaceae (coffee) family, after Discospermum whitfordii and Discospermum philippinensis.
Hoya indaysarae

Hoya indaysarae. Image: Manila Bulletin/Uncredited
Discovered on April 23, 2017 in the Dinagat Islands of Caraga, Hoya indaysarae is a type of wax plant that blossoms in old trees endemic to the Philippines. It got its name from Davao City Mayor Sara Duterte-Carpio, in honor of her support for nature conservation efforts in the region.
Ostichthys alamai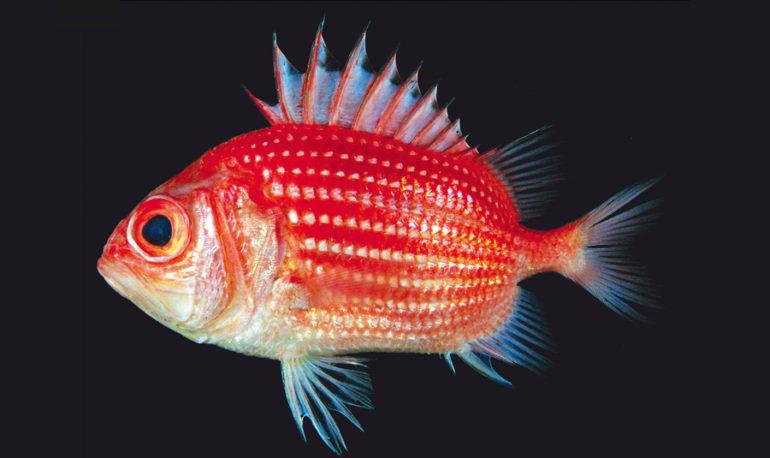 Ostichthys alamai. Image: University of the Philippines Visayas (Jake Adams)
When Ulysses B. Alama first found out that Japanese scientists named a species of fish after him, he thought it was a joke. It was true, though: Ostichthys alamai, a new species of soldierfish collected from Iloilo, was named in honor of Alama, who works at the Museum of Natural Sciences (MNS), College of Fisheries and Ocean Sciences (CFOS), UP Visayas (UPV). He co-wrote a guidebook called "Commercial and Bycatch Market Fishes of Panay Island, Republic of the Philippines" in 2017. It was around this time when researchers obtained samples of the fish, also known as Alama's Soldierfish, from markets in the province. This species is not endemic to the Philippines, though, as it can also be found in North Sulawesi, Indonesia.
---
Cover photo: Pexels
References
"Rare plant species named in honor of Philippine wildlife expert" by Bong S. Sarmiento, Philippine Daily Inquirer, Dec. 14, 2018
"New mistletoe species named after Pinay environmentalist" from GMA News Online, September 25, 2018
"Scientists Have Just Named 17 New Sea Slug Species, and They're All Fabulous" by Maddie Stone, Earther/Gizmodo, November 1, 2018
"Scientists name new tree species after FEU founder" by Rainier Allan Ronda, Philippine Star, May 24, 2018
"New wax plant named after Inday Sara" by Zea C. Capistrano, Manila Bulletin, March 1, 2018
"New fish species named after UPV-CFOS's museum staff" by Lenilyn B. Gallos, University of the Philippines Visayas news release, April 25, 2018
http://www.bioone.org/doi/abs/10.5735/085.055.0119

Bitten by the science writing bug, Mikael has years of writing and editorial experience under his belt. As the editor-in-chief of FlipScience, Mikael has sworn to help make science more fun and interesting for geeky readers and casual audiences alike.