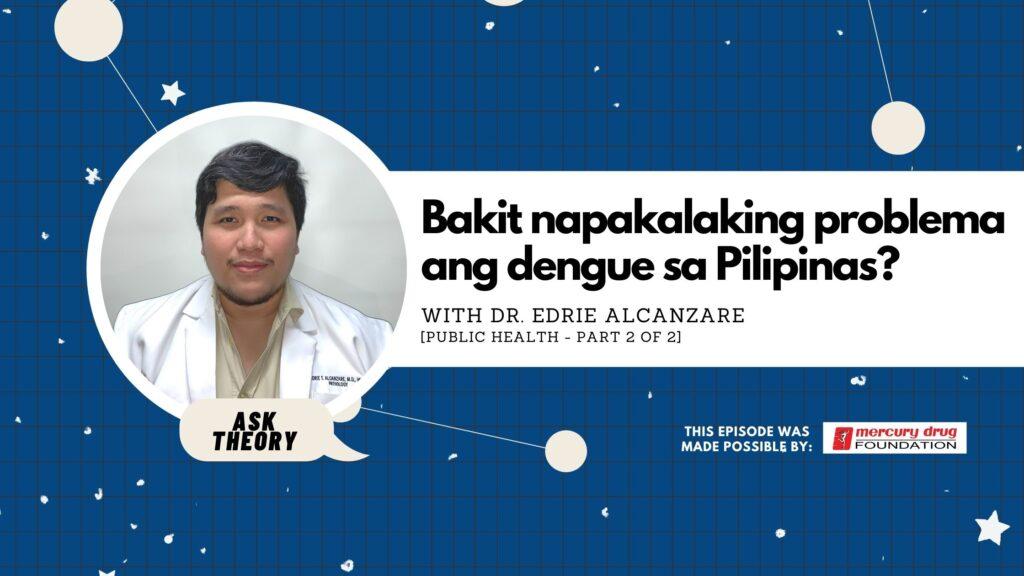 ---
Hosted by EIC Mikael Angelo Francisco, Ask Theory shines the spotlight on Pinoy scientific brilliance, in a fun and entertaining "kwentuhan" format. Each episode of Ask Theory  features a Pinoy scientist from one of the various scientific disciplines. In a very casual Taglish conversation, guests explain what they do in simple terms, as well as share their fascinating stories: how they got into science, the challenges they face, what motivates them to pursue their fields, what future scientists from the Philippines can look forward to, and so much more.
Episode 6: Bakit Napakalaking Problema Ang Dengue Sa Pilipinas?
I was a young boy when I first learned about dengue. Back then, TV ads warned the public about the disease during the rainy season, focusing mostly on preventive measures like covering stagnant water or buying mosquito repellant. Now, I can't pinpoint exactly when it changed from a threat we only worried about during certain months to a health problem we struggle with all year. I do remember, though, that when I got dengue myself a decade ago, it certainly wasn't during a rainy month. I wonder, though: How did we get to this point? And what does this say about our approach to public health as a whole?
Our guest on today's show is Dr. Edrie Alcanzare, a frontliner. He is a public health physician and pathology resident trying to make sense of the health system and the many ways it can be improved. Our interview took place in November 2020, but the stories and insights he shared as both a former rural physician and a COVID-19 frontliner still reveal so much about our society, nearly a year into this pandemic.
We talked about whether Pinoys are truly "pasaway" when it comes to following COVID-19 guidelines, Dr. Alcanzare's most unforgettable and horrifying (but hilarious) frontliner story, how dengue in the Philippines transformed from a seasonal concern into a year-round problem, and the long and difficult path towards reforming the Philippine public healthcare system.
Listen to Ask Theory Episode 006: Bakit Napakalaking Problema Ang Dengue Sa Pilipinas? here:
The Ask Theory Podcast is available via these platforms — make sure to subscribe, as we'll be releasing one new episode every week:
Spotify: https://open.spotify.com/show/1GDcxBwETsD4KM1EmTr1aI
Apple Podcasts: https://podcasts.apple.com/ph/podcast/ask-theory/id1550251048
Anchor: https://anchor.fm/ask-theory
Breaker: https://www.breaker.audio/ask-theory
Google Podcasts: https://www.google.com/podcasts?feed=aHR0cHM6Ly9hbmNob3IuZm0vcy80OTAyMWNjMC9wb2RjYXN0L3Jzcw==
Pocket Casts: https://pca.st/gv6jxkki
RadioPublic: https://radiopublic.com/ask-theory-WJkbLJ
---
This episode of Ask Theory was made possible by the Mercury Drug Foundation, Inc., a private, non-stock, non-profit organization and the corporate social responsibility arm of Mercury Drug Corporation.