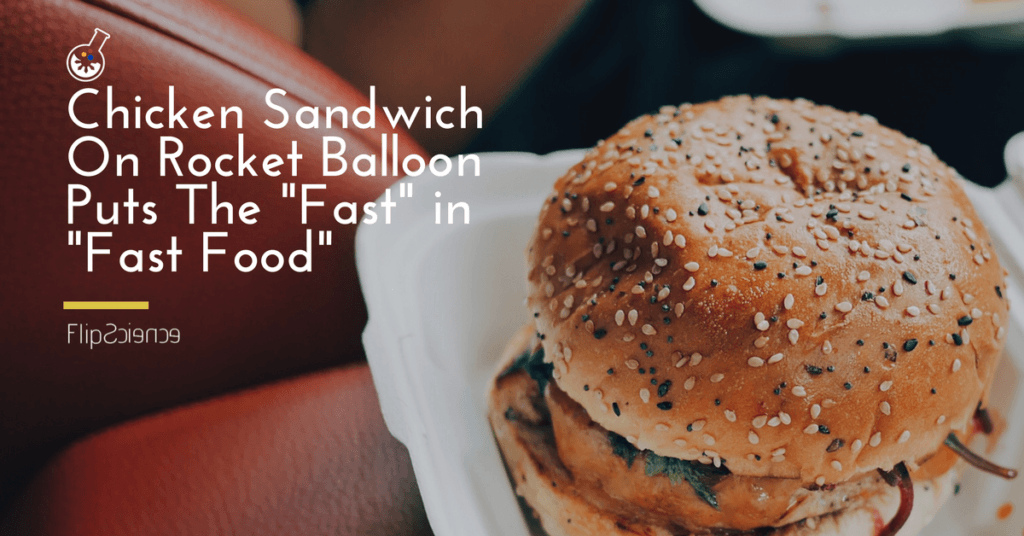 You will believe a chicken sandwich can fly.
For the first time in human history, fast food broke through our planet's atmosphere with the help of a high-altitude balloon.
On June 29 at 9:11 a.m. EDT (1311 GMT), a Kentucky Fried Chicken (KFC) Zinger sandwich rocketed towards the sky on a World View Enterprises Stratollite balloon from Spaceport Tucson in Arizona. Despite the live webcast stopping just before the launch, it was confirmed to be a success by a representative from World View.
KFC publicly released their recording of the launch afterwards – a video with an announcer providing commentary on the chicken burger's journey.
Rocket-fast food
If you missed the live Zinger launch, you can watch the highlights here. And stay tuned for the Zinger's first transmission from space! pic.twitter.com/XV7fRd8ATX

— KFC (@kfc) June 30, 2017
"Holy cow, that's some spicy, crispy chicken moving out at an average rate of 1,000 feet per minute [304 meters per minute]," the announcer in the video said as the balloon drifted upward.
The chicken burger's flight schedule originally called for a June 21 launch, but was delayed due to bad weather.
For four days, KFC's signature spicy chicken sandwich remained airborne at an altitude of around 65,000 feet (or 19,800 meters). The fast food giant has plans for numerous other campaigns in the future, such as a partnership effort with NASA to train more pilots and bring humanity (and the Colonel's secret recipe) ever closer to crossing the final frontier.
Eleven herbs in space
The Zinger-1 mission is only the beginning, as World View aims to manufacture sturdier balloons that can take heavier loads for longer durations. The company also issued a statement during the flight, claiming it to be the first "extended-duration development flight of [World View's] high-altitude Stratollite vehicle."
World View designed their high-altitude balloons to operate at full efficiency, without disrupting air traffic for both commercial airliners and satellites. Their goal is to have the Stratollite vehicles reach altitudes of up to 150,000 feet (45.8 kilometers). This means that they will be halfway towards the Karman line, which is considered the boundary of space.
One small step for a chicken sandwich…
With the balloon's innovative design, scientists can place devices to capture detailed images of our home planet, weather patterns, and even movement beyond our solar system. In the near future, you may even find yourself riding such vehicles for a vacation into the stratosphere.
As for the space Zinger, it made it safely back to Earth just in time for the U.S. Independence Day. As of press time, there is no word on whether Philippine fast food giant Jollibee plans to strap a Champ burger onto next year's Diwata-2. — MF
Author:
Tomas Pedrosa
A graduate of Information Design, a versatile writer, and an avid gamer, Tomas prides himself in his willingness to gain new experiences and perspectives, and to apply what he learns in his other pursuits. Curiosity, interest, and obsession—these are the mile markers that keep him going down his road.