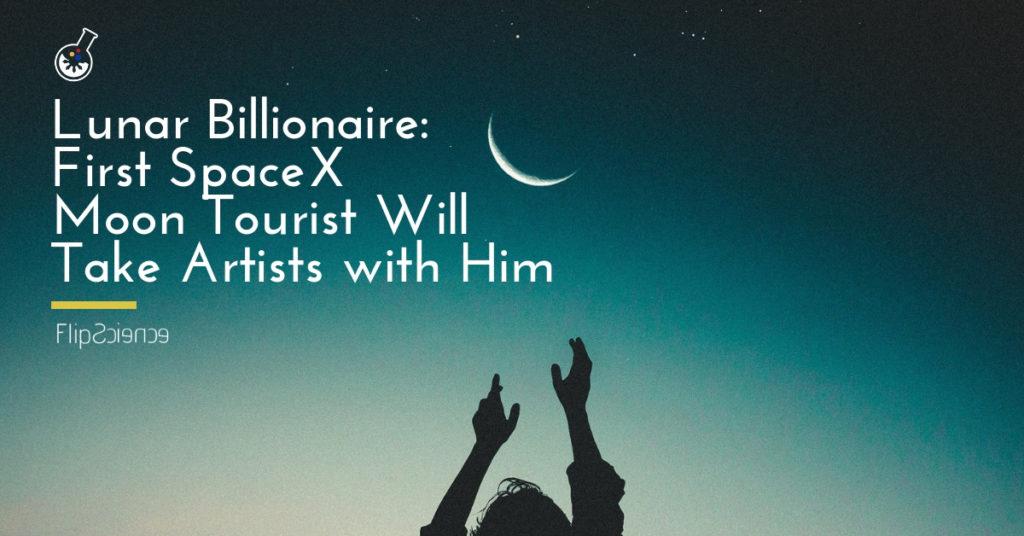 "Finally, I can tell you that, 'I choose to go to the moon.'"
Aerospace company SpaceX has revealed its first "Moon tourist": Japanese billionaire and art collector Yusaku Maezawa. Maezawa is the founder of Zozotown, Japan's largest online shopping mall, as well as clothing company ZoZo.
Over the moon
According to Maezawa, this was an opportunity he simply couldn't miss.
"Ever since I was a kid, I have loved the moon; just staring at the moon filled my imagination; it is always there and has continued to inspire humanity," said the 42-year-old entrepreneur at a press briefing held last September 17.
The moon's orbit is approximately 384,400 km away from Earth. This means Maezawa will travel for roughly three days before reaching the Moon. His space vessel, the Big Falcon Rocket, will then orbit the satellite's far side and make its way back home.
Of course, with great expeditions come great expenses, and this Moon trip, scheduled for 2023, is no exception. While SpaceX did not disclose the price Maezawa paid for the trip, it's worth noting that flying to the International Space Station (ISS), which occupies low Earth orbit, would already cost million.
Incidentally, Maezawa occupies the 18th spot on Forbes' 2018 list of Japan's 50 Richest.
Putting the "art" in "lunar trip"
Maezawa won't be going on this trip alone, though. He plans to bring some very interesting and creative company with him.
"I did not want to have such a fantastic experience by myself," explained Maezawa, revealing that he will select six to eight artists from different fields to join him on his lunar trip. He has officially named this undertaking #dearMoon, and has even put up a website for it.
While he did not share the identities of the artists he plans to invite, he did share how and why he came up with the idea.
"What if Picasso had gone to the Moon? Or Andy Warhol or Michael Jackson or John Lennon?" Maezawa mused. "What about Coco Chanel? These are all artists that I adore."
Billionaire-funded riders of Big Falcon Rocket
The Big Falcon Rocket is a seven-engine rocket that SpaceX is developing to, in the words of founder Elon Musk, "help advance rocket technology to a point where we could potentially become a multi-planet species and a true spacefaring civilization."
The spacecraft, colloquially and humorously referred to as the "Big F***ing Rocket," will also feature a separate 30-foot-wide booster. The BFR will be able to transport 100 passengers all the way to Mars.
Should this Moon trip push through, Maezawa and his artist assembly will join the very short list of people who have visited the Moon — only 24, to be precise. Details about the training Maezawa's crew will undergo for the trip have not yet been revealed.
And in case you were wondering if Musk will join Maezawa's Moon party: "Maybe I would join on this trip, I don't know," said the SpaceX chief, after some prodding from the billionaire space-tourist-to-be.
---
References
https://www.forbes.com/japan-billionaires/list/
https://www.livescience.com/63608-bfr-moon-passenger-revealed-spacex.html
https://www.mnn.com/earth-matters/space/blogs/10-days-international-space-station-55-million-dollars
https://www.space.com/41857-dearmoon-spacex-epic-lunar-art-project.html
https://www.theverge.com/2018/9/17/17869990/elon-musk-spacex-lunar-mission-ticket-moon-passenger-bfr-falcon-yusaku-maezawa

Bitten by the science writing bug, Mikael has years of writing and editorial experience under his belt. As the editor-in-chief of FlipScience, Mikael has sworn to help make science more fun and interesting for geeky readers and casual audiences alike.