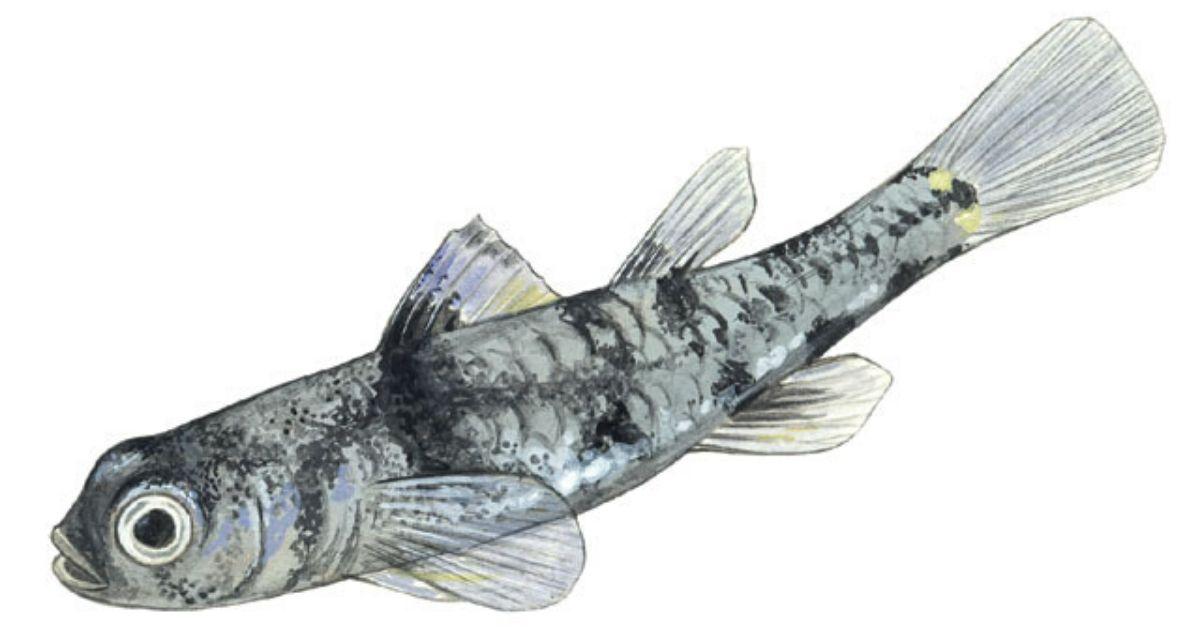 Alamy
---
For a long time, Filipino schoolchildren were taught that the world's smallest fish was a species exclusively found in the Philippines: Pandaka pygmaea, or the dwarf pygmy goby. Recent findings, though, have shown that this isn't necessarily the case, depending on how you define "smallest." They've also revealed that our country's waters aren't the only home of this species—and that this tiny freshwater fish is dangerously close to disappearing completely from the Philippines.
First described by American ichthyologist Albert William Herre in 1927, P. pygmaea are nearly transparent, with black markings that help conceal them from hungry predators. Males of the species are known to grow up to 0.35 in (9 mm), while females reach a maximum length of 0.59 in (15 mm). Thus, based on maximum species size, P. pygmaea is certainly a contender for the "smallest fish" moniker. However, Paedocypris progenetica and Schindleria brevipinguis reach maturity at smaller lengths: 0.31 in (7.9 mm) and 0.26 in (6.5 mm), respectively.
P. pygmaea used to be common in the Malabon River; however, experts say that due to pollution, the species has been extirpated (meaning it no longer exists in that area). Specimens were also found in Culion Island, Palawan. It's no longer considered an endemic species, though, as it also lives in the brackish waters and mangrove areas of Indonesia and Singapore.
Curiously, P. pygmaea sometimes gets mislabeled as the sinarapan, which is a different species of goby (Mistichthys luzonensis). Often called the world's smallest commercial fish, M. luzonensis is endemic to the Philippines, and is found (in sadly dwindling numbers) in the bodies of water around Lake Buhi in Camarines Sur. The species is known to grow up to 0.98 in (25 mm) in length, about twice the size of P. pygmaea.
In 2004, researchers expressed concerns that P. pygmaea may have already gone extinct in the Philippines, though this was not officially published. Based on the IUCN's last formal assessment of the species on August 1, 1996—more than two decades ago—the species is critically endangered. As of now, it's hard to say with certainty just how many of these small wonders are still swimming in our waters.
---
Still remember your 5th-grade science classes? Test your knowledge and see if you still remember these facts and fundamental concepts in human anatomy, biology, botany, and other branches of science. Click here to try the "Are You Smarter Than A Pinoy Fifth-Grader" Challenge.
Follow the hashtag #FlipFacts on Facebook and Instagram to get your daily dose of science trivia!
---
References
https://news.mb.com.ph/2016/11/25/chemicals-in-tilapia-feeds-changes-in-temperature-cause-lake-buhi-fish-kill-town-in-state-of-calamity/
https://newsinfo.inquirer.net/900168/keeping-worlds-smallest-edible-fish-alive
https://web.archive.org/web/20101023084607/http://vivaldi.zool.gu.se/Fiskfysiologi_2001/Course_material/Introduction_fish_evolution/Panadaka_pygmaea.htm
https://www.iucnredlist.org/species/15939/5324338
https://www.fishbase.se/summary/Mistichthys-luzonensis.html
https://www.fishbase.in/summary/Pandaka-pygmaea.html
Bitten by the science writing bug, Mikael has years of writing and editorial experience under his belt. As the editor-in-chief of FlipScience, Mikael has sworn to help make science more fun and interesting for geeky readers and casual audiences alike.