---
On January 13, the Philippine National Police (PNP) Regional Office 1 headed a "unity walk, interfaith prayer rally and peace covenant" for the upcoming 2019 Midterm Elections. The event took place at the Provincial Police Office Grandstand in Lingayen, Pangasinan.
However, the well-intentioned event ended with its attendees simultaneously releasing white balloons into the air, as seen in a video posted on the PNP PRO1 Public Information Office Facebook page. (Editor's note: As of January 16, 2019, the video has been taken down.)
Netizens expressed their disappointment and outrage in the comments section. Some called for accountability, questioning why pro-environment politicians seem to have been quiet about the event. Others explained the negative impact of balloon releases on the environment, and even linked to a recent warning by the Department of Environment and Natural Resources (DENR) against such activities.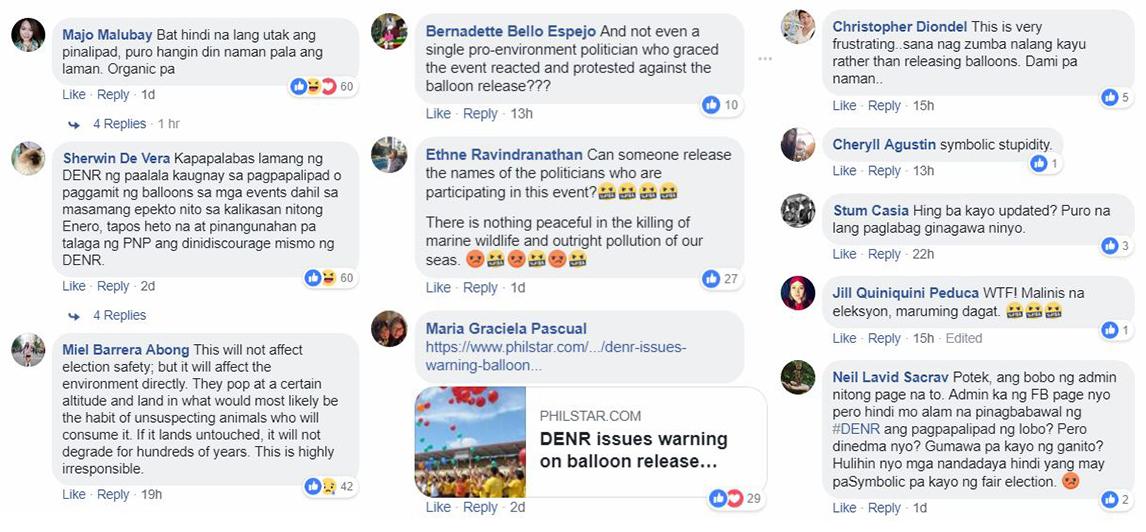 Meanwhile, the official Facebook page of the Province of Pangasinan, maintained by its Provincial Information Office, also posted photos of the event. However, it did not attract as much attention as PNP PRO1's post. According to the update, Pangasinan government officials and political candidates were present at the event as well.
Biodegradable balloons? Not so fast
Conservation group Haribon Foundation recently released a statement reminding the public about the environmental impact of sky lanterns and helium balloons.
According to the group, so-called biodegradable balloons are made of natural latex, which "degrades naturally through mechanical means and light exposure" over an extended period of time. "It takes about four years for a latex balloon to completely decompose and when released in the air and eventually pops, its little pieces, which will highly end up in rivers and waterways, will have plenty of time for marine animals to mistake them for food," the group explained.
Haribon added that discarded plastics pose a threat to marine wildlife, as they may get injured, trapped, or even killed by these pollutants. Marine mammals, sea turtles, fish, seabirds, and even corals are imperiled by plastic trash.
In 2017, nearly 5 million pieces of tiny trash were obtained from oceans across the globe. Small plastics are also the most common type of coastal trash found on Philippine shores, with almost 1 million pieces found during the past year alone.
The group stressed that the "biodegradable" label should not lull consumers into a false sense of security. Despite what the term suggests, biodegradable plastics do not decompose as quickly as we may think. "We want groups to be more environmentally-responsible in their decisions, to make choices that will promote the health of all forms of life, and not create threats to our environment today that may have irreversible effects in the future."
FlipScience has previously written about the devastating environmental impact of releasing balloons or sky lanterns at events.
---
References
Haribon Foundation. (2019, January 10). How Sky Lanterns and Balloons Impact the Environment [Press Release].
Vicente J. (2018, December 29). DENR issues order to stop record attempt of largest balloon drop at Okada. Inquirer.net. Retrieved from https://newsinfo.inquirer.net/1067679/denr-orders-to-stop-record-attempt-of-largest-balloon-drop-at-okada

Bitten by the science writing bug, Mikael has years of writing and editorial experience under his belt. As the editor-in-chief of FlipScience, Mikael has sworn to help make science more fun and interesting for geeky readers and casual audiences alike.