ICYMI: Science and technology updates from February 3 to February 9, 2019.
---
Measles outbreak linked to over 70 deaths in the Philippines
This year alone, more than 70 people in the Philippines have died due to measles, following an announcement from the Department of Health (DOH) regarding an outbreak across various regions. The DOH also reports more than 2,000 cases of the highly contagious disease nationwide, 55 of which happened in a single hospital in Manila. Read the full story.
UPLB art exhibit promotes endemic species conservation
(Image: uplb.edu.ph)
The University of the Philippines Los Baños (UPLB) opened the art exhibit titled "Mga Atin 'To: The Endemicity Project" last January 29 at the Sining Makiling Gallery, D.L. Umali Hall basement. The exhibit, which features various paintings of endemic Philippine species by two UP student artists, will be open until February 28. Read the full story.
Celebrate National Astronomy Week with PAGASA
The Philippine Atmospheric, Geophysical and Astronomical Services Administration (PAGASA) is gearing up for National Astronomy Week, which will take place from February 17 to February 23. Under the mandate of Presidential Proclamation No. 130, a series of free planetarium shows, stargazing activities, and telescoping sessions will take place in different locations. Read the full story.
Light-bombarded iridium can kill cancer cells
Iridium is often associated with the Chixulub asteroid, which crashed on Earth near the end of the Cretaceous era and served as the catalyst for the extinction of the dinosaurs. Interestingly, researchers found that when bombarded with light, this metal turns oxygen molecules within its vicinity reactive. This has a surprisingly useful effect: it can penetrate the nucleus of a cancer cell and kill it. Read the full story.
Newly developed fabric automatically cools or insulates based on environment
Researchers from the University of Maryland have developed a fabric that regulates the degree of heat passing through it, based on the temperature and other factors in the wearer's immediate environment. They accomplished this by using specially designed yarn covered in a conductive metal. Read the full story.
New sauropod sported spikes like a mohawked punk rocker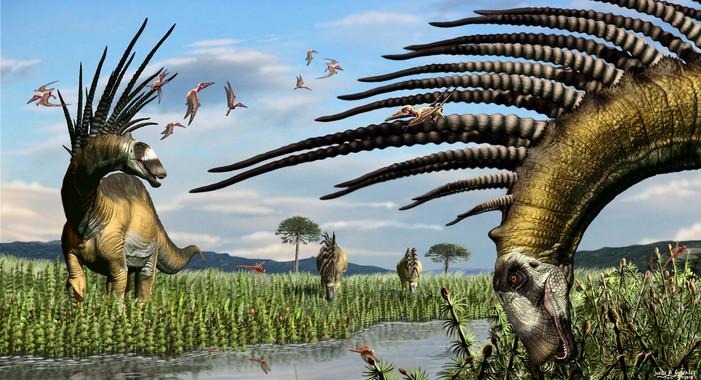 Artist's interpretation of Bajadasaurus. (Image: Jorge A. González)
Meet Bajadasaurus prosnuspinax, easily the most badass sauropod ever discovered. Possessing six-inch-long vertebrae with huge spikes protruding from them, Bajadasaurus lived in the early Cretaceous period. According to its discoverer, paleontologist Pablo Gallina, the spikes on its neck were likely covered in keratin, and were quite possibly for self-defense. Read the full story.
Earth's magnetic north is moving toward Russia
The north magnetic pole has seen rapid, shifting movement over a relatively long period of time. At this point, it is already moving from its original position toward Siberia at a rather quick pace, prompting scientists and experts to update the World Magnetic model used by civilian navigations and government military forces a year earlier than expected. Read the full story.
---
Cover photo: Pexels

Bitten by the science writing bug, Mikael has years of writing and editorial experience under his belt. As the editor-in-chief of FlipScience, Mikael has sworn to help make science more fun and interesting for geeky readers and casual audiences alike.