ICYMI: Science and technology updates from January 20 to 26, 2019.
---
First Filipino-made to hit the rails on March 1
After years of testing and teasing, it's full speed ahead for the first-ever Filipino-made train. Designed with a 220-passenger capacity, the Hybrid Electric Train is set to run from Alabang to Tutuban and back starting on March 1.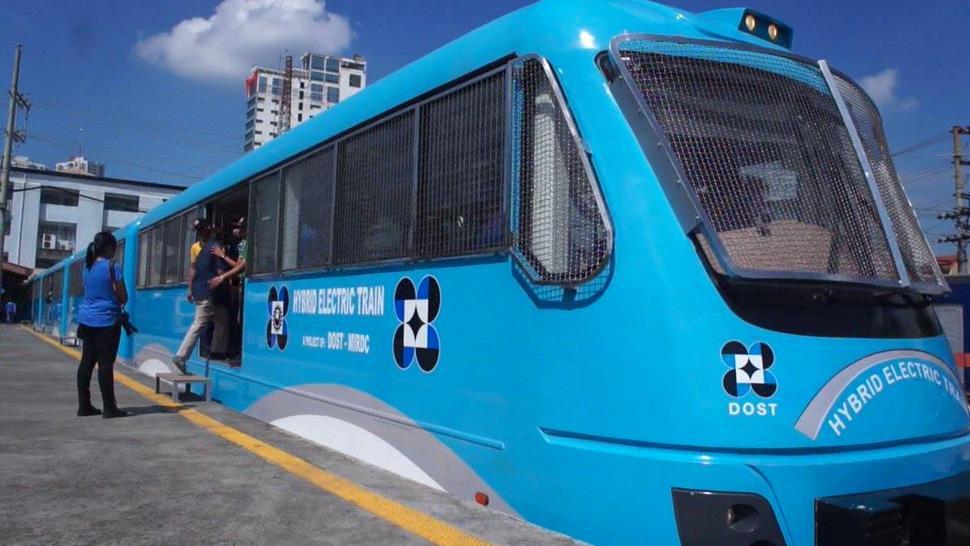 The Hybrid Electric Train. (Image: DOST-STII)
The Department of Science and Technology (DOST) developed the train, which runs on both diesel and lithium batteries, achieving a maximum speed of 50 km/hour and reducing its overall carbon emission. Read the full story.
Third PH telco's franchise 'deemed revoked' for violations
The franchise of Mindanao Islamic Telephone Company, Inc. (Mislatel) has been "deemed revoked" due to its inability to comply with its provisions. In a Senate public services committee hearing, Senate Minority Leader Franklin Drilon cited Mislatel's failure to operate within one year after its franchise was granted in 1998. However, Mislatel president Nicanor Escalante pointed to the "peace and order situation" in Parang, Maguindanao up until 2003 as the reason why. Read the full story.
Rescued blind dolphin dies from garbage in his stomach
Initially thought pregnant, the one-eyed Dolphin called "Carlo" died due to a lethal combination of garbage (including a polyvinyl chloride wire, a lighter, a filter bag and empty plastic pouches of vinegar and soy sauce) in his stomach. Rescued in December after being found stranded on a beach in Pangasinan, "Carlo" had been brought to the Bureau of Fisheries and Aquatic Resources (BFAR) facility in Alaminos City for treatment and recovery. Read the full story.
Clammed up: catching taklobo is illegal, reiterates BFAR
The BFAR-Central Visayas recently reiterated that the giant clam (taklobo) is illegal to hunt, due to its status as an endangered species. The taklobo is on the list of Convention on International Trade in Endangered Species of Wild Fauna and Flora (Cites), and has been illegal to hunt since 2001, as per the Fisheries Administrative Order 208. Read the full story.
Constant phone replacement depletes elements, warn scientists
Just in time for the Year of the Periodic Table, a new version crafted by the University of St Andrews and the European Chemical Society (EuChemS) highlights the increasing scarcity of natural elements due to relentless consumption and production. According to scientists, about 10 million smartphones are replaced or thrown away each month in the European Union alone. Smartphones contain roughly 30 elements, 17 of which are expected to be in alarmingly limited supply over the next few years. Read the full story.
Fossils prove that early humans "swung from trees" 2 million years ago
A newly published study reveals that Australopithecus sediba, found at the Malapa Fossil Site in South Africa a decade ago, are closely linked to the Homo genus. This effectively links the famous 3-million-year-old specimen "Lucy" and the tool-using Homo habilis. Not only that, it also lends credence to the notion that early humans swung from the treetops close to 2 million years ago. Read the full story.
New type of blood vessel found inside human bones
After years of knowing about (but not finding) a "hidden network" of miniscule blood vessels within our bones, scientists have finally spotted it, confirming its existence. This system enables blood cells and immune cells from the bone marrow to migrate into general circulation, with the vessels traversing directly via arm, leg, and other long bones at a rapid pace. This is also why drugs injected into a patient's bone marrow enables the patient to quickly enjoy their benefits. Read the full story.
Was the Moon from the same planetary collision that allowed life on Earth?
A new study suggests that the majority of Earth's carbon, nitrogen, and other volatile elements necessary for life came from a planetary collision 4.4 billion years ago — likely the same one that resulted in the creation of the Moon. The researchers claimed that a series of high-temperature, high-pressure lab experiments provided proof that can explain "the timing and delivery in a way that is consistent with all of the geochemical evidence." Read the full story.
---
Cover photo: Pexels

Bitten by the science writing bug, Mikael has years of writing and editorial experience under his belt. As the editor-in-chief of FlipScience, Mikael has sworn to help make science more fun and interesting for geeky readers and casual audiences alike.