With a coastline stretching over 36,000 km, the Philippines is home to almost 50% of all known coral species, and about a fifth of all marine species across the globe. As the world's 7th top fish-producing country in 2012, the archipelago, comprised of over 7,100 islands, is literally swimming in riches.
Recent data, however, indicate that troubled waters may be up ahead. The latest numbers from the Philippine Statistics Authority reveal that during the third quarter of 2017, our fisheries had a total production volume of 971 thousand metric tons—-a 4% drop compared to the same quarter of the previous year.
Indeed, the sustainability of our marine economy seems poised to crash into a tsunami of harmful fishing practices, severe weather disturbances, and the destruction of natural ecosystems.
Fortunately, it isn't too late to course-correct—and these scientists from UP Visayas are ready to take the helm.
A blooming idea
One scientist focused on a vital component of the marine ecosystem typically discussed in a negative light: algae.
Speaking before the participants of the 21st Lopez-Jaena Community Journalism Workshop at the UP Visayas campus, Dr. Leni Yap-Dejeto from the Tacloban campus shared her findings on phytoplankton and fish abundance in San Pedro Bay in Leyte. Sitting at the base of the food pyramid, phytoplankton are single-celled algae functioning as the marine ecosystem's primary producers.
With the aid of local fishermen, Dr. Yap-Dejeto obtained samples from three stations along the outer sections of the bay from 2013 to 2014. They found a correlation between the phytoplankton in a specific area and the number of fish caught there.
The team also found that in the months with more rain, there was an abundance of phytoplankton. Months with reduced rainfall, on the other hand, meant smaller populations of such types of algae.
The team believes these findings may lead to advancements in fishing, recreation, and mariculture, particularly in predicting algal bloom surges. For Dr. Yap-Dejeto, this could also be a breath of fresh air, as far as public perception of algae is concerned.
"Kasi usually, ang nirereport talaga, kapag may [red tide] death. 'Di ba pwede na mag-report ng good news, na, 'Oy, may bagong solusyon tayo, like this, na etong pinaplano, magandang plano to, sana mangyari'?" ("Usually, they only report red tide-related deaths. Can't they report good news, like, 'Hey, we have a new solution, a good plan that hopefully comes to fruition'?")  
All about that (sea) bass
The Asian sea bass, commonly known to Filipinos as apihan, is a fast-spawning, fast-growing, and highly valued type of fish. Its seeds are easily obtainable from private hatcheries, and it can thrive in marine cages, freshwater, and brackish ponds.
The biggest obstacle between fisherfolk and the Asian sea bass as a commercially viable commodity is the fish's costly diet. It relies on fish meal as its primary protein source. Attempts at finding a cheaper replacement for fish meal have led to the use of kangkong, malunggay, and other plant-based alternatives, with less than spectacular results.
Fortunately, Dr. Erlinda S. Ganzon-Naret may have found the answer to this conundrum in the form of the humble mongo. Dr. Ganzon-Naret was the first of three UP Visayas scientists to discuss their research projects over brunch with media practitioners from all over the country at the Hotel del Rio in Iloilo last December 6.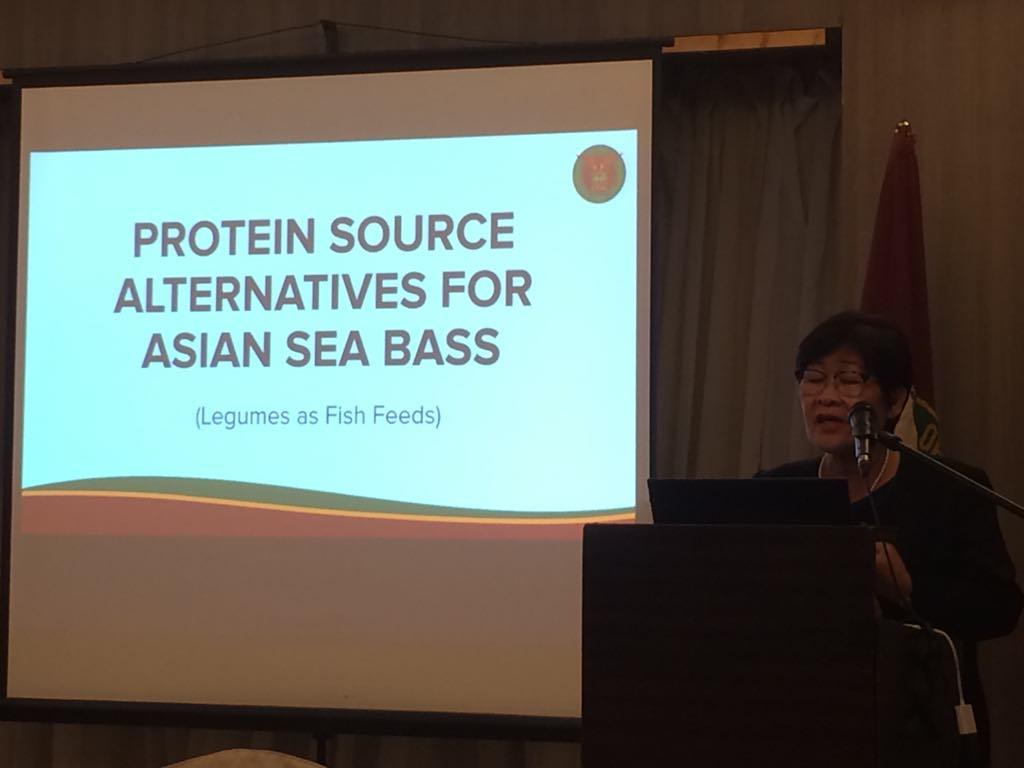 In a multi-phase study conducted over the course of 75 days, Dr Ganzon-Naret tested three potential protein source alternatives: the aforementioned mongo (yellow mungbean), plus kadyos (pigeon pea) and bitswelas (kidney bean). The three were used in separate fish feeds, each replacing about one-fifth of the fish meal in their respective formulations.
She and her team discovered that among the three, the mongo-infused fish feed came closest to the regular fish meal in terms of protein efficiency, while being significantly cheaper to produce.
The results also revealed that the mongo-infused meal did not show any adverse effects on the growth, survival, and body composition of the Asian sea bass.
While full replacement of fish meal with mongo will take more time and research, Dr. Ganzon-Naret believes her study can reduce the operating costs of breeding, thereby making it more profitable for fish farmers.
A different "crab" mentality
In the three decades that Dr. Wilfredo Campos has been working in the field of marine conservation, he has noticed a gradual but significant change.
"When I started 30 years ago, and then compare it to, say, 10 years ago, people are more aware now," explained Dr. Campos, who shared his research on establishing and preserving nursing grounds for the blue swimming crab (alimasag). "They have accepted that something needs to be done because hindi na ganoon kadami ang nahuhuli, e (because they no longer catch as much as they used to)."
The blue swimming crab is one of the Philippines' major export products. Statistics from the Bureau of Fisheries and Aquatic Resources (BFAR) show that the country exported 11,500 metric tons (roughly Php 5.1 billion worth) of the crustacean, about 6,900 of which came from West Visayas.
While the numbers may seem impressive, they mask an alarming truth. Since 1992, crab catches have decreased by a staggering 45%. This is a result of a reduced number of crabs in the area, a phenomenon that overfishing exacerbates.
Dr. Campos' team identified three key crab fishing areas in northeastern Panay. To maintain crab population numbers and increase juvenile crabs' chances of survival, Dr. Campos recommends stronger conservation efforts and stricter limits on catching crabs — a 20-30% reduction, if possible. He also advocates protecting mangrove-rich areas and seagrass beds where juveniles settle.
"It's very difficult [to convince local governments] to implement [policies] where you'd have to reduce the source of livelihood," admitted Dr. Campos.
Fortunately, today's fishermen seem to be more open to the idea of finding an acceptable compromise.
"They see that the reason for it," said Dr. Campos. "If we had been discouraged to talk to these fishermen 30 years ago, then wala sigurong nangyari (perhaps nothing would have happened)."
Seeing diseases from the seas
The continued production of resources from our waters should definitely become a priority. However, there are other important factors to consider in maintaining a sustainable sea economy.
Chief among these is preventing diseases contracted from eating contaminated seafood. Based on statistics from the World Health Organization (WHO), a tenth of the world's population become ill after consuming contaminated food each year, registering an annual death toll of approximately 420,000.
According to Dr. Sharon N. Nuñal, 55% of seafood-associated diseases come from mollusks, such as oysters and mussels. Dr. Nuñal explains that as immobile "filter feeders," their tissues retain even the bacteria and viruses present in the waters in which they are cultivated.
Thus, Dr. Nuñal's team focused on developing better methods of detecting these pathogens in shellfish before they are sold in markets.
As Dr. Nuñal explained to the media, their newly developed protocols focus on examining the genetic makeup of oysters and mussels. By taking a closer look at their DNA (deoxyribonucleic acid) and amplifying the gene, Dr. Nuñal and her team were able to identify and isolate pathogens such as E. coli, Salmonella, V. cholerae and V. parahaemolyticus.
"It is our aim that the protocols developed in this study can be adapted by various stakeholders, especially government regulatory agencies," said Dr. Nuñal.
Sink or swim
In many ways, science is like the sea. Though it abounds with wonders, the uninitiated tend to steer clear of it, for fear of drowning in its unfamiliar waters.
What is certain, though, is that for this nation to progress, its citizens and policymakers must learn to accept and embrace the waves of change brought about by science's continuing voyage.
Now that we have finally set sail towards a more sustainable marine economy, it falls into our hands to further propel the discussion towards action — and to keep it from sinking.
---
References:
https://businessmirror.com.ph/biodiversity-means-food/
http://www.ph.undp.org/content/philippines/en/home/presscenter/pressreleases/2017/05/16/philippines-to-set-voluntary-commitments-to-protect-the-oceans.html
http://psa.gov.ph/content/fisheries-situation-report-july-september-2017

Bitten by the science writing bug, Mikael has years of writing and editorial experience under his belt. As the editor-in-chief of FlipScience, Mikael has sworn to help make science more fun and interesting for geeky readers and casual audiences alike.