• PHL-Microsat has released the first images captured by Diwata-2, approximately one month after the microsatellite's launch.
• The images feature a shot of the Earth, as well as parts of Aurora and Kalinga.
• These were products of the microsatellite's camera testing and calibration.
---
On the official PHL-Microsat blog, the team has released a few of the first images captured by its sophomore microsatellite, Diwata-2.
Launched last October 29, Diwata-2 has been calibrating its cameras and capturing images of Earth from outer space. Similar to its predecessor, Diwata-2 carries a Wide Field Camera (WFC), a Middle Field Camera (MFC), and a High Precision Telescope (HPT). It also has a Spaceborne Multispectral Imager (SMI) with Liquid Crystal Tunable Filter (LCTF). However, its cameras are more advanced, and can take better shots for improved environmental research and assessment.
From a Diwata's eyes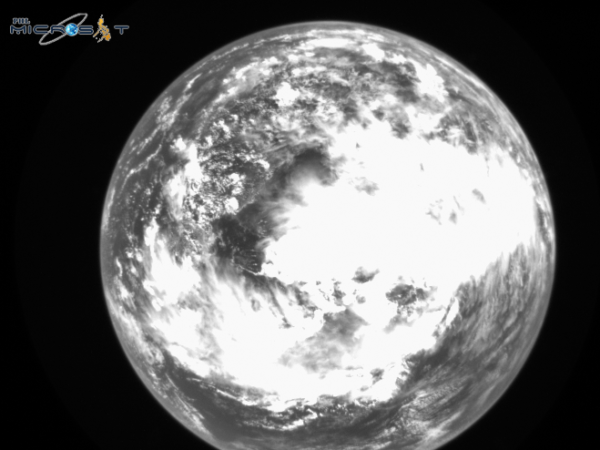 A portion of Earth. Captured on November 6, 2018 at 13:36:02 PHT using the Wide Field Camera. (Image: PHL-Microsat)
Among the three images released to the public by the team is a photo of Earth. Diwata-2 used its WFC to take this shot, which shows a mass of clouds floating right above the South China Sea. But why is it in black and white? Julius Sempio, a researcher for PHL-Microsat's data processing, archiving and distribution, explained to FlipScience that the WFC doesn't need to produce colored images because it's only meant for weather monitoring.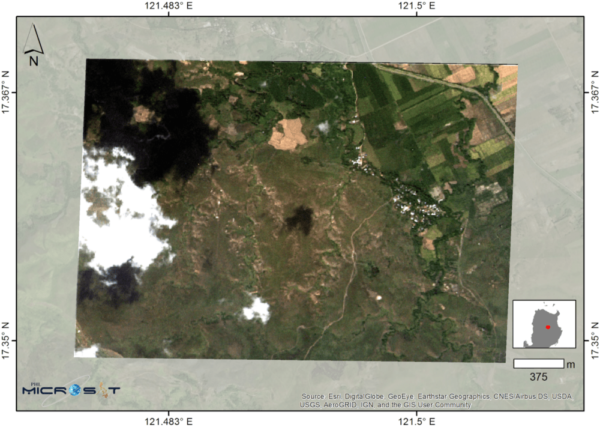 Tabuk, Kalinga, Philippines (November 14, 2018 13:09:18 PHT). (
Image: Basemap from ESRI/PHL-Microsat
)
Meanwhile, the microsatellite used its HPT to capture this photo of Tabuk City in Kalinga. The rice paddies in Barangay Bulo (upper right) mark the second harvest season. The microsatellite will take more photos of the area at set intervals. The data obtained from said shots will allow for damage assessment and yield estimation, illustrating how Diwata-2 can improve local agricultural techniques.
Casiguran, Aurora, Philippines (November 15, 2018 13:18:32 PHT). (
Image: Basemap from ESRI/PHL-Microsat
)
The final image, which shows Casiguran in Aurora, comes courtesy of the microsatellite's SMI. The shot of the municipality and its coastline will enable researchers to better monitor the region's water quality, resources, and overall ecological health.
Environmental monitoring is possible via Diwata-2 because it follows a heliosynchronous, or sun-synchronous, orbit. This means that each day, whenever the microsatellite passes through any given point on Earth, the sun will be in the same position relative to both the microsatellite and the planet. Furthermore, Diwata-2 is also operating at a higher altitude than its predecessor, and is expected to stay in orbit within 3 to 5 years.
---
Cover photo: PHL-Microsat
Reference
https://blog.phl-microsat.upd.edu.ph/diwata-2-captures-first-images-of-the-philippines-870c8f4550ef
https://blog.phl-microsat.upd.edu.ph/diwata-2-nears-launch-with-flight-model-completion-746b0d91004e

Bitten by the science writing bug, Mikael has years of writing and editorial experience under his belt. As the editor-in-chief of FlipScience, Mikael has sworn to help make science more fun and interesting for geeky readers and casual audiences alike.