•Born on March 1, 1929, Dr. Angel C. Alcala has worked tirelessly on studying marine species and promoting reef conservation.
•He identified 50 new species of reptiles and amphibians over the course of his decades-long career as an accomplished biologist.
•He also played an instrumental role in establishing the Philippines' first artificial coral reef system, highlighting the importance of marine protected areas in species rehabilitation.
---
Despite what The Little Mermaid's Sebastian insists, very rarely is it actually better down where it's wetter. Fortunately, this is where Pinoy conservationist hero Dr. Angel C. Alcala comes into the picture.
Dr. Alcala is a Filipino ecologist whose primary focus of study is marine biology and ecological conservation. His prolific thirty-year career includes studying local birds, reptiles, and aquatic life. He is a Professor Emeritus at his alma mater Silliman University. He also served as the Director for the Department of Science and Technology (DOST) Angelo King Center for Research and Environmental Management.
For his contributions in promoting the health and vitality of Philippine ecosystems, he has won numerous awards and accolades, including the rank and title of National Scientist in 2014.
Sink or swim
Though his research is extraordinary both in scope and in impact, Dr. Alcala's beginnings were anything but.
Born to a humble family in the fishing city of Cailing, Negros Occidental on March 1, 1929, Dr. Alcala was seemingly predestined for the life of a marine biologist. In between heavy extracurricular involvement as a boy scout, a debater, and a scholar at the Kabankan Academy, the young Dr. Alcala spent his time helping his father care for their fish ponds.
Dr. Alcala's family bred milkfish, which they then provided to markets in the local neighborhood, communities sustained by subsistence fish farming. In fact, after working with his father in their fish farms, Dr. Alcala would catch seafood with his brother, and bring home bounties of crab, shrimp, and other shellfish for a family feast.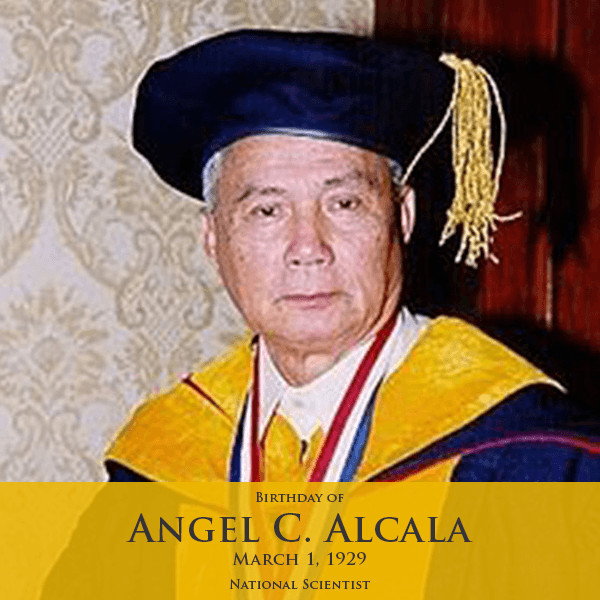 Dr. Angel C. Alcala. (Image: National Academy of Science and Technology Philippines)
Pairing this passion for marine life with his remarkable intelligence, Dr. Alcala found himself studying biology at Silliman University. He met the requirements for admission at the University of Philippines Manila's College of Medicine, but had to decline due to financial constraints.
Serendipitously, Stanford Professor Walter Brown came to Silliman later on, taking Dr. Alcala under his wing as they worked on herpetological research, or the study of amphibians. It was through Professor Brown's help that Dr. Alcala finished his Master's and Doctorate degrees at Stanford University on a scholarship.
Marine messiah
Throughout the course of his career as a biologist, Dr. Alcala has identified 50 new species of reptiles and amphibians. As one of the first few Filipino scientists to devote so much time to working with reptiles and birds, he has also authored over 160 journal publications.
To many, however, his most significant contribution to marine biodiversity conservation is the Philippines' first artificial coral reef system. He established it in Dumaguete in 1977 during his tenure as the Secretary of Environment and Natural Resources. This method of providing a habitat for local aquatic life to thrive in is now used all over Southeast Asia.
This is also part of Dr. Alcala's "25% Solution" initiative to establish marine protected areas (MPAs). In a nutshell, Dr. Alcala advocates the rehabilitation of 25% of coral reefs to protect 25% of fish species in a given location. This was after his studies revealed that the spillover effects of even just partial, no-take rehabilitation will enable an ecosystem to thrive long enough to sustain itself.
Dr. Alcala's beginnings may have been humble, but the impact of his work is truly enormous. The role of his artificial coral reefs in saving much of our marine biodiversity is a profound example of how passion, purpose, and potential can transcend whatever limitations our circumstances impose upon us. —MF
---
References
Tecson-Mendoza, E. (2017) Biosketches: Filipino Trailblazers in Science and Technology. Taguig, Philippines. National Academy of Science and Technology Philippines.
https://historygreatest.com/angel-alcala
https://www.thoughtco.com/angel-alcala-filipino-biologist-1991709
https://study.com/academy/lesson/angel-alcala-discoveries-contribution-to-biology.html
https://www.famousscientists.org/angel-alcala/
http://pubs.iclarm.net/libinfo/Pdf/Pub%20CP6%2049.pdf