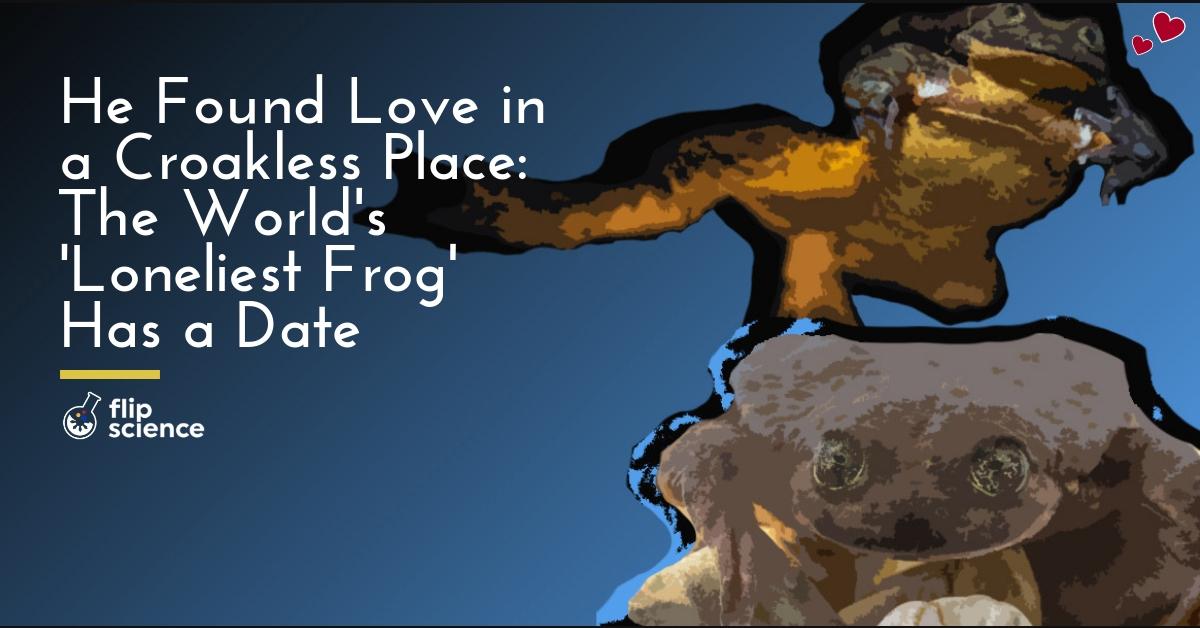 • After 10 years of searching, scientists may have finally found a suitable mate for Romeo, a rare Sehuencas water frog (Telmatobius yuracare).
• A recent expedition to the Bolivian mountain cloud forests yielded five more individuals: three males and two females.
• One of the females, aptly named Juliet, is being prepped for her date with the "world's loneliest frog."
---
For 10 years, researchers thought that a rescued Sehuencas water frog (Telmatobius yuracare) named Romeo was the last of his species. Still, they persevered to find the forlorn frog a mate. They even went so far as to make him a profile on Match.com to raise funds for their search.
However, it looks like Romeo's stay at Bolivia's Cochabamba Natural History Museum will no longer be spent in isolation.
Lonely no more
"Did my heart love till now? Frog-swear it, sight!
For I ne'er saw true beauty till this night."
(Image: D. Alarcol and D. Grunbaum/Global Wildlife Conservation)
The Match.com campaign proved to be a success, with users from over 32 countries raising $25,000 to help Romeo find his dream girl. Thus, Global Wildlife Conservation and the Museo de Historia Natural Alcide d'Orbigny formed an expedition to the Bolivian mountain cloud forests, where the species is known to reside.
There, the team found five individuals–three males and two males–which they rescued and brought back with them to study. Fortunately, one of the females seems to be a suitable breeding partner for Romeo. Appropriately enough, they named the stream-dwelling stunner Juliet.
Formerly a common sight at the bottom of streams and rivers in the aforementioned forests, Sehuencas water frogs have greatly diminished in number. (The International Union for Conservation of Nature (IUCN) classified the species as "Vulnerable" nearly 15 years ago, in 2004.) A lethal cocktail of climate change, pollution, and a highly infectious, amphibian-killing fungal disease called chytridiomycosis brought their population to dangerously low levels.
Froggy first date
"But, soft! what light through yonder window breaks?
It is the east, and Juliet is the sun."
(Image: Robin Moore/Global Wildlife Conservation)
The big question now, though, is: Are they compatible?
According to expedition leader Teresa Camacho Badani, the researchers are banking on these apparent opposites attracting. While Romeo seems to be a rather laid-back sort of dude, Juliet is a spirited, energetic swimmer who has even tried to escape her tank.
Romeo and Juliet haven't gone on their first date yet, though. The newly rescued frogs are currently under quarantine to make sure that they don't have chytridiomycosis, and to acclimatize themselves to their new living conditions.
"We do not want Romeo to get sick on his first date! When the treatment is finished, we can finally give Romeo what we hope is a romantic encounter with his Juliet," explained Camacho Badani.
The team plans to return to the forests in March to find more frogs and study the spread of chytridiomycosis in the area. At the very least, the researchers are optimistic that Romeo and Juliet won't end up like their famous fictional namesakes.
---
Cover photo: Global Wildlife Conservation

References
http://cnnphilippines.com/news/2019/01/17/lonely-frog-romeo-finds-juliet.html
https://www.bbc.com/news/science-environment-46867424
https://www.iucnredlist.org/species/57369/11627745
https://www.zmescience.com/ecology/animals-ecology/romeo-finds-mate-90423/
https://www.zmescience.com/science/romeo-frog-match-043242/

Bitten by the science writing bug, Mikael has years of writing and editorial experience under his belt. As the editor-in-chief of FlipScience, Mikael has sworn to help make science more fun and interesting for geeky readers and casual audiences alike.