•Two teams came out on top at the recently concluded NASA International Space Apps Challenge in Manila. 
•Project PaWiKAN and Project AEDES both utilized space technology to develop solutions to serious environmental and health issues, aligned with the United Nations' Sustainable Development Goals.
•Both projects will vie against other entries worldwide for a spot in NASA's global hackathon.
---
A total of 84 people participated in the Manila chapter of NASA's 2019 International Space Apps Challenge, which took place on October 18, 19, and 20 at De La Salle University (DLSU) Manila. Out of the 24 teams that tackled the various challenges at the annual tourney, two emerged as this year's global contenders: An autonomous ocean waste collection system powered by space data, and an automated, publicly accessible information portal that correlates dengue cases with real-time satellite data, climate readings, and search indices.
Project PaWiKAN: Cleaning up the ocean, one trip at a time
The first entry is Project PaWiKaN (Patches Withdrawn Kept Away from Nature), the brainchild of a team of electronics and communications engineering students from DLSU Manila.
Ocean's 4 (comprised of Samantha Maxine Santos, Antonio Miguel S. Alejo, Grant Lewis Bulaong, and Janos Lance L. Tiberio) took on the "Trash Cleanup" challenge by designing a "deployable, semi-autonomous, oceanic garbage collection fleet system." PaWiKaN uses data from NASA's Ocean Surface Current Analyses Real-time (OSCAR) database to identify areas where ocean garbage patches are likely to be found. It then deploys two reconfigurable boats, each equipped with a long-range communication, to find said patches, scoop up the garbage, and bring them back to land, where they can be disposed of properly.
The partners and organizers of the Space Apps Challenge stand behind Oceans 4, the team behind Project PaWiKaN. (Image: NASA Space Apps Philippines)
According to recent estimates, floating synthetic materials make up about 90 percent of marine pollution worldwide. Additionally, nearly 8 million tons of plastic waste end up in the oceans. If left unchecked, that number will likely quadruple by 2050.
Given the tremendous impact of marine pollution on various species and the environment, the team seeks to create a fleet of these boats as quickly as possible.
The AEDES Project: Spotting potential dengue hotspots via data
Meanwhile, in response to the "Smash Your SDGs" challenge, participants Dominic Vincent D. Ligot, Mark Toledo, Frances Claire Tayco, and Jansen Dumaliang Lopez came up with a dengue hotspot forecasting model.
Called AEDES (Advanced Early Dengue Prediction and Exploration Service), the system uses climate information, satellite maps, and internet search trends to identify possible dengue hotspots. AEDES correlates data from the Sentinel-2 Copernicus and Landsat 8 satellites, DOST-PAGASA, and Google searches (for the keywords 'dengue', 'dengue symptoms', 'dengue fever', and 'dengue medicine') with existing information on dengue cases and deaths. Through this, AEDES can pinpoint areas that are likely to become mosquito breeding grounds.
The prototype currently focuses on Quezon City (NCR), Tacloban City (Eastern Visayas), Iloilo City (Western Visayas), and Cotabato City (ARMM). "We decided on NCR as a default and added the three other cities due to the observed spike in Google Searches for dengue related terms indicating possible prevailing public panic in these areas," explained the team in their official statement.
The AEDES team seeks to address delayed dengue reporting and aid in outbreak prevention through this publicly accessible portal. As of August 31, there have already been over 271,000 dengue cases and more than 1,100 deaths in the Philippines.
The team hopes that AEDES can be of great use to public health and local government agencies in dengue awareness and prevention.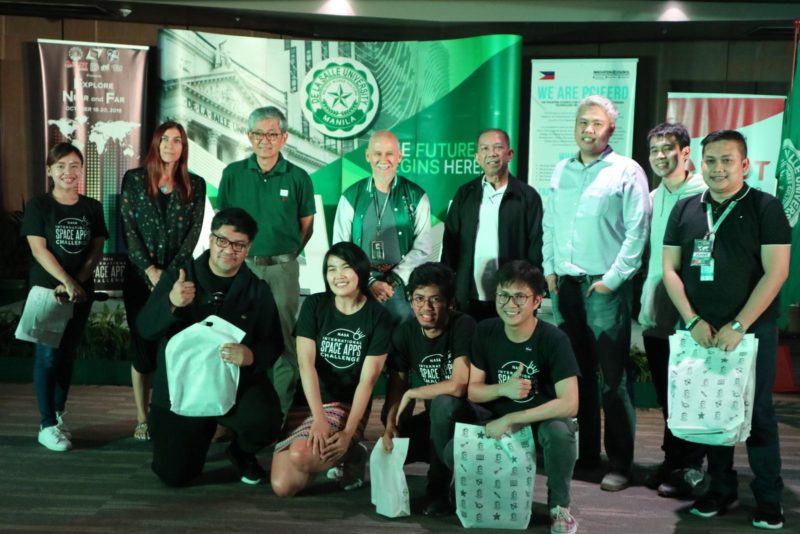 The people behind the 2019  Space Apps Challenge pose for a photo with the Aedes Project team. (Image: NASA Space Apps Philippines)
Out-of-this-world ideas, on the international stage
NASA will evaluate the two projects, along with other winning entries from across the globe. In early December, the agency will select 30 global finalists. Afterwards, the top six contenders will be announced during the following month. The winning teams will tour NASA's Kennedy Space Center in Florida in 2020.
Last year, team iNON developed ISDApp, an app that provides vital information to fishermen without an internet connection. As a result, the team became the first Filipino Space Apps global winner. At present, ISDApp is being incubated by DLSU's Animo Labs.
The 2019 NASA Philippine Space Apps Challenge was executed in partnership with the Department of Science and Technology-Philippine Council for Industry, Energy, and Emerging Technology Research and Development (DOST-PCIEERD), DLSU, PLDT Innolab, DLSU Animo Labs Foundation, Inc., American Corner Manila, and the Embassy of the United States of America to the Philippines. Space Apps also partnered with DTI-Design Center of the Philippines to celebrate this year's Design Week Philippines.
---
Cover photo: NASA Philippines Space Apps Challenge
References:
https://2019.spaceappschallenge.org/locations/manila
https://2019.spaceappschallenge.org/challenges/earths-oceans/trash-cleanup/teams/oceans-4/project
https://2019.spaceappschallenge.org/challenges/living-our-world/smash-your-sdgs/teams/aedes-project/project

Bitten by the science writing bug, Mikael has years of writing and editorial experience under his belt. As the editor-in-chief of FlipScience, Mikael has sworn to help make science more fun and interesting for geeky readers and casual audiences alike.